Marill Re-Reads Once Upon A Time
Here's the stats so far.
Exclaimed Count: 44
Muttered Count: 50
Motto Count: 6
Sexist crap against my own gender count: 2
Back in theee olden days episode 9 Mirror Universes followed Unforgettable, skipping over three episodes for no reason other than "wah I'm stuck but I still need to release something this weekend". Once Upon A Time didn't appear until I reached episode 16. I thought it would be fairer to review in the order the series was written, as it's bound to improve with more episodes under my belt, giving the skipped trilogy an unfair advantage on its older but based later episodes.
I changed my mind though. Why? There's only a 2 month gap between them. AND I know that it isn't true. 2/3 of the Skipped Trilogy Part 1 (yes this happened again with another 3 episodes) are IMO Hunters and Aggressions Part 2 level of embarrassing, while episodes like Voyager Conspiracy, Collective Instinct and Worse Case Scenario 2 are some of the better episodes of Season One. Two months is nothing. Yes there is some improvement as evidenced by this episode, and Voyager Conspiracy which was released last before it, but not enough to justify reviewing the series out of order. As I said in Unforgettable's review; Season One suffered from gaps in it for its entire 6 months of being new, for 15 years it's been complete/whole. Season One should be judged in the order everyone visiting from mid 2001 to present day see it.
Yeah I did Test of Time early, that was to vent during an annoying reboot. Hopefully that won't be an issue again until probably Muse, oh god. I gave myself a pass mainly because the special was just that, a one off special that didn't belong in Season One during its planning. Excuses blah blah excuses.
So anyway, it's time for Once Upon A Time's review. There's not much of a story here from what I remember, which is why it shared a slot with Worse Case in the reboot, but I remember much much worse episodes than it. Here goes.
##############
Kiara and Naomi were sitting on a small table near the door. Jessie and James had introduced them to the Pokémon Trading Game so they were playing that.
I've never played this game in my life. I foresee no problems.
"Fine, then what do we do next?" Naomi asked.

"Er...maybe you should put a card down. Maybe some cards are stronger over others," Kiara said. Naomi put a card down. It was a Chikorita.
Well it's not offensively stupid, but as a result I'm bored. Early FV has this problem a lot.
"So, who's winning?" Chakotay asked.

"No idea, we don't know how to play the game," Naomi muttered.

"Don't tell me, James and Jessie introduced this game to you," Chakotay said.
We need to hear this twice. It's either in the opening narration or Chakotay says it. PICK ONE.
"Where's mummy? She promised me that she would take me to this new holoprogram," Kiara asked.

"She and Naomi's mother is on the Delta Flyer. They won't be back for a few days," Chakotay said.
Of course she is, cos the plot says so. You want an actual in scene reason, tough!
"That's Flotter," Naomi replied.

"No, that sounds crap," Kiara said.
I agree.
"Kiara, where did you pick up words like that?" Chakotay asked. Meanwhile Craig was bugging Jessie again.

"Listen you big crappy head, you keep your f****** hands off me before I tear them off!" Jessie yelled.
GET OFF ME YOU BIG DOODOO HEAD, I'MA TELL ON YOU
Chakotay it could've been worse, Kiara decided crap was a funnier word than the F one.
"That explains it," Chakotay muttered. Craig backed off Jessie and he walked over to another table with a girl on. Kiara jumped off her seat and she ran over to Jessie and James.

"Hi!" she yelled. James and Jessie looked down and they saw Kiara hugging James' leg.
Aaaaaaaaaaaaaaaaaaaaaaaaaaaaaaaaaaaaawwww
The pop worked. No one tell the child kidnappers.
I'm not kidding, entirely.
"What do you want sweetheart?" Jessie asked.

"Cherry Coke!" Kiara exclaimed.

"I'll get it for you if you get off my leg," James said. Kiara let go and she started jumping up and down in excitement.
I don't think there was ever a reason, yet, that Kiara took to these two more than Craig. Until I'm sure a certain other spoilerific reason is hinted at*, I'm going with these two bribe her with sugary drinks. That'll do it.
*no, even with Once Upon A Time's later release, I'm not convinced by Kiara's leg hugging of James that I had already decided on him being her uncle/brother whilst writing it. No matter how suspect it may be.
"Commander, are they her new parents," Naomi muttered.

"Seems like it," Chakotay muttered. A few seconds later Kiara was drinking her Cherry Coke. Chakotay, Neelix and Naomi walked over to her.
No, just her Cherry Coke suppliers.
Chakotay's cool with it though. Too cool. He does nothing when this happens.
"Come on, aren't you coming to the holodeck?" Neelix asked.

"No! Flotter sucks!" Kiara exclaimed. Naomi started crying.

"It's okay, Commander, if she doesn't want to go, we'll look after her," Jessie said.
I'm sorry what, I was too busy trying to work out if I was overdue a J/C scene. Who's this kid?
"But you're on duty in ten minutes," Chakotay said.

"We'll let her play a few games on our computer while we work," James said.

"Fine, but keep her out of trouble, and don't swear in front of her," Chakotay said.
Oh yeah, don't think I've complained about this yet. So I will here.
None of my new characters really had a job/role. They were just there. The best I ever decided was Jessie and James sharing the engineering station, the one next to the Ready Room in front of Tuvok.
I repeat: sharing the engineering station.
If I was so desperate to keep these two together, why didn't I pick the back stations which usually have 2, 3 maybe 4 people manning them? Why couldn't they have different stations on the bridge? How come no one else does this, why does it seem normal (in the FV world nothing's normal, so I can see why this one slipped us by)?
Craig does nothing but occasionally babysit and hop onto an empty station like Tactical.
Triah also has no job. Morgan and Tani later make sense because of their age.
Sigh.
"Don't worry about it Captain. The Delta Flyer isn't like the other shuttles, we won't crash," Tom said proudly.

"Er, there is a storm," Samantha said.

"Wow, we never saw that one coming," Kathryn muttered.
OH YEAH DELTA FLYER OUT OF NOWHERE
Something to keep in mind, to be fair for once; Season One is meant to go happily along as if the original episodes it doesn't parody still happen. Three seasons needed to fit into one and sacrifices were made.
"What?" you ask, maybe. I think the best way to explain this is a little show and tell of the timeline of FV so far. If you don't care, skip the blue text. Remember this applies to original S1, the reboot alters some of it to fit the rest of the series.
Up until Alter Ego events are more or less the same as original Voyager.
Janeway's pregnant, and so acts a tad different during the luau in Alter Ego. Craig was always supposed to be on the ship, a random nobody we never see. I imagine Tom did get totally wasted because of the B'Elanna rejection in every timeline lol.
Coda happens. After it the Doctor discovers the pregnancy.
The shuttle mission leading into Unity is altered because Tuvok's concerned that Janeway shouldn't be left in command with no backup in her condition. Chakotay remains behind, so Tom and B'Elanna go on to meet Riley and BLOODSHED ensues.
Most of Scorpion happens the same because I was lazy and couldn't be bothered to follow my actual idea, and didn't fix this for another 10-11 years.
Since Chakotay wasn't in Unity, he can't disconnect Seven. That's all I'm willing to say on the crap that was Scorpion's changes in Aggressions. The rest is irrelevant here.
The Gift happens the same way, mostly, only Janeway's got a baby that occasionally needs changing. I imagine Chakotay's put on baby duty 24/7.
The Aggressions "Kes who?" finale happens and we all die a little inside.
Day of Honour, The Raven, Revulsion, Nemesis etc... all happen, but there isn't many differences, if any to be worth having an episode.
Scientific Method happens roughly around the same time as Mental Illness, this only happens because the Boss and Damien are around when they weren't before. The original S1 explanation is fourth wall madness so isn't worth thinking about, they're just there. Reboot or rather a Season Five episode shows the reason why/how they're not in original Voyager.
Craig's nominated to be Kiara's babysitter. Without Kiara he'd be little more than a random gold shirted extra in the background.
Year of Hell is altered a smidgen because of Kiara and fourth wall crap.
Everything from the reset button to Message In A Bottle happens as before, with very little changes to warrant a FV episode. Then we get to Hunters and enough said.
Season One is simply random fanfiction of Voyager episodes that were put together to make a season. That's how it was created. I wonder what my favourite episodes would be like with J/C together and with a kid. I wonder how I can improve that crappy episode I didn't like. Oh why don't I alter the one off Janeway/Chakotay love interest episodes to make them J/C. You get the idea. The Kidz Trek Roxanne/Kiara paradox was integrated, a few new episodes were chucked in, and Season One was born.
When it developed into a series with its own story arc and more new characters, I didn't care to alter Season One's style. I guess it wouldn't be so bad, I mean anyone reading FV must've saw Voyager and don't really need to read the same story of the Flyer being built or the Doc's adventures before he contacted Starfleet. They know this happened after all. They'll want to read something new. AGAIN, fine in theory, but FV so far still has repeated a lot of material from the originals. Year of Hell being the biggest offender.
So there you go. It's why Season Two doesn't hang around in Season Seven territory for very long and takes no episodes from it, it didn't even follow the Thrown Key/Unimatrix Zero cliffhanger that much, or at all. Everything from then onwards would be my story, or that was the plan *ahem*. Moving on.
"It's still a shuttle Tom, so get flying!" Kathryn yelled.

"Ooops, I forgot about that!" Tom stuttered.
I sense some replaced exclaimed's in this quote.
And yeah Tom, the Flyer's not immune to the shuttle curse. Don't be so daft.
"It's okay girls, I'll get us out of here," Tom said. Tuvok cleared his throat to get his attention. "And guys," Tom stuttered.
Ah so the whole Delta Flyer crew are still in it, Janeway replaced nobody. So much better... groan.
"Er, Tom, I don't think we're suppose to be this close to that crater," Kathryn said.

"Er...did I put seatbelts in this thing?" Tom muttered.

"No," Kathryn, Tuvok & Samantha said.

"Oh well, it was nice knowing ya," Tom said.
Don't be silly Tom, only the Enterprise E gets seatbelts and only in deleted scenes. ENJOY
"Fear me minions!" Harry was saying as Jessie, James, Craig & Kiara entered the Bridge. "Oh, hi guys!"
Admit it, you thought about Harry doing this when the cameras aren't on him. Acting captain of the night shift but still an Ensign. He's gotta take it out on someone, why not the poor tired night shift crew.
"Since I'm Lieutenant and you're Ensign, I'm in command," Craig said.

"Nope. I'm a senior officer, fear me," Harry said.

"I'm one too," Craig said.

"Damn!" Harry exclaimed.
You are?
I'm willing to look passed this since I still think this scene is funny. Sue me.
It does remind me of something though. Putting Harry never gets promoted aside, why does Harry get to boss around people who are higher ranks? I've seen it happen. Yes he's senior staff but why is he senior staff? Is everyone else that works at opps stuck at crewman? Favouritism, or main character syndrome? You decide. Yes FV does this right in your face and doesn't care, which is a valid criticism, but don't act like Voyager never did the same thing :P
Five minutes later:
"All the girls on the Bridge are ordered to go out with me tonight on Holodeck Two. And you can invite your friends too. The more the better," Craig said. Stacks of pads and tricorders were thrown at him.

"You suck!" Harry exclaimed.

Five minutes later:
"Fear me! Bwahahahahahahahaha!" Harry laughed.
Quoted because I still like it, even if it is a bit creepy Craig thinks he can order women to date him. NO I WILL NOT RUIN THIS FOR MYSELF. IT'S ONE OF MY FAVOURITE JOKES IN SEASON ONE, A DIAMOND IN THE ROUGH, I WILL NOT!
This is the kind of humour I wanted for FV from the very beginning. It wasn't meant to be all the time, it wasn't meant to be dependent on fourth wall crap, it wasn't meant to have writers popping up, MOST OF ALL it wasn't meant to take centre stage in the series. It was a scifi/fantasy focusing on characters first, with a little bit of wacky humour now and then. Note the humour is last. It's an afterthought. Aggressions Part 1 is proof, it's an example of what I wanted, even if it is poor (my third full episode written, of course it's poor). It's such a shame it took so long for me to write FV in its intended way.
"Oooh! Can I play Battleship?" Kiara asked.

"As long as I can play too," James said.

"Get back to work minions!" Harry yelled.
HEHE HE'S LEARNED NOTHING
"Bite me," James said as he and Kiara started playing Battleships on two separate bits of the computer.

"Who'd want to," Harry muttered.
OH SNAP
(I must find a funnier "oooh burn" comment)
A bit funny for James of all people to come back with this. What a dangerous suggestion haha.
Fifteen minutes later:
"DIE, DIE, DIE!" Kiara laughed as she sunk James' last ship.
Kiara's her mother's daughter, no question. Take that anyway you like ;)
"Oh, I lost to a kid," James moaned.

"Can I play now?" Jessie asked.

"I want to jump on daddy's chair," Kiara said.

"Go ahead, Harry's the one who'll get into trouble. I'll play against you Jess," James said.
Haha James, you suck. Deal with it.
Haha James, you also suck at babysitting. Look at that flawed logic. He knows, he doesn't care. He's cool "uncle" James and Kiara adores him for it. Meanwhile Chakotay wonders why his daughter is always so rude and hyper, epic fail. Get new babysitters.
"But you suck," Jessie said.

"Prove it," James said.

"You're on!" Jessie yelled.
Giggity
Er I mean NOW KISS
No, that's not it. I mean haha. Yes. Seriously, these two are quite in character here and I love it. More please.
"Get back to work minions...hey Kiara, get off Chakotay's chair!" Harry yelled as Kiara climbed onto Chakotay's chair.

"Bite me!" she yelled as she started jumping on the chair. Harry groaned and he tried to convince her to get down.
Lol I'll never tire of the minions gag. And lol to Kiara copying off James. This will end well.
"Weeeeee!" Kiara screeched as she jumped on the chair.

"DIE! Ha! 3-0 to James," James said.

"Make that 3-1," Jessie said.

"No! My long ship!" James exclaimed. Chakotay walked onto the Bridge.
Gigg... oh I done that already. That's what she said? He said? No that doesn't work.
Oh and paint a picture folks. Two babysitters tapping away at a computer, shouting at each other and it. The kid bouncing off the chair in the background, probably with Harry desperately pleading for her to get down. The dad walks in and gets a good view of all of this.
Okay Marill, why are you not complaining about this random rubbish? Well you see, it's not as random as writer cameos or bobble fights. It's not random at all, it's meant to be here. The episode was rushed and missed a few scenes. The point of Once Upon A Time was to be similar in structure to the original, only Kiara and Janeway are tagging along with Naomi and Samantha respectively. What's missing is Voyager finding out that the Flyer's missing, the crew wondering how to keep that from Kiara and Naomi, someone deciding to distract them for the time being.
James and Jessie's epic failing at babysitting does just that. The problem is the episode hasn't really shown why this is meant to happen/be the plot.
"Kiara! What are you doing on my chair!" Chakotay yelled.

"Harry dared me too. It's fun!" Kiara yelled.
Haha, this is why Chakotay still lets these two babysit. She's lying for them.
"Oh s***! You got my tiny ship!" James exclaimed.

"James! What did I tell you!" Chakotay yelled.
That's what h... OKAY I'll stop.
Actually I'm not sure if I had James complaining about losing his long or tiny ship... *snigger*, because I was dirty minded then and hoped others would read it as so. I was, I'm sure. I may have thought that the idea that out of the two of them, James being pissed was more funny since it was usually Jessie losing her temper. I dunno, I'd like to think it's a mixture of both.
"Oh, oops," James muttered. Kiara slipped off the chair.

"Oh s***!" she yelled. Everyone stared at her and then at James.
Haha I'm getting deja vu of a certain Season Two episode and the Season Five flashback to it, with James replying with an indifferent or innocent "what?" James just has a way with kids, especially toddlers, which judging by this he shouldn't be around, and it's fricking funny to me.
"Bingo! I've found your submarine," Jessie said.

"Oh, sh...sugar!" James exclaimed.

"James, does cleaning the plasma manifolds sound fun to you?" Chakotay asked.

"No," James muttered as he made his next move.

"Good, that's your job for tomorrow," Chakotay said.

"No! You b******! You've found my carrier!" Jessie screamed.

"You too, Jessie," Chakotay said.

"Oh s***! S***! S***! Er, I mean sugar! Sugar! Sugar!" Jessie exclaimed.
And there we go. Why James and Jessie get picked to babysit Kiara again is a mystery. No it's not, it's really quite simple.
SEASON ONE!
"C'mon Kiara, come to the Flotter program with me! Neelix and your dad is on duty so I'll be on my own!" Naomi exclaimed.

"Bite me!" Kiara yelled.

"Oh please!" Naomi begged.
Oh lordie...
Please tell me this one wasn't intentional. I laughed and I felt bad for it.
Naomi's please is badly timed, oh god.
"Oh what the hell, if it's crap I'm going straight back out," Kiara muttered.

"You know, you're starting to sound like Jessie," Naomi moaned.
I dunno about that, so far Kiara's sounding more like James.
And Morgan, but sshhhhhhhhhhhhhhhhhhhhhhh
"I'm in extreme pain here!" Samantha yelled.

"Who cares, you're just a guest star," Tom said.
BUT SHE HAS A NAME. SURELY THAT COUNTS FOR SOMETHING
"Is this a good time to say that the shuttle is leaking poisonous gas?" Tuvok asked.

"No, not really, you should have said that yesterday," Kathryn said.
OH TUVOK. I LOVE YOU
Genuine LOL moment there.
"Chakotay to Seven of Nine, how's it going?" Chakotay asked.

"We're still drilling. We've nearly reached the shuttle."

"Keep drilling," Chakotay said.

"Aye sir."

"Isn't it cue for Naomi and Kiara to come on the Bridge?" Neelix asked.
DAMN IT, THIS IS WHY YOU DON'T WORK WITH KIDS OR ANIMALS
THEY MISS THEIR CUES
"No, when we've discovered the gorry bodies they should arrive," Harry said.
OMG
HARRY NO, BAD. SO BAD. OMG
HARRY'S GONE ALL "MONKEY ISLAND PARODIES" HOMICIDAL HARRY, HE'LL START SHOOTING HIS PROBLEMS AWAY SOON.
"Chakotay to Rex & Taylor, are those plasma manifolds clean yet?" Chakotay asked.

"Manifolds? Er, sort of, we'll carry on," Jessie's voice replied.

"Oh s***! I forgot about that!" James' voice yelled.
Waiit, Neelix is here, James and Jessie are somewhere, Craig's probably stalking a few girls I assume, who's watching the kids?
Kiara and Naomi entered the forest of forever. The computer was blabbering on about some old rubbish. Suddenly some strange fog appeared. The Team Rocket music started. Naomi and Kiara saw two figures in the fog.
Oh shhhh.... Chakotay, forgive James and Jessie right now and let them babysit. Heck, let Damien babysit. ANYTHING'S BETTER THAN THIS
"Allow us to introduce ourselves," a posh but familiar voice said. The fog started to clear and the pair could see Marill & Firera.

"To protect Voyager from devastation," Marill said.
Motto Count: 1
"Fifth Voyager, blasts off at warp speed!" Marill exclaimed as a weird cheesy background appeared with a giant red 5 in the middle.
NOOOOOOoooooo SURELY BY APRIL OR WHENEVER THIS WAS WRITTEN, I HAD THE NEW FV LOGO MADE. IT'S OLD DAGNAMMIT.
GIANT RED 5
"Firera, stop skitting the old James' voice, it's annoying!" Marill exclaimed.

"But it's so...posh!" Firera yelled in her ordinary accent.

"I know, the guy that did his voice in the first few episodes was terrible. Eric Stuart forever," Marill said.
ERIC STUART IS A HOMOPHOBIC HACK. HE MADE JAMES' VOICE FAKER AND MORE GOOFIER, ADDING GAY SUBTEXT LINES COS HE, THE VOICE ACTOR, THOUGHT HIS CHARACTER SHOULD BE GAY. IN A KIDS SHOW TRANSLATED INTO ENGLISH FROM JAPANESE, SO HE'S NOT EVEN THE ORIGINAL VOICE ACTOR. HAHA HE'S PROBABLY GAY, THIS IS FUNNY KIDS, LAUGH AT HIM. LAAAAAAAAAAAAAUUUGGGGGGGGGHHHH!
PRICK.
Even worse, because of his alterations when he and the rest of the cast were fired, the replacement proceeded to copy his style, making James sound even FAKER WITH A MIX OF THAT POSH BRITISH VOICE I WAS WHINGING ABOUT ABOVE. I HAVEN'T WATCHED AN EPISODE OF POKÉMON SINCE THE SECOND EPISODE THAT GUY STARTED. HE MADE MY EARS BLEED.
YEAH, ERIC STUART FOREVER. F$$$ HIM
"What are you talking about, James doesn't have a posh accent?" Kiara asked.

"And who's Eric Stuart?" Naomi asked.

"She just doesn't get it, does she?" Marill muttered.

"She doesn't watch Pokémon," Firera said in her annoying accent.
YEAH! James speaks like he's a human being, funny that. Probably because he's actually British, so doesn't have to fake it.
Oh and sigh................. stop trying to be evil Team Rocket. It suits you not.
"What's Pokémon?" Kiara asked.
Wait, have you forgotten the trading card game in the first scene? CONTINUITY'S FOR SUCKERS
"Anyway, we're here because...er, Marill, why are we here again?" Firera asked.
I ALWAYS ASK THIS. YOU HAVE NO GOOD ANSWER
"To destroy this stupid Flotter program. It does my head in," Marill replied.
True but STILL NOT AN ANSWER. YOU COULD'VE SIMPLY NOT USED IT IN FV
"Flotter, of course we're not going to hurt him. We'll just delete him," Firera said.

"Nooooooo!" Naomi squealed.
It's painless, honest.
"We're not holograms, little girl," Firera said.

"That may have been so, if we were part of this junk," Marill said.

"You're staring to bug me!" Naomi exclaimed.
WHAT?
WHAT ARE YOU SAYING MARILL?
THIS IS WHY NO ONE UNDERSTANDS YOU. I DON'T EVEN AND I'M YOU IN THE FUTURE
All I get is they're quoting Team Rocket from episode 2.
Oh and Naomi, get in line. I was here first.
"Isn't that cute?" Marill said sarcastically.

"The girl's bugged," Firera said. They threw five pokéballs into the air.

"Sparkle, Firesha, Marra, Charla, Charbok, attack!" they both yelled. Firera's Pikachu, Arbok & Firera appeared and Marill's Charizard and the Pokemon Marill appeared.
I get that they want to destroy the holodeck program, KINDA, but why... why are they attacking the kids with Pokémon? Why do they need their entire team to do it? Why are they pretending to be villains at all? I doubt this is what the Voyager crew had in mind for you to do when they (did nothing) helped you get writing privileges back from Joe and Brannon. Why am I trying to make sense of this?
"We really don't want to hurt you kids, so I think you should leave us alone," Marill said.

"But Flotter!" Naomi exclaimed. Flotter and Trebus walked up to the kids.
HELP ME
THIS EPISODE'S GONE FROM BEST EPISODE SO FAR TO EXTREME PAIN
WHY ARE WE THREATENING THE KIDS? I LOVE KIARA, WHY WOULD I DO THIS?
"That's it!" Everyone attack!" Marill yelled. The five Pokémon charged for Flotter and Trebus.

"Run!" Naomi yelled as she tried to push Flotter and Trebus out of the way. They all ran further into the forest.
JUST WRITE DOWN "THEN SOMEBODY ACCIDENTALLY PRESSED THE DELETE COMMAND. THE FLOTTER PROGRAM FADED AWAY TO NOTHING" OR SOMETHING. YOU'RE THE WRITERS, YOU DON'T NEED TO PHYSICALLY DESTROY IT. IF YOU WANT TO TRASH IT LIKE THIS, USE NON FOURTH WALL THINGS. WHY AM I STILL SHOUTING AT THIS?
"Sam, Captain, Tuvok, I've finished, it's your turn," Tom said as he got off the chair.

"You can go, Samantha," Kathryn said. Samantha nodded. Tom helped her to her feet. Meanwhile Tuvok started talking to Kathryn about kids again. Tom groaned and he put his ear plugs in again.
Meanwhile this happens, but who cares, let's go back to the writers scaring little kids because they don't like the holodeck program they will have written them into in the first place, by trashing it instead of someone accidentally tripping and falling on a delete command.
SEASON ONE!
"Er...computer, a pokéball thing," Kiara ordered. A couple of pokéballs appeared and they dropped to the ground. She picked up one.

"Aren't you suppose to throw them," Naomi muttered.

"Oh right, pokéball go!" Kiara yelled. The pokéball landed on the ground and a pigeon like creature appeared. Firera's Arbok hissed at it and it flew away in fear.
Now this is when Kiara and Naomi use what they learned in the trading card game at the beginning, against the writers. It makes all of it worthwhile despite the writer's motives for anything making minus twenty sense (zero sense isn't strong enough).
"Here, let me take care of these 2 clowns," Naomi said as she picked up another ball.

"That's such big talk coming from such a little lady," Firera said.
STOP QUOTING EPISODE 2 "EVIL" TEAM ROCKET.
"The girl thinks she's pretty," Firera muttered.

"I agree with her, I think she's pretty too. Pretty pathetic," Marill said.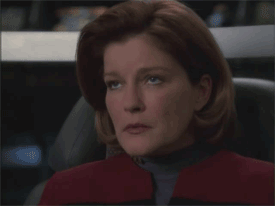 More episode 2 happens until this happens
"You'd better give up kids, it's only a boring program," Marill said.

"Times up, Marill, we've got to write the next scene where Kathryn and Samantha are close to death," Firera said.
Next Marill and Firera steal all the Cherry Coke out of their hands, kick the icecream onto the floor and throw all their toys into space. Why? Because it was the only way to word for word quote another scene they liked. Deal with it.
No that didn't happen, but you'd believe it after that right?
"But your dad said that they were okay," Naomi muttered.

"So did Neelix," Kiara moaned.

"Come on, we'd better check it out," Naomi said. The pair ran out of the holodeck.
Deleted scenes are a bitch like that.
"Er, we haven't got the gorry bodies yet have we Harry?" Craig asked. Chakotay and Neelix turned towards the turbolift. Kiara and Naomi were staring at the viewscreen with horrified expressions. They both ran back out of the Bridge.

"Kiara, Naomi, wait!" Neelix yelled.
Welp, Craig's lost babysitting privileges too.
"Maybe we were a bit too evil in those two scenes," Marill muttered.

"Yeah, you're right. We'll make up for it by being absolute crazies again," Firera said.
OR you could just never appear again.
"Hi guys!" Raichu yelled from out of nowhere. The door to Marill's sisters room opened and Raichu stepped in. "Will we be writing Timeless today?" Raichu asked.

"Er...we could do. I mean it's only 2pm and we've wrote three stories for this update. I think we're on a good writing streak," Marill replied.
Wait, you're serious?
No wonder there's so much rubbish. Three episodes for one update. Oh my.
"But what am I suppose to do? You two are writing the next episode and I'm not going home until ten," Firera asked.

"Er...you can play with the new CD Player," Marill said.
zzzzzzzzzzzzzzzzzzzzzzzzzzzzzzzzzzzzdon'tcarezzzzzzzzzzzzzzzzzzzzzzzzzzzzzzzzzzzz
"Marill, you don't have the new CD Player this far back in the series," Raichu said.

"This episode says it was wrote in April so I have the CD Player," Marill said.

"Hehehehehehehe! It's got a condenser microphone, has anybody got a spare tape?" Firera asked.
zzzzzzzzzzzzzzzzzzzffffffffffffffffffuuuuuuuuuuuuuuuuuuzzzzzzzzzzzzzzzzzzzzzzzzzzzzzzzz
What? "says it was wrote in April". What? Was it or wasn't it? I'M SO CONFUSED. OH right, temporary brain fry. Raichu's trying to apply continuity to Once Upon A Time cos it's episode 6 and the series was up to 20 something by then, but to fourth wall crap. Marill says it doesn't matter because its fourth wall crap and I'm not hiding Once Upon A Time's delayed release date, so... NOBODY CARES ABOUT MARILL'S CD PLAYER AND WHEN SHE GOT IT. NO ONE WILL KNOW I DIDN'T HAVE IT WHEN EPISODE 6 SHOULD'VE BEEN RELEASED BUT WASN'T, GOD!
Apart from being so so boring and pointless, it's dated the episode BAD.
Kiara and Naomi were sitting at a table crying. Neelix and Chakotay walked into the room and they headed for their table. Jessie and James were near by and they saw Chakotay. They quickly hid in Neelix's kitchen.
In the next scene the Doctor shakes his head grimly, then reports, "time of death 1100 hours." James and Jessie's traumatised corpses - oh sorry "GORRY" BODIES THANKS HARRY - are carried to the morgue. Neelix swears to this day that he didn't kill them, they ran in and passed out while he was making his pea Leola broth, which can't be left alone for a second, it must be stirred until it's brown. THEY NEARLY RUINED IT, HE'S GLAD THEY'RE DEAD.
"They might be dead though," Kiara muttered.

"That's a possibility but the Doctor can revive them," Neelix said.
SEE NEELIX IS COLD!
SERIOUSLY, WTF NEELIX
"We did that to protect you. We knew how upset you would be if you found out," Chakotay said.

"You should have told us the truth!" Naomi exclaimed.

"Daddy, you always told me that lying is wrong," Kiara said.
Hmm....
"Kiara! What are you doing on my chair!" Chakotay yelled.

"Harry dared me too. It's fun!" Kiara yelled.
Yeah. Kiara's took the no lying thing to heart, clearly.
"Sometimes lying can be beneficial to protect people's feelings," Neelix said.

"Anderson to Chakotay. B'Elanna is ready to transport the Flyer."
Seconds earlier: THEY'RE PROBABLY DEAD BUT NO WORRIES, WE CAN REVIVE THEM. PROBABLY
Seconds later: dilemma over, we've rescued them, they're fine. YAY
"Fear me minions! Oops, the comm link is still on."
Aaaw damn it, my screen needs wiping down after that. So glad I wasn't drinking my coffee when I read that.
"Do it. Once the shuttle's aboard transport the crew to Sickbay," Chakotay said.

"We can't fit the whole crew of Voyager in Sickbay."

"Craig, you dimwit! The Delta Flyer's crew," Chakotay said angrily.
HAHA
"Is there any gorgeous lasses onboard, coz if there is I'm there!"
HAHOH... SIGH, YOU RUINED IT
"Craig, feel my power! Oops the comm link is STILL on."
GIGGITY
"Oh go away, both of you," Chakotay said angrily.

"Fear me minions! Bwahahahahahahahaha..."
Okay now it's getting a little old. I assume it got old after the second time for you guys.
Harry needs to get his head checked. The boy's ill.
"How did we end up with insane crewmembers. Why can't we have a normal crew like the Enterprise," Chakotay muttered.
OH YES
Meanwhile in the Alpha Quadrant:
"Fear me, minions! Oh hi, Riker and Picard," Data said.
OF COURSE DATA WOULD SAY THIS TOO. THAT'S SO FUNNY
"Nothing. We're in no films at the moment so we're quite bored," Data replied.

"Damn! I get the feeling nobody likes this new Enterprise. We've only been in two films," Picard moaned.
AH THE PRE-NEMESIS DAYS. (I LIKE IT PICARD, SCREW DA HATERS)
It's a crime the E never got more than 3 movies. DAMN IT NEMESIS. DAMN IT BRENT SPINER. DAMN EVERYONE WHO HATED NEMESIS. DAMN THE PLOT HOLES. DAMN TROI FOR CRASHING IT AGAIN... THOUGH IT WAS HILARIOUS IT WAS HER AND THANK YOU FOR THAT. DAMN THE DIRECTOR/WRITER DUDE WHO DIDN'T LIKE STAR TREK. DAMN THE WARP CORE SHIELD
You thought I wouldn't mention it? Haha naive
AND FINALLY, DAMN THE WEIRD DECK 29 FIGHT DECK WITH THE BOTTOMLESS PIT AND THE SLOPED JEFFRIES TUBE LEADING INTO IT. DAMN IT!
I'm done.
"Well since nothing is going on, it is safe to leave Will in charge. I'm going to visit my girlfriend on that planet," Picard said and he left the Bridge. Everyone looked terrified as they stared at Riker.

"Woohoo! Lets try out the joystick again!" Riker yelled.
Nooooooooooooooooooooooooooooooooooooooooooooooo
"Uhoh, not again," the Trill woman moaned.

Five minutes later:
"Weeeeee!" everyone yelled as the Enterprise E did some speeding near by a pretty nebula.
I won't lie, I'd do this too but then again, I'd be scared s$$$less about scratching the ship. No way in hell I'd risk driving next to a pretty nebula. Especially after that last time.
"Er...Riker, somebody has killed Picard," Data said.

"All stop!" Riker yelled and he pressed a button. The ship screeched to a halt. "What do you mean someone has killed Picard?" Riker asked.
From here on out the Enterprise E flies upside down after that stunt. No one notices.
"Do you remember that rumour in Voyagers Delights. It said that Picard was going to die in the next film and that there will be another Enterprise blown up so they can have a new one for the new series," Data said.
Well the good thing is I gave credit to where I read it. It's a start????
But lol
The old Picard would die and not Data rumour. Don't remember it. I do remember Data's death being rumoured, and I do remember him threatening to leave (headless) in Insurrection but that turned out to be the opening scene thing.
Another Enterprise blown up? I do remember when Troi was ordered to take the helm in Nemesis I shouted something like "aaw hell no!", while watching it at the cinema. My friend still laughs at me to this day for that.
A new one for the new series? Do I mean the show Enterprise? Oh my, how could I get it so wrong.
Again Once Upon A Time is seriously dated.
"It is now! This is Star Trek X-Bye Bye Picard and E," Rick Berman said.
Wow, Oasis of Abatua isn't the worse movie title anymore.
"Quite simple. The Romulans say fire at will when Picard is dead. Will is you so the ship blows up with you in it. Then we don't have to worry about Data's ageing and Picard's X-Men job," Rick said.

"I knew this would happen. Will we crash again or just blow up?" Worf said, who for some reason is on the ship because the film is on. Marill appeared.
Got the Romulans right, sort of.
Data's aging was a factor into the no more TNG/Ent E movies. :(
I love the Worf appearing cos it's a movie touch.
Marill ruins everything. I assume she's gonna start making out with the walls or something. Now that's an image I'm gonna have to brain bleach out, with an actual wall.
"Neither, not when we need this ship for Season Three plus material. Firera, stop playing with that CD Player and help me out here," Marill said. Firera appeared hugging a small Goodmans CD Player.
YAY SPOILERS
STFU MARILL
WHY DOES FIRERA LOVE THE CD PLAYER THAT MUCH. WHO CARES WHAT BRAND IT IS
"Oh come on, think of a way we can save the Enterprise E," Marill said angrily. Firera handed her the CD Player and she brought out her pad.

"We can't control the Enterprise E yet but we can control, the Erona!" Firera exclaimed.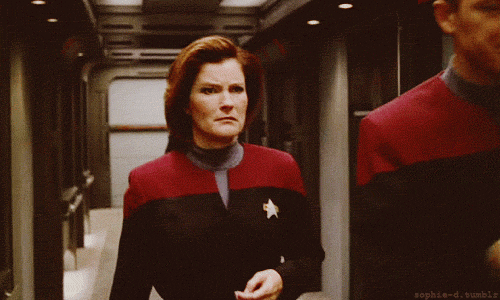 Meanwhile the USS Erona appeared from a temporal anomaly or a big wibbly wobby swirly thing.

"Ohno, a ship is being attacked, we have to save it!" the Captain exclaimed.
Sigh
"Never stopped us before, fire the reverse effect weapon!" the Captain ordered.

The Erona fired a red beam from it's side. It hit the Enterprise E. The Romulan ship fired and it blew up the Enterprise E. The Erona blew up the Romulan ship. Suddenly the wreckage from the Enterprise E gathered back up and they rebuilt the ship.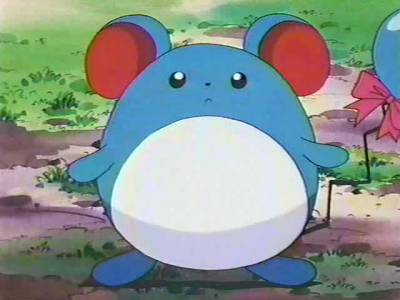 I remembered the whole Enterprise E can't be destroyed malarkey, which I "accidentally" forgot about when the time came. I guess the details around it were fuzzy.
"Oh drat! They didn't put me back together properly," Data moaned. His arms were attached to his hips and his arms were attached to his shoulders. Everyone else wasn't as lucky since they were mortal. It was too gorry to describe so it couldn't even be put in a 12.
WTF
HARRY WILL BE HAPPY. HE FINALLY HAS HIS "GORRY" BODIES.
Oh and since I described what happened to Data during this, followed by the others weren't so lucky since they're not androids, then I've already described this "gorry" scene, right???
"Who cares, as long as the ship is okay," Marill said.
Yep "accidentally" forgotten. Which explains why the crew are in one piece, literally, later in the series and the Enterprise can be erm, damaged as well. This scene was de-cannoned long ago.
"All right! We haven't been forgotten!" Craig yelled as the episode switched back to Voyager.

"Feel my power minions!" Harry said.
Yep, that's getting annoying now. I'm really starting to wonder if he hit his head and he's suffering from a concussion.
"Er, the Captain is back on the ship," Craig said.

"Oh s***!" Harry exclaimed.

"Er, Harry the comm link was on again and Kiara heard your remark. You'd better get started on washing the carpets," Chakotay's voice said.
Oh yeah, the Harry has to wash the carpets gag from Unimatrix Zero Part 1. Did that specifically name Harry for that job? I can't remember. Haven't seen it in years.
Kiara and Naomi ran into the room, both of them yelled, "mummy!" and they ran into their mothers' arms. Chakotay and Neelix followed the kids into the room.

"There's nothing like a family reunion," the Doctor said just to get a line in the episode.

"Meh, whatever," Neelix muttered.
1) Aaaaaaaaaaaaaaaw
2) Stop your bitching, you and Seven took over the original show. Season 7 you needed multiple slaps too.
3) Translation: this was my episode, no fair! Damn writers
Jessie and James was still hiding in Neelix's kitchen. "That was close, lets just hope that Chakotay doesn't check up on us," Jessie said.

"Yeah, can we go now, this place stinks of Neelix's cooking," James asked. They both heard footsteps behind them.
THEY'RE STILL ALIVE? AMAZING
"Hi! Do you want to test my new coffee!" Neelix yelled.

"Oh crap!" Jessie yelled.

"Looks like everything's back to normal," James muttered and they both ran as quickly as they could.
WHAT'S NORMAL?
IT'S WHAT EVERYTHING ELSE IS AND FV IS NOT
"Wow! Three episodes in one weekend! We're getting good!" Raichu giggled.
NOPE
WRONG
SO WRONG
SHUT UP
THIS EXPLAINS SO MUCH
"Oh Jenny, oh Joy, etc," Firera sang along to the song Two Perfect Girls by Eric Stuart.

"Yeah, I think we should start Timeless and put some earplugs in," Marill said.

"Good idea," Raichu said.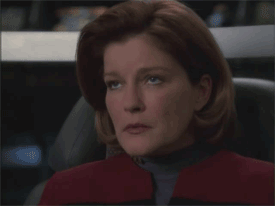 Soooooo three episodes are done in one weekend, let's do another one. I'm sure I won't regret this later. No siree. Nope. Nadda.
Okay, so Once Upon A Time was released 8th April 2001. I'll do a quick search for that date in the episode archive. It must be an exaggeration, surely!! *checks*
Timeless: 8th April 2001
Muse: 8th April 2001
Fair Haven 2: 8th April 2001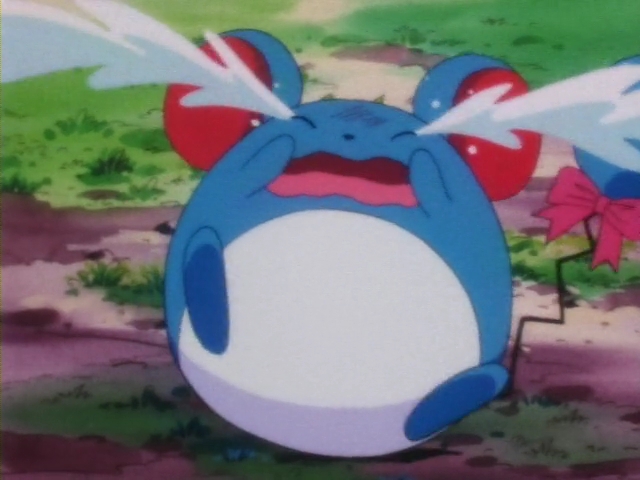 Yep no regrets at all...............................
##############
Well let's see how everything tallies up.
Negatives:
The scenes involving the missing Flyer and discussion about the kids are missing, which makes the funny bridge scenes seem random.
Writers appearing and being villainous for zero reasons. That scene is mostly copied word for word from Pokémon.
The Delta Flyer crew barely get a look in during this.
Weird Enterprise and Erona introduction.
Erona introduced with no context. It was written and released after Demon so WHY NOT, EVERYONE THAT READS FV READS IT AS SOON AS EPISODES ARE RELEASED. NO ONE WILL READ IT IN 2002, 2007, 2012, 2020 IN THE RIGHT ORDER, DUH!
One of the few good jokes is overused to death
Positives:
The power mad Harry stuff was fun at first, especially with Craig's temporary take over.
The babysitting scene on the bridge is as close to flawless as Season One gets. I love the Battleship game, ship jokes, Kiara's copying off her sitters, jumping on the chair. James and Jessie are in character, Kiara's cute and annoying at the same time, Chakotay actually puts his foot down when it goes too far. Yep.
Kiara's cute, did I mention that? Her affection for Jessie and James, especially him, was sweet... if a little unearned. Though to be fair she's a toddler and they treat her all the time. So yeah in her eyes, they've earned it.
It may seem like I'm repeating myself a lot here, but I enjoyed the first half of the episode despite its dull start.
Marill's Rating: 8/10
Exclaimed Count: 22 (66)
Muttered Count: 31 (81)
Motto Count: 1 (7)
Sexist crap against my own gender count: 0 (2)
YIKES, okay -1 point for the excessive exclaimeds and muttereds
Marill's NEW Rating: 7/10