Marill Re-Reads Demon²
Here's the stats so far.
Exclaimed Count: 111
Muttered Count: 244
Motto Count: 9
Sexist crap against my own gender count: 6
Now I haven't read this in absolutely ages. Probably not since thee olden days. I've had no reason to. The episode was quite rightly dumped from the reboot because it was a) awfully irredeemable and b) not important. It does introduce some regular characters, so why isn't it important? The (spoilers!) Erona crew are re-introduced anyway to the real Voyager crew in a later episode, all you really lose is Demon references and no one cares about that. I felt I could get away with only having them in at least one Reboot S1 episode, but I chose to briefly show them in Timeless too. Seemed appropriate.
So... I don't remember much of this one. All I do remember is the following;
1) More Jessie "MY MAKE UP" antics
2) The subplot involving the writers completely ripping off an episode called Pokémon Shipwreck
3) The fake Voyager crew hiding their silver goop Voyager from the Erona crew, and oh yeah I suppose Erona crew introductions.
Before we begin I'll try to quickly share something. The Erona crew were yet another Kidz Trek castoff/cameo (delete as you feel like) forced into FV. After Kidz Trek and The Voyage(r) Home, the next spin off was planned to be Excelsior (lol yes, I renamed it in the Star Trek fanfic and not the "original" novel. What do you expect from the girl who gave you FANFIC DIMENSIONS). Their mission was to use unconventional and very dangerous methods of searching for "Voyager" (spoilers: they use the Games). The ship was built to withstand all of this and they did, for the most part, have a capable crew. Well as capable as any Kidz Trek character was. It was probably the least developed of the series, excluding The Future anyway, both of which only had their story arcs decided and very little details thought about.
I didn't want to give away Erona/Excelsior's deal. Since FV was time travel/paradoxy themed it made (a little) sense that the crew searching for them were instead Time Cops. The reason why the crew turned into idiots? Remember Braxton A leads to C, pedantic drone, temporal psychosis? Relativity? Yeah, you can blame that for the inspiration.
Anyway, let's get on with it shall we? Groan.
##############
First things first:
Guest Stars
Moira Kelly as Cpt Jacqueline Sheepdog
Mark Harelik as Cmdr Will Scarlett
Nancy Bell as Lt Cmdr Vicky Roadds
Kari Matchett as Lt Ashley Fuji
Christene Harnos as Lt Jessie Anne James
Daniel Betances as John Young
Peter Deluise as Ensign Tony Livan
I've excluded the writers and Lanny, so really just the Erona/Excelsior crew.
Firstly Jacqueline has her real original name from Kidz Trek and will eventually be renamed since I liked to avoid using KT names in full. And because Sheepdog is a little o_0 Unfortunate. The character herself is a bit hit and miss. Jacqueline wasn't originally going to be a main character. Merely a side very irregular character in original Kidz Trek. I'm not keen on sharing the story I'm not 100% on, personal reasons. So why mention it? Well because she was little more than a redshirt in the past, Jacqueline was pretty difficult to characterise for FV, especially when in Star Trek the Captain is considered the main lead.
Will Scarlett. Now the only thing I remember from KT is that he was a bit of a playboy, up his own arse really. What's his face from Counterpoint was picked to play him. At least I think that's him. I'm also not sure if that's his original KT name either. It sounds like it came from Robin Hood.
Vicky and Ashley I really think are their KT names, the surnames are another matter. A lot of KT surnames aren't usually this, erm... realistic. Characters from this tended to have surnames based off animals/breeds, pet names etc... Jacq Sheepdog, Lilly Liger, Jessie Rex (poor Jessie and yeah I'll go into the only interesting tidbit next), Scot Shepard, Sid Collie, Carly Tortoise (a cat breed I believe). Bare in mind KT was created when I was a kid. So yep, I'm sure Vicky and Ashley (and likely Will, John and Tony) both had their names changed for this but Jacque was the Lilly Liger of her spinoff and wasn't allowed a rename... until Season Two anyway when Liger became Johnstone, her brother was renamed James (why?), and Dellia=Lillyia (backwards example there).
Oh and these two girls I can't remember anything about them. I told you Excelsior wasn't a developed series, didn't I. And no I couldn't tell you who their "actresses" are.
Ah Jessie. I've mentioned this a few times. FV-Jessie was initially Team Rocket Jessie for a one off episode as a joke (Hunters), but then when she was added to the main cast she very gradually took elements from Kidz Trek Voyage/Millennium/Planetary Quest's Tani to turn her into the Jessie we know now. HOWEVER this created a slight problem here when I wanted to bring the Excelsior crew into FV, since there was already a character called Jessie Rex in it. FV-Jessie was based on Tani but named after the Excelsior character. Or rather, she took her surname as it was Hunters and everything had to be "rushed" to make the Sunday night deadline. Lol. I'm guessing/exaggerating here but hey.
Calling FV-Jess simply Jessie Annet wasn't an option because Hunters was set in stone. That was my attitude then. When naming her I forgot about my plans for Excelsior in Demon² and Fugitives, and yeah. Oops. So in my Test of Time ruins everything mindset I changed Excelsior Jessie's surname to James, gave her a middle name and put my middle finger up to my present day self who seethed when she saw that. God damn.
Then there's John and Tony, who I've already mentioned would have had their surnames altered. I remember one of these men was the Game Cube expert of the crew, and so remained so for some reason (probably because he would have no job on Erona if I didn't) and that was lucky. Though tbh Demon may not have mentioned it. We'll find out.
Oh god look at that wall of text. Sorry folks, I didn't think I'd write so much. Review time. Honest.
##############
In the middle of the scorching weather and the mountainous terrain were two deck chairs!
!!
Even the narration knows it's stupid.
The writers had decided to spend Sunday sun bathing on the Demon Class Planet.
Well I suppose abusing your fifth dimension retcon privileges is a lot cheaper than a flight to anywhere these days. Especially when you're a kid.
"Er, Raichu, how come we haven't choked or melted yet?" Marill asked.

"Because I wrote in the Pad that we would adapt to the environment until we both left," Raichu replied.
Um. This is a dangerous abuse of power. Whatever next.
Also Pad is capitalised like it's a name. Oh sigh.
"Oh well, it just shows that we can go anywhere for a holiday," Marill said.
Noooo I refuse to have the same thought processes as past Marill. BRB killing self.
"Yeah but it isn't the same without an annoying posh accent bugging us all the time," Raichu said.

"Okay, I'll write Firera into this story," Marill said.
UM
1) Firera had a posh accent? when? She faked one once while pretending to be original Team Rocket James from the first few eps of Pokémon. And that hasn't been written yet here. So erm, huh? I don't remember this.
2) You do realise that she'd likely read this, right?
She reached into her small bag and she searched for the Pad. "Er, have you got the note pad?" Marill asked.

"Probably," Raichu said and she reached into her bag too. "Er, no," Raichu muttered.

"So how are we suppose to write ourselves out of this dimension?" Marill asked.
THE PLOT THICKENS. AND NOT IN THE GOOD WAY LIKE GRAVY, BUT WHEN WEETABIX IS LEFT FOR TOO LONG (EVEN FOR ME) IN THE MILK THICKENS. SLUDGY. YUCK
"Er, er, maybe Firera will find the note pad and she might write us out," Raichu stuttered.
Where she will then see that you two think she's buggy and posh, and decides to leave you there. Or worse.
Hang on. I think I've just remembered the er antagonist for this subplot. Nail on the head comes to mind. Oh dear.
"But she said she was bringing Lanny over today, what happens if he gets a hold of the pad or even my computer?" Marill asked. Raichu grinned as she sat up. Marill also sat up.
I WAS CLOSE
SERIOUSLY, GET A PASSWORD MARILL
YOU'LL THANK ME LATER
WAIT, WHY IS RAICHU GRINNING
"We're doomed," she said. Marill smacked Raichu across the head.
Oh, Pokémon James' weird laugh and attitude at being trapped in a sunken ship upside down. Gotta steal that. Gotcha!
"We're not doomed after all. Look a phone booth," Raichu said as she pointed to a phone booth only a few metres away.

"Er, since when is there a phone booth on a Demon Class Planet?" Marill asked. They headed for the phone.
Duh! There was a phone booth on the beach in the Pokémon episode. I imagine you'll both follow the cable, then get chased by a giant Pokémon while hiding inside it. Something about a roller coaster. Shrug. I haven't seen it in a while, k!
"Maybe Firera has the note pad now, but she must be a bit dumb. Why doesn't she just write us out?" Raichu asked.

"Maybe it's just like the Matrix, maybe we need a phone each time we leave the Fifth dimension," Marill said.
Did I mention how much I hate the fifth dimension joke? I don't think so.
And yes, I'll refer to it now as a joke. That's all it deserves to be called.
What's with all the Firera bashing? Was there behind the scenes bickering? "How dare you say that I wrote Hunters, Marill." I mean it's not as bad as the My Immortal fall out but what is?
0_0
God damn it. I can skip Dimension Jump right??????????? YES, MARILL RE-READS SEASON ONE. WOOT.
"We don't have money either," Raichu muttered as she picked up the phone.

"And without any money, our luck sure has changed," Marill muttered.

"Don't worry, if it is like the Matrix we have to wait for Firera to phone us," Raichu said.
EDGE OF MY SEAT. THAT'S WHERE I WAS. THEN I FELL. MY BUM HURTS. I CAN'T REACH MY COFFEE, SEND HELP
A light red swirly thing appeared, a large grey ship emerged from it. It looked twice as long as Voyager. A little ship also emerged after it, it attached onto the back of the larger ship. The larger ship had a large saucer shaped section on the front, a thinner middle section and wider back section. It had two mini warp drives on each side of the back section. The smaller ship was attached onto the larger ship in between the warp drives. The little ship was a wide shuttle, with one mini warp drive on each side of it.
"Light red swirly thing" tries to be "wibbly wobbly swirly thing" and fails miserably.
The ship description takes me back. All I could remember of the ship was that it was a big ugly grey thing that could land, like Voyager can. So yeah, this description isn't so bad and gives me a blurry memory of the Excelsior. I dunno if it helps anyone else imagine it though.
I had forgotten about the smaller Captain's Yacht type ship. I wasn't sure if the thin middle and bulky front/back was the Excelsior or The Future Lillyia Z4 or Z5.
"John, why have you brought us here?" a woman said. She had short brown hair, she wasn't very tall. She was wearing something very similar to a Starfleet uniform. It was long black trousers, a grey long sleeved top with a red short sleeved jacket. She was sitting on one of the three chairs in the middle of what appeared to the Bridge.
NO ONE CARES...
Though to be fair, this tells us that they're Starfleet but not as we know it, ie future or past, OR alternate reality. It's a kinda show and not in your face FV tell. I'll allow it.
Also, the Captain has no idea why they're there. Not a fault on the Captain, but more of a fault on her incompetent crew getting the wrong place. Also fine.
"I detected Human lifesigns on a planet in the Delta Quadrant, so I thought Voyager might be here," a man said. He was quite tall and he was wearing a strange blue outfit. It had darker blue markings on it. It was like he was wearing a males version of a cat suit. He was sitting at a console at the left side of the Bridge.
EQUALITY
Apparently (I cheated and looked a bit ahead) this is John, who I was about mostly sure was the Game Cube expert, who by the way I remember not being a proper enlisted crewmember. A specialist and that's why he isn't in uniform and in true Star Trek fashion has to be in an ugly catsuit.
Oh and "I detected lifesigns" but couldn't tell they were not Human. Epic fail. My gripe here is if the Erona is no longer the Excelsior, and instead a time ship, why is the Game expert in charge of Voyager searching? His field has nothing to do with the Erona's mission. Maybe I was right, maybe he only became the Game expert later when I wanted him to be and until then is the time travel expert???????????? Meh.
"Why would Voyager be here, Demon class planets don't support Human life. They would of been killed the instant they went on the planet," another man said with a posh accent. He had short black hair, he looked about thirtyish and he was very tall. He sat on the woman's left side in another big chair. His uniform was the same as the woman's except his jacket had longer sleeves.

"Exactly, if they did come here it would be a death sentence. There shouldn't be any lifesigns there at all," a younger woman said. She was quite tall, she had short dark brown hair and she was wearing a uniform with a purple jacket the same size as the other woman's jacket. She was sitting at a station on the right side of the back of the Bridge
Okay the clothes describing is still going on, and we'll likely get this for every MC now. However you're getting an ickle bit of world building for the future Starfleet, with at least how their uniforms are. At least I'm trying to describe the characters here, it's not great but it's an attempt. So points for effort.
Oh btw, first paragraph is Will Scarlett. Second is the original original Jessie Rex.
BONUS: Will only seems to become a total idiot later it seems. Pointing out the Demon class attributes is a little too clever for him.
"Well, Will, Jessie, there is lifesigns down there, a hundred and fifty of them to be precise," the man that was referred to as John said. The man and woman he called Will and Jessie sulked and they kept quiet.
I've never been good at introducing new characters' names. It always feels forced no matter how I do it. This however, didn't even try.
"I have no idea, Captain. It shouldn't be possible, maybe they have adapted to the conditions," John said.

"God, for a Games expert you're pretty dim. It takes millions of years to adapt to conditions like that and I don't think the crew could live for five minutes on that planet," another woman said. She had light ginger hair. She only looked about twenty four and she was very short. She was at a station on the back left of the Bridge. She had a uniform on too, her jacket had short sleeves and it was blue.
AGAIN, WHY DO WE HAVE THE GAME CUBE EXPERT DOING ALL THE LIFESIGNS SCANNING, THROUGH TIME AS WELL????
I think the latest character is Ashley, who I think is the girl who really digs MUCH older guys. Or dead in her perspective guys. Eew.
"Maybe some aliens near by are making us believe there are Humans down there. It's happened before," the girl said.

"Ashley, if it was true, no one from this timeline could possibly hurt us. We'll take the risk, Tony land the ship. Our new shield modifications should protect us from the heat," the Captain said.
No one? So no species could possibly be as advanced as 28/29th whatever century Starfleet in the 24th? Because all species follow the same technology advances at the same rate. Yeah okay. Little naive Jacqueline.
"Er, Jacqueline, if those lifesigns are a illusion, what's the point of landing?" Will asked with his really annoying posh accent.
DAMN THOSE POSH ACCENTS ARE THE SCOURGE OF ALL THINGS
"We haven't got proof of that yet, we may as well investigate," the Captain replied. A tall young girl with shoulder length black hair walked into the Bridge. She had a uniform on, her jacket was short and it was orange.

"Jess, I'm not putting up with that Engineering crew any longer. They're yours so you tell them off and get out of my station," the girl muttered. Jessie sulked and she moved away. The other girl replaced her.
Why were these two swapped in the first place then?? Oh right, so everyone gets introduced. Okay.
"God, Vicky's acting like they're a bunch of toddlers," Jessie muttered.

"Thompson to Roadds. What does this button that says do not push do. Ooops, too late I pressed it."
Ohnoes, it's the Leda B Engineering crew's descendants. Starfleet really should put their foot down on this family tradition, sheesh.
"Close enough," Jessie moaned. The lights went out.

"Jessie, have you not trained those fools in Engineering?" Jacqueline asked.

"Trained? They probably haven't been potty trained yet," Jessie moaned.
I er... I don't want to see this Engineering anytime soon.
"Who's idea was it to put a bunch of kids in charge of Engineering?" Will moaned.

"The writer, Marill. It's an idea based on her sci-fi series she's been planning," Ashley said.
Actual kids? Well it's not called Kidz Trek for nothing!
(I always thought original KT was kids, while the rest... nope! I think this is just a joke though to be fair)
"Don't say that, you might give everything away," Jacqueline said loudly.

"Well that series is going to be a huge hit then," Vicky muttered in a sarcastic tone.
HAHA
NAILED IT
"Well, it's not far off the idea, they won't be six years old," Jacqueline said.

"Remind me when it comes on, I'll have to avoid it," Jessie said.

"Er, we're from the future, it's already been on," Jacqueline said.

"Well it mustn't of been good then, I'm a master of television and I never heard of it," John said.
Oh John, is there anything you're not a master of? Tell me, is your real name John Gary Stu?
"He thinks he's a master of everything," Tony said.
AAAAHHHHH THE CHARACTERS KEEP COMMENTING LIKE I DO. I'M SCARED. SUPER SERIOUS HERE, I DIDN'T READ THAT FAR AHEAD WHEN I TYPED THAT.
"Er, Tony have you landed the ship yet?" Jacqueline asked.

"I can't see the controls, remember, those toddlers didn't put the lights back on," Tony replied.
In the future starships don't have lit up computer panels. They instead only have levers and buttons cos old school is best.
Tom and the Enterprise E joystick creator have a lot to answer for.
"Oh my god! We're gonna die on a planet!" Will exclaimed. Jacqueline smacked him on the head. The lights came back on. Jacqueline noticed she didn't smack Will's head, she smacked his nose. "Oh crap, not again. Don't hit the nose!" He ran out of the room. There was a big thud.
Will's nose is the light switch. Ahh the future.
"Oh well, I sort of landed the ship," Tony said happily. Everyone had fell over on impact. Will had landed on his head, all of the lasses were a little more lucky. "See, sort of."
All of the lasses.
What about John? No mention of Mr Awesome. I bet he didn't feel a thing.
Oh and...
Sexist Crap Count: 1 - It's obvious what I was doing here; LOL THE MEN GOT HURT
"Yes it was, we didn't die so it wasn't a crash," Tony said with a big grin on his face.
Falling with style
"Er, I heard a crunch when we landed," Vicky said.

"I'm sure it's nothing," Jessie said.

Meanwhile Marill and Raichu stared in shock when they saw that their deck chairs had been crushed by a large ship.
Yes because any starship, let alone a gigantic one like the Excelsior, would feel AND HEAR the deck chairs being crushed beneath it. It'd be like someone noticing they've stepped on an ant.
But who cares. HAHA it's a joke.
I gotta stop griping on something that's clearly a comedy/parody attempt.
NAH! BOO SEASON ONE
"I didn't. My old walkman has been crushed, and my chocolates!" Raichu moaned.

"Chocolates, on a planet that's hot enough to melt metal. They probably evaporated," Marill said.
WHY, THE WRITERS HAVE BEEN "PROGRAMMED" NOT TO MELT EITHER. I'M SURE RAICHU THOUGHT ABOUT HER CHOCOLATES.
oh yeah and NOOOOOOOOOOOO the walkman!
"That means they're are still here," Raichu said happily. She sniffed the air. "Mmm, chocolate," she murmured. Marill rolled her eyes.
Stop your rolling. I actually think that's funny. I smiled a little.
Marill's House, her sister's room:
MY ROOM
MINE!
"Lanny, give me that note pad, you little rat!" Firera yelled. Lanny stuck his tongue out at his big sister. He started to write something in the guestlist.
What?
Why are they in MY ROOM?
Yeah Marill said that they'd be but I skimmed it. If they knew they were coming over, why did Raichu write her and Marill on the Demon class? AAAAAH RAICHU WANTED TO KILL ME. IT WAS THERE ALL ALONG IN WRITING FOR 15 YEARS
Firera tried to grab the pad but he ran away giggling. Firera noticed he only had the secondary script, but she thought it could still cause some damage.
HAHAHAHAHAHAHAHAHAHAHAHAHAHAHAHAHA
A script.
Not just A script, a SECONDARY SCRIPT
FOR A FIFTH VOYAGER SEASON ONE EPISODE
THAT'S HILARIOUS
See, now that's comedy.
I'm taking that to mean "plot" instead of script, as well that's the only thing that makes a bit of sense. Though a secondary one *snigger* would likely be one of the following;
1) The new version of the plot, which would replace the first one. So it wouldn't be secondary
2) A plot devoted to the side story. This is S1 though where the subplots with the writers were made up on the spot and usually taken from Pokémon, so I really doubt this.
Yeah, um... I complained at length that the writers rarely do anything, are surprised when the characters do stuff etc... and it seems like Demon is carrying on that trend. Apparently episodes followed the plot entitled "script" in a notepad. News to me. I could count how many episodes accurately followed their plots without straying for a better idea on one hand.
Right now I can only think of Death of the Soul, and even that changed one of the subplots. It got a new plot to follow, which it did so *shrug* Even memorised every line Closure deviated, Dark Clouds too. So yeah. I count two now. Death and B4FV'S The Coming of Time. TWO OUT OF TWO HUNDRED+.
GOD I'M WRITING A LOT FOR AN ASSUMED S$$$ EPISODE WHICH IS ACTUALLY MILES BETTER THAN MOST OF THE EPISODE'S I'VE READ FOR THIS SECTION SO FAR. WHAT A TWIST!
Firera found the main script, she didn't have the script that could write Raichu and Marill out of the story, Lanny did. She thought she could enter the story herself with this script but she would have to have Lanny with her to escape the story again.

"Lilly, I put big monsters into the story, they're going to play with Marill and Raichu," Lanny giggled.
God I'm torn.
I HATE the writers and fifth dimension crap almost as much as I hate Apple and Rihanna. However the episode's been good so far, and why? First, look at that paragraph. I write paragraphs like this now as a way of doing first person without actually going first person. If that makes sense. Probably not. Secondly despite the flaws involved, the little brother stealing control of the episode (and if I remember Demon right, secondary script means side story plot despite what I said above) is one of the very few examples of the writers gimmick being a little bit entertaining. And inoffensive as I remember it doesn't affect the Voyager/Erona part of the story, it's merely a distraction.
I could be wrong. It's too ok to be true.
The clones of the Voyager crew were standing around, bored to tears. There was nothing to do and the other Voyager crew didn't leave them anything.
Like Hunters, we never get the previous episode in this story and readers are left to remember the original. The series was meant to show you that original episodes still happened in between FV episodes. I never did a good job of that though. And god, original Demon was ripe for parody. Why an in between Demon and Course Oblivion episode made more sense, I don't remember.
OH AND THE VOYAGER CLONES LOVE THE DEMON PLANET. THEY SHOULD BE THRILLED.
Though that is more of a complaint for Course Oblivion, even if I do rate that in my Top 10, maybe 15 episodes of Voyager. Why they wanted to leave the planet they loved is silly. If Demon class converted Harry 2 then it can do it to anyone.
Jessie was busy running around like an idiot. "God, I've been here for eleven months and I still haven't got any make up! My face is not perfect!" she was yelling.
How she is still alive after eleven months of this, even I can't tell you.
Everyone had a headache. She had been complaining about not having any make up for eleven whole months.
REALLY, I NEVER WOULD HAVE GUESSED.
How can I get one paragraph that sets the scene and what the character(s) are worried about so right, and the next so repetitively wrong. Sigh.
"Sorry, Jess, there's no Boots anywhere, there's not even a Superdrug," James muttered.
Of course Jessie would buy her makeup at Boots first. I'm surprised I didn't research a more expensive place to suit her tastes.
Oh sorry, missed this little gem:
She crashed into James and Craig, they all fell over. "James, do something!" she screamed.
I... I don't even know. I'm gonna assume she Rugby tackled them as they stood in a line, Dominoes effect. I can picture her charging around and knocking one person over, but two at once? Nah
Oh and "JAMES DO SOMETHING" Jesus. I assume after hearing this he'll pull some makeup bag out of his ass and wink. She'll go "my hero" and then slap him for hiding it for so long.
Everyone then tosses her off a cliff.
Old school Jessie was such a pain.
"Aaagggghhhh! I can't live anymore, I need makeup!" Jessie screamed.
We can only hope.
She's so one note. I'm vain and angry, fear me. Nope. Not interested. Get some bloody depth Jessie, I'm more bored of you than annoyed now.
Anyway Craig likes anyone with boobs so...
"I think you look pretty like that," Craig said in a dreamy voice. Jessie smacked him in the head. "In your dreams, Craig!" she yelled.
OMG, THIS WAS ONE OF THE FEW THINGS I REMEMBER FROM ENGLISH CLASS.
DO NOT HAVE TWO CHARACTERS SPEAKING IN THE SAME PARAGRAPH.
JESUS
"But that song called, Dreams by Alysha, said that nothing's impossible," Craig said.

"Why do people take songs so seriously?" Jessie asked.

"Yeah, do you believe you live in a Pokémon World?" James asked.
Genuine lol. Thanks James.
It'd be an oh snap moment if Holo Q wasn't the previous episode. I mean come on, of course we're in a Pokémon World.
Ohwait, Demon, clones. THEY'VE BEEN SPARED.
"Captain, we've got company. There's a Federation ship near our construction site," B'Elanna said. Jessie ran over to Harry and she started strangling him.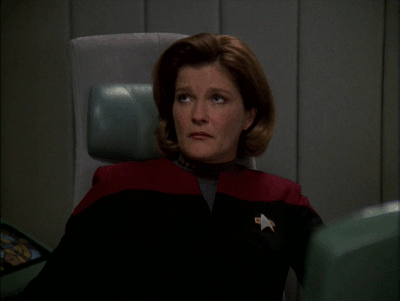 "It's all your fault I haven't got any make up! If you had just stayed here on your own with your boyfriend, Tom, I would be still on Voyager!" she screeched.
Yeah um, this is bad and feel bad etc... but made me think. Did the entire Voyager crew consent to the cloning in Demon? I can't imagine all of them would be super keen. Jessie freaking out makes me think she'd be one of the few who'd say "lolno, I'm too perfect to be duplicated" or some crap. She'd know oldschool Jess would not last, even with the ILuvDemon silver goop. I dunno, something to think about. I'm sure I'm not the only one.
It's OTT but that's Old-Jess in a nutshell.
"Jessie, you already are on Voyager, and secondly Tom's not my boyfriend!" Harry choked. Jessie let him go.

"Fine, I'll just go and jump off a cliff, it'll get everything over with," Jessie moaned. Craig and James held her back as she tried to head for a cliff edge.
NO STOP, LET HER GO
"How can there be a Federation ship here?" Kathryn asked ignoring the scene that was going on behind her.

"I don't know, but it looks a lot more advanced than anything I have ever seen," B'Elanna said.
Oh yeah, the Erona landed near the construction site, according to B'Elanna. So Marill and Raichu were not literally at all chilling next to that. But meh, the point is the Erona is there in full view of Voyager Clones. Once more the Erona crew prove how incompetent they are.
"Lets have a look then," Chakotay said.
Um... an advanced Federation ship. Yeah I don't see any problem with this, let's take a peek.
B'Elanna and Harry led Kathryn, Chakotay, Tuvok and Seven down the cliff. They all saw the large ship at the bottom of the cliff. They saw four figures dematerialising.
They brought Seven? I really didn't unleash my hatred & fury until the C/7 crap was found out, did I?
"Huh? How can they beam here, they can't breathe in this atmosphere?" Harry asked.

"I don't know. They haven't died yet so we should go down and meet them," B'Elanna said.
I dunno, this would be what would put me off meeting them.
They continued to walk down the cliff. They were nearly where the ship was when Harry crashed into a force field. He fell over backwards. He looked up and he saw Vicky in front of him.

"Well Ashley, they aren't illusions, unless they're solid illusions," Vicky said. Ashley walked beside her.
I'm not sure what's happening here. I was wondering when the episode would be more Season One-y
"Who are you?" Kathryn asked.

"I'm Captain Jacqueline Sheepdog of the Federation Time Ship, Erona. This is my first officer, Will Scarlett. Those two young girls is Ashley Fuji and Vicky Roadds. Ashley's my opps officer and Vicky is my tactical officer," Jacqueline said.
o_0
I dunno, two young girls seems a tad odd. Might be just me.
"It's a long story. Voyager was in need of Deuterium, Tom and Harry landed a shuttle on the surface of this planet in search of Deuterium. They got cloned by this silver blood. The clones were able to live on this planet. The pair wanted to stay here but not alone, so the silver blood cloned the entire crew," Kathryn said.
Previously on Not Fifth Voyager
GOT CLONED
I HATE YOU GOT
"Er, Time Ship, what century are you from?" Harry asked.

"The 28th. We travel back in time to prevent time tampering. We were searching for Voyager, we didn't think we would find clones," Jacqueline said.
Perhaps the Number 1 rule for any Time Ship is "do not talk to anyone from the past, especially when they have nothing to do with the mission." Nah, that's crazy.
"Why are you searching for Voyager?" Chakotay asked.

"We can't tell you that," Will said.
Ah, there it is. Finally.
"Why not?" Seven asked.

"That would be just like the writers telling you what happens in a future episode," Ashley said.
Shut up Seven
Lol Ashley. You think the writers wouldn't do that? They already have.
"No, Voyager didn't leave us many parts. We're still trying to make... something out of the silver blood. It's taken eleven months so far and we've nearly finished," B'Elanna said.

"Oh great, that's perfect, is this silver blood good for fixing parts without cloning anything?" Jacqueline asked.
Oh great, I'm not suspicious of the something you're building. I'm a good Captain. Can we use some of that cloning juice?
Jessie ran towards them, Craig and James were trying to catch her. Jessie grabbed Jacqueline. "Do you have any make up! I haven't had make up for months! I feel like I'm going to die!" Jessie exclaimed.
God. I was grossly unfair to Season One James. Yeah he's had his moments of facepalmingness, but Jessie's so far given us:
a) OMG SHUT UP 1 YEAR OLD ABOUT YOUR MUM DYING, MY MAKE UP IS GONE
b) the headmasters story in Test of Time
c) hitting Tom with a frying pan because she has a quota to keep up
d) I don't like boys hitting on me but GOD DAMN IT THESE ASSIMILATION TUBULES WILL MAKE THEM STOP HITTING ON ME, CAN'T HAVE THAT
e) I'M BEAUTIFUL AGAIN
and now
f) I'M DYING WITHOUT MAKE UP, LET ME BITCH ABOUT IT FOR 11 MONTHS, ATTEMPT SUICIDE OVER IT, THROTTLE PEOPLE, GENERALLY MAKE EVERYONE'S LIVES HELL
I get it now. THIS is why the crew make a new Voyager to get off Demon. It's to get away from Jessie. I'm sure when the time comes they'll distract her with something, maybe James will make the heroic sacrifice and do the deed (not that way........ or maybe THAT way *shrug* if so Craig will probably volunteer as well) while they escape.
"Of course we do," Jacqueline said. Will tried to drag Jacqueline away from Jessie. James dragged her away from Jacqueline. Craig didn't help he was too busy staring at the new girls.
Why is Will doing anything? Did I miss the bit where Jacqueline slaps Jessie silly? Damn.
"Er, Jess, calm down. You know make up won't work here, it'll probably melt," James said.

"Oh god! It'll ruin my face!" Jessie exclaimed.
SHUT UP
Craig pointed at Vicky after doing eeny meeny miny mo. He ran over to her, he didn't go close enough so he didn't hit the forcefield.
So romantic.
Oh and forcefield? I'm confused. First I thought it was the Erona's shields, then I thought "well the Erona crew are fine without spacesuits so these are personal shields to keep them alive".
I mean where was Harry running to when he was floored by that first shield? If it's the latter, why was he trying to tackle poor Vicky since she was the first person he saw... for that matter, how did he not see her full stop either way?
"Hi, will you go out with me? You've captured my heart!" Craig squealed. B'Elanna grabbed his ear and she dragged him away.

"Not today, Romeo!" she exclaimed.

"What's up with him?" Vicky asked.

"He's just the ships resident girl drooler," James said.
AND HE'S THE SHIP'S BABY. WAH, HOW CAN YOU SAY THAT, BOO HOO
Oh sorry, wrong episode.
Next time on Marill Re-Reads Timeline:
Kiara 2 walked up to James. "What's his problem?" she asked.

"Don't worry about it, he's just the ship's girl drooler," James said.
Seriously, this is eerie and probably intentional since the sentence is so similar.
Thankfully Janeway rescues us from Season One James' worst moment.
"Oh, I'm Captain Kathryn Janeway. This is my first officer, Chakotay.
This goes on a while. Why we need the entire FV cast introduced is beyond me.
But it does bring up an interesting point. WHERE THE F$$$ IS KIARA? DID THEY GET CONSENT OF THE CREW AFTER ALL, AND JANEWAY SAID NO TO CLONING HER DAUGHTER?
She doesn't mention Craig, at least not yet. She gets to James and Pain In The Ass
Those two are Jessie Rex and James Taylor, they are my... Chakotay what do they do again?" Kathryn said.
BITCH A LOT and make readers wonder which personality he's gonna be in each scene, respectively.
"I'm the most beautiful member of the crew," Jessie said.

"Er... I'm er..." James muttered.

"The ships resident wimp," Harry said.
SHUT UP JESSIE
DAMN IT HARRY. SHUT UP. IF HE STARTS CRYING I'LL COME OVER THERE AND SO HELP ME GOD...
"Isn't that your job?" James asked.
OH SNAP
NEVER MIND, CANCEL RED ALERT. IT'S TRACES OF MODERN JAMES IN THIS SCENE, NOT 5 YEAR OLD GIRLS HAVE COOTIES JAMES. CRISIS AVERTED.
"Hmm, Jessie would love to meet these two, Vicky. Get it Jessie and James," Ashley said. Jessie got very angry.

"Uhoh, now she's done it," James muttered.

"HOW DARE YOU INSULT OUR NAMES! I'LL KILL YOU!" Jessie yelled. James tried to calm her down.
Darn. Demon has lost two points with this. It's to blame for the retcon in Test of Time regarding why James and Jessie were bullied as kids. I'm totally serious. FU DEMON²
If only I had given Excelsior Jessie a different surname. Sigh. If only.
"Do you mean, you have a Jessie on your crew. Oh I'm in heaven," Craig drooled.

"Yeah and she's actually called Jessie Anne James, funny isn't it?" Ashley said.
Jessie is also a boy's name, FYI
NO IT'S NOT ASHLEY
"No, I'm insulting our dear Chief Engineer, Jessie James. She hates it when we say her last name, she likes to be called Jessie Anne. If we call her James by the comm link she throws a tantrum," Vicky said.

"Hmm, do you think it would be funny if those two got together?" Ashley said quietly into Vicky's ear.
STFU VICKY SERIOUSLY
I was wrong about Ashley. I got her mixed up with Vicky, she's the grave robber. Ashley's the shipper. Got it.
"Who?" Vicky asked.

"That Jessie Rex and James Taylor," Ashley said.

Tom, of course was near by and he heard it. He laughed out loud. "Where have you been, they're probably already seeing each other!" he laughed.
They've only just met them but whatever Tom, keep on shipping.
"Who are you talking about?" James asked.

"You and Jess," Tom said with a snigger.
James: DUUHHHHHHHHHHHHHHH *drools a bit*
There's stupid. Then there's James. There's about a mile gap between the two.
Oh the next part is super great and cos of it I've officially given up on Season One Jessie. Test of Time excluded, Jessie's gonna have to earn OK points before she's back in my good books.
Kathryn, Chakotay, Seven, Harry, James, Craig and B'Elanna ran for cover. Tuvok, being the dope he is, stayed where he was. Jessie exploded and she stormed over to Tom, knocking Tuvok over, and she started strangling him. The Erona crewmembers just watched.
Tuvok's a dope??????????
Any excuse to knock him over... but WHY?
Yeah. Jess is getting worse not better. Strangling Tom for something like this.
I'm in two minds as I was just bitching over the Jesse James replacing the reason for her being bullied, but she's still flipping out over couple hints, which is 100% correct. I could do without the strangling. That's two people she's choked so far in this scene, unless she did it to Jacqueline too.
So yeah. Starting now Jessie has a Shame Points counter. She earns one for doing s$$$ like this, but they get deducted everytime she does something that's Present Day Jessie (aka real Human being with depth, flaws and positives etc...). She's not getting a break till she's in the minus. Test of Time's already done (lucky you Jess!) so that won't be mentioned there.
Jessie's Sin Points: 1
Marill and Raichu ran as fast as they could when one of Lanny's 'guest stars' appeared, a giant bird that spits fire.

"What the hell is that?" Marill asked.
WHO'S THAT POKÉMON? IT'S MOLTRES!
YOU SHOULD KNOW
They both crashed into a sign. Yes you always find them on Demon planets. The bird didn't notice and it flew straight past.

"It's a good thing we hid behind this sign," Marill muttered.

"Yeah, maybe our luck is changing," Raichu moaned. They both fell over.

"It's a good sign," they both said.
Would be a snigger if it was my joke. Spoiler alert, it's not.
Firera snuck back out of the kitchen with something behind her back. There was a lovely smell coming from inside. Firera had ordered Pizza and it's smell spread throughout the house. The monster er I mean Lanny smelt it. He started drooling in his hiding place. Firera waited behind the Living Room door.

Lanny jumped out of the Airing Cupboard, which was in Marill's room. He tripped over the dreaded Bush CD Player that the whole gang feared. Lanny got back up and he opened the door and he ran downstairs drooling. He ran into the kitchen. Firera laughed, the Pizza wasn't there, she had it and she was eating it.
See, this is what I was talking about. This whole scene is written this way. I mean yeah, it's still got some Season One flaws in there, but it looks a lot less lazy than the rest of the season. It makes me wonder why I went to what I considered effort back then for this Firera & Lanny story.
Lanny was drooling so much it was making a puddle on the floor. The black cat, Sooty, smelled the Pizza and it started rubbing against Firera's leg.
BRB mourning my cat :(
Immortalised in Demon², how cruel am I?
Lanny wrote something on the notepad. He and Firera disappeared and they reappeared on the Demon planet. "Lanny, why did you bring us here?" Firera asked.

"Just in case Marill's dad comes in, he'll want some Pizza. Now give it here!" Lanny exclaimed
Probably.
Any normal person would wonder why their kid's friend and little brother were in the house alone.
"Lanny, why the hell is Charizard twenty foot tall?" Firera exclaimed.

"He's one of my extra guest stars, I've got a giant Kaputops, Pikachu, Moltres, Zapdos, Charizard, you get the idea," Lanny said as he ate his pizza. Charizard fired a giant blast of fire at them. Firera dragged Lanny when she jumped for cover.

"Hehehe! He's playing with us," Lanny giggled.
This kid's a sociopath. Like all kids. oh snap
Here I thought I didn't write realistic kid characters till a girl with a name beginning with A in Season Five.
"To make a phone call," Marill said. They got back to the phone booth.

"But Marill we don't have any money," Raichu said. Marill picked up the phone.
Youtube Pokémon Shipwreck and watch all of Team Rocket scenes. It's probably more entertaining and you won't miss anything.
"Who'd except the charges?" Raichu asked.

"Hello, Rick," Marill said.

"Aaagghhh! Rick Berman!" Raichu exclaimed.
Oh yey, Marill's getting ideas above her station again. As if Rick Berman would notice FV let alone give a s$$$ about it. Sheesh.
Except the charges. Snigger.
"You idiots better have a very good reason for bothering me in an important meeting," Rick said. He was in a meeting with a chocolate cake actually.
Um, oh snap? What was I implying here?
"Yes, but first we'd better do the introduction," Marill said.

"What?"

The Team Rocket music started. "Prepare for trouble," Marill said.
NO! THIS IS A TEAM ROCKET SIDE STORY IN A POKÉMON EPISODE, I SHOULD'VE SEEN THIS COMING.
Motto Count: 1
"Nit wits! How dare you annoy me with your nonsense, don't ever bother me like this again!"
HIGH FIVE RICK
Ten minutes later Marill and Raichu were pulling the telephone cable inside the booth causing the booth to move forward.
Told you
"I know, but if we follow the cable it'll lead to a phone company. And if we stay inside this booth we'll be safe," Marill moaned.

"But why would there be a phone company on a Demon class planet?" Raichu asked.
Why would there be a phone booth in the middle of what is essentially a safari park filled with HUGE GIANT POKÉMON ROBOTS who flip out whenever people are in said park, where the only way people can visit it is via an extremely long range monorail. YEAH
Anyway the rest of the scene plays out exactly the same. I already told you. They run away, jump into a roller coaster type thing to escape the giant monsters, break the brake and then meanwhile.
Firera dragged Lanny behind her who was still eating his pizza. She got to the top of a small hill, it was shaped like a Bridge and it went over a railway track. "Lanny, what the hell did you do to this planet?" Firera asked.

"The planet was too boring so I spiced it up a little," Lanny said with pizza in his mouth. Firera turned around and she saw the giant Pikachu.
OH
AN ACTUAL EXPLANATION FOR THE STUPID S$$$ HAPPENING
Lanny is too good for FV. Should've hired him.
"I can't my pen's ran out, Lanny give me yours!" Firera yelled. Lanny was still eating the pizza.
This is like when a car won't start during a chase scene.
Too convenient and annoying.
Do like the still eating a pizza touch. This kid is just so... "whatever"
The cart started to fall to the ground. Firera distracted Lanny as she stole his pen. She quickly wrote something and they all disappeared and reappeared in Marill's house.
Firera pulls this off while they're crashing. Lanny probably still eats pizza while they're crashing.
Interesting. Someone should look into this family.
The four Erona crewmembers followed the Voyager clones back to the top of the mountain. B'Elanna and Harry had ran off somewhere. Tom got out of the strangling session in one piece unfortunately.
UNFORTUNATELY?
IT'S SEVEN YOU HATE, MARILL, REMEMBER!?!
"This is where you have lived for eleven months?" Will exclaimed.

"Well sort of. We camp out in the caves ten minutes from here. We spend most of our time watching the view or building our... building," Tom said.

"Wow, that's kinda boring," Jacqueline said.
Ok the ... are there for a reason. Why won't the Erona crew pick up on this? Oh yeah, idiots.
"No wonder Jessie's been close to committing suicide thirty times," Ashley muttered.
Noooooo, no, Jessie's motives are not subtle in anyway. Stop pretending that she has sympathetic reasons for being annoying. She doesn't. OMG MA MAKEUP
"I don't understand, if I was her I would of spent most of my time with him," Vicky said.

"Are you talking about me?" Craig asked.

"Eeew, no," Vicky moaned.
To be fair you did play the pronouns game.
"It was me, wasn't it. Sorry Vicky, I'm engaged to B'Elanna, we're going to get married when we've finished v... our building," Tom said.

"No, I was talking about your James," Vicky said.
OMG IT'S NOT FUNNY. IF IT WAS CLEVER MISDIRECTS AND THE ERONA CREW STILL MISS IT, IT'D BE WORTH IT. BUT EVERY VARIATION OF THIS IS "FINISH OUR... BUILDING".
"Your James", that would imply you have one of your own. Jessie James does not count here, right?
"James, you like him!" Tom exclaimed.

"Over me?" Craig asked.

"I think guys like that are soooo cute," Vicky said. Ashley rolled her eyes.
Tom: Noooooo, I ship Jessie/James. Don't bring an icky third party into this. Love triangles suck (I AGREE!)
Vicky's line gave me flashbacks of Teen Kiara's pedo admission in Timeless. God damn it. Twice I've had to admit it exists.
"I'm like that!" Craig moaned.
LIKE WHAT?
JAMES HASN'T DONE ANYTHING BUT HOLD JESSIE BACK and fail a lot
Um... that's what Vicky likes? Someone get this girl some therapy.
Seriously. She's from the 28th century. She's like 400 years younger than him, and he's most definitely dead in that century. EEW
James and Jessie walked over to the group. "Did I hear my name mentioned?" James asked.
No, but someone did walk on your grave and start canoodling your gravestone. Gross I know.
Tom laughed, "Vicky fancies you."

Vicky smacked him over the head. "Be quiet!" she yelled. James looked terrified.
Flashbacks to Unforgettable, this episode has it all.
I blabbed on about it another review. Or some other place. James does have legitimate reasons for fearing women who are aggressively attracted to him (though Vicky hasn't done anything to prove she is aggressive about it... yet?), but FV has yet to show why and even Test barely hints to it. You have to wait till Season Four or read the prequels for a one. I suppose this isn't truly a bad thing, it's something you occasionally wonder about. The bad thing is how stupidly his reactions are written.
I can have him be fearful/wary about it without making him regress into a toddler.
Then again, eating my words in more ways than one:
"I wouldn't if I were you. He's terrified about going out with girls ever since a girl who was five years older than him asked him out," Jessie said. James stepped behind Jessie.
1) Nm, Jessie spoils Test of Time's so called vaguely bad hint anyway. Is this why I never wrote more in that ep, because Jessie had already done this?
Jessie's Sin Points: 2
2) This is one of many moments in James' childhood he really does not want to talk about and especially share the slightest details of with even you. So yeah I'm sure he won't mind if you tell EVERYONE INCLUDING TOM AND A BUNCH OF STRANGERS ABOUT IT. Seriously, is he your best friend or not?
Jessie's Sin Points: 3
3) Oh and "asked him out", WTF JESSIE?
Jessie's Sin Points: 4
I'm in two minds about that one since as I stated earlier James wouldn't be super eager to talk about this incident with even her. She'll know the basics since it came out around the time of the other incident (SPOILERS FOR TEST OF TIME!), but not the disturbing parts only he and I know. HOWEVER even with the little Jessie knows, "asking him out" isn't even close to what happened.
I'll keep the point since it downplays what James went through and makes it look as if he's overreacting still. She doesn't say when it happened, so the fact he was a kid at the time of this is missing and downplays it further. Great job Jess.
Oh and yeah, you'll probably never know what happened. The Reboot gives you a bit more of a hint, and I THINK one episode has a blink and miss it comment from James at what happened with the same girl later. James and Jessie's backstories were developed to give the characters some depth, and weren't all planned to be shown. They only would if the story needed it. Anyway...
"Why isn't he scared of you?" Ashley asked.

"Yeah and what happened between him and the five year older girl?" Tom asked, being nosey as usual.
Good question. I'd say a girl screaming about makeup and throttling people is just as terrifying as Jill/Edwardina in Test of Time's antics.
Oh and further proving number 2's point. Why mention this while Tom's in earshot, Jessie? WTF!?
AND WTF AGAIN:
"Lets just say, he was about four or five and he actually said yes. The girl actually tormented him and when he didn't do what she told him to do she used to beat him," Jessie said.
Jessie's Sin Points: 5
STOP IT JESSIE. HE'S YOUR FRIEND. PRIVACY WTF
I mentioned I hadn't read Demon in a very long time. I forgot Jessie actually said anything, let alone a lot about what happened to James with this Jill girl in Test, BEFORE Test of Time was written. Sigh.
OMG I'M SO ANNOYED RIGHT NOW. I'D SAY "SO MUCH FOR MYSTERY" BUT THE FINER DETAILS OF THE JAMES/JILL STORY IS WHAT MAKES IT ALL THE MORE CREEPY... BUT OH WELL AT LEAST NOW YOU KNOW. ENJOY MY EARLIER TEST OF TIME REVIEW AS I DID NOT KNOW I ALREADY SPOILED IT
"Isn't that so cute?" Vicky said as she watched him.
Eeew. Am I the only one who finds Vicky's attraction to James because he's traumatised by a domestic abuse relationship he had when he was FOUR YEARS OLD so very creepy. FOUR F$$$$$$ YEARS OLD!!!!!!!!! OMG. AND I THOUGHT HER BEING ATTRACTED TO A 400 YEAR OLD DEAD MAN WAS WEIRD AS HELL. EEEEEEEEEEEEEEEEWWWWWWWWWWWW
"What happened then?" Tom asked. Ashley was jumping around trying to get some attention.
Wow Tom, seriously. In the last few lines you've learned that at 4 or 5 years old James was asked out by a girl 5 years older than him (so 9/10), he said yes, but she "tormented" him instead and when he rebelled against her, she beat him. So yeah like I said above, you've found out that James was in an abusive relationship at 5 years old, tops (and FYI he was 4 years old and already was being beaten by his dad. Yay??) and you STILL WANT MORE INFORMATION. WTF TOM
This episode should be renamed WTF²
Do you remember when I said this episode was better than most/all I'd read before in Season One? Yeah. I knew that wouldn't last.
"My sister found out and she beat her up," Jessie said.

"Somebody pay attention to me!" Ashley yelled.
I dunno why I even bothered with Test of Time after this. I'm surprised Jessie hasn't told everyone about his dad, her breakdown with the forknife, and the headteacher taxi service. I'm sure we'll get the story about the house kicking out of kebabs soon enough.
Ashley's making me wonder if she worked in their Engineering before her transfer to the Bridge.
"I was wondering why he isn't scared of you. You seem very aggressive and all that," Ashley said.
We could've changed the subject back to the plot, but noooooooooooooooooooooooooooooooooooooooooooooooooooooooo
But excellent question Ashley. Normally I'd say they're BFF's forever because James treated her with respect (ie didn't hit on her) and Jessie returned the favour by looking after him after his multiple traumas, but this episode reminds me that Season One Jessie's a bitch and shouldn't be within 20 lightyears of James. I mean come on, re-read everything this episode has said happened to him. Look at Test of Time. Then see how she treats him here. James is once again in quite an abusive relationship, only this one's more psychological than physical. Sheesh, I feel sorry for him. I can probably even forgive his stupid scene in Timeline after this.
"We've been friends since we were four. I would think that he trusts me," Jessie muttered. James nodded. "Would you stop being such a coward," Jessie said as she moved away. James panicked and he followed her.
Jessie's Sin Points: 6........thousand
"I would think he trusts me." That line made me feel like she was saying this in a threatening tone with a side eyed glare that says "don't you dare contradict me." James' only response being a nod can be seen either way.
Then Jessie backs me up completely with the coward line. FU JESSIE. YOU ARE NOT THE JESSIE I KNOW, GO TO HELL. WHAT IS THIS? JAMES RUN AWAY NOW, YOU DESERVE SO MUCH BETTER THAN HER
It's not meant to be interpreted this way, I was a dumb kid. I can't help it though. Jessie blabbing one of James' darkest secrets he probably told her in confidence to Tom of all people, as an explanation as to why he's very nervous, then scolds him when he acts nervous, calling him a coward. He continues to hide in her shadow from the other girl who isn't doing any of these things. It hurts my everything.
"God, it's like talking to a five year old," Tom muttered.

James finally stopped hiding. "What did you say!"
It's a bit late to be standing up for yourself Jamesy.
"Well it's the truth, no guy your age should talk like that," Tom said. Suddenly James and Jessie were staring angrily at Tom. "Uhoh, not again," Tom muttered.
I dunno why you're glaring Jessie. You called him much worse than that.
B'Elanna and Harry ran up to the Captain. "Captain, we've got a problem, our.... building, has come across a glitch," B'Elanna said.

"How can a building come across a glitch?" Will asked.
Enjoy it folks, this is the first and probably only time the Erona crew catch on to the awkwardly and obvious secret keeping. And it was the later portrayed as deeply stupid Will who did so.
"Are you guys thinking what I'm thinking?" Will asked.

"Yeah, isn't he so cute," Vicky said dreamily.

"No, that's not what we were talking about," Will said.
Mmmmmm, traumatised by multiple domestic abuse guy. So dreamy.
I dunno, am I the only one who much prefers badass James not taking any s$$$ with his snappy one liners?
"I think he's quite ugly, myself, why do you like him?" Ashley asked.
LOL, I have vague memories of this line being written while James still had his previous actor. I have a feeling he and Jessie got their Steps actors sometime around Timeline or Test of Time. So oh snap, Eric Stuart you got burned.
"It's what's inside that counts, and in the inside is a terrified little boy, I think it's so cute," Vicky said. Will and Jacqueline cleared their throats to get the teenager's attention.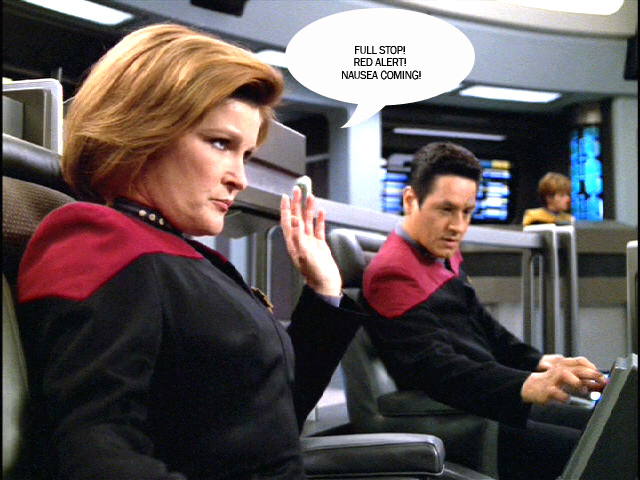 (the only screenshot I have of this is from a comic, I'd credit if I knew where I got it from. A GIF of this moment is a far more accurate reaction shot of Vicky's line)
Seriously Vicky. You and Teen Kiara exchange gross pedo notes somewhere? Get help.
"Don't you find anything suspicious about this crew?" Will asked.

"I know what you mean Will, there's something suspicious going on here," Jacqueline said.

"Yeah, it's like they're hiding something," Ashley said.
YOU DON'T SAY
Oh I don't care, I'm just glad we're getting back to the plot.
"I think it has something to do with that building they keep mentioning. Everytime they say it it's like they were going to say something else," Jacqueline said.
So you did notice? I'm shocked. SHOCKED
"My friend has a proposition to make you guys, don't you Vicky?" Ashley said as she elbowed her friend.

"Yeah, she's going to propose to me," Craig said dreamily.
Oh so much for that. I see where this is going.
"Er, Craig it's usually the man that proposes," Chakotay said.
Sexist Crap Count: 2
"Vicky would like to stay with you, she wants to be cloned," Ashley said. Vicky's eyes widened. James hid behind Jessie again.
If she wants to be cloned then she's not technically staying, is she?
"Er, yeah, I want to be with my true love," Vicky muttered.

"I knew it, she loves me," Craig said happily. Jacqueline and Will sneaked away.

"No, my true love is James," Vicky muttered. Craig was about to cry.
Oh yeah this is a distraction while the others follow the crewmembers going to the... building.
Craig, I'm starting to think you're addicted to being rejected. It's the only theory that makes sense. You can't be this stupid.
"Too bad, Vicky, James is already taken," Jessie said. Everyone stared at her including James. Craig swore under his breath and he crossed out Jessie's name off his list.
Yeah, Seven nabbed him a while back. She loves ruining popular 'ships. Though after this scene I can't see James/Jessie being popular with sane people.
"But, Jess, we're not..." James muttered. She smacked him on the head.

"Shh, I'm just pretending, do you want to go out with her?" Jessie said quietly. He shook his head. "Well, be quiet then," Jessie muttered. Vicky started to cry along with Craig.
Ok, it's now physical abuse. How nice.
"Oh look, isn't that the perfect couple?" Ashley said as she pointed at Craig and Vicky.

"They're both broken hearted," Kiara said. Craig stopped crying and he looked hopefully at Vicky. She just smacked him on the head.
Uhhhhhhhhhhhhhhhhhhhhhhhhhhhhhhhhhhhhhhhhhhhhhhh
And that kids, is how I met your mother.
Kids: o_0
... Kiara is actually here? Colour me surprised. Not.
Jacqueline and Will quietly followed the Voyager crewmembers. They went into a large cave. Jacqueline and Will peered inside the cave and they were shocked to see, Voyager!
LIKE OH MY GOD
WHO DIDN'T SEE THAT ONE COMING? WHAT A TWIST
"It's not the real Voyager, look," Jacqueline said as she pointed at Voyager. There was a bit of the hull that looked like the silver blood.

"They don't plan on taking that Voyager into space, do they?" Will asked.
Nah, I'm sure it's a glorified mansion. Or a very time consuming statue.
Wait, the ship is in a large cave? How do they plan on getting it out?
"We wanted to know what you were hiding. Now we know," Jacqueline said.

"Yeah, what we don't know is why," Will said.

"Can you imagine a life stuck on this planet, it's hell, literally," Tom said.
You championed this place as awesome, "get cloned, it's amazing here". You f$$$$ liar.
"We may of been created here but we don't feel like we belong here. Do you understand?" B'Elanna asked.
I mentioned it earlier but this and Course Oblivion, the writers for both didn't pay attention to Demon did they? I suppose once you get near the end you do get a bit drowsy.
"Yes, I do," Jacqueline said, she reached into her pocket and she brought out a strange device. "Here if you find the real Voyager, contact us with this, it's only programmed to contact us, you can't contact anyone else with this," Jacqueline said as she handed it to B'Elanna.
Oh, no worries. I'm sure we won't dissolve into goop at the very last minute.
Ten minutes later, Vicky and Ashley came back to the ship. The crew spent days fixing the ship and they took off leaving the Voyager crew on the planet they hated to call home. The Erona passed through the red swirly thing and they went back to their own time.
Well that was anti-climactic. The James' dirty laundry scene was ten times longer.
Marill's house:
Firera had gone home. She left Lanny there to be tortured and returned to her the next day. Marill thought of something. She picked up her mobile phone and she rang Togepi.
DON'T YOU PEOPLE HAVE PARENTS
WHO ALLOWS THIS?
I'm sure Firera only really did this to get revenge for the posh insults.
"Oh, Lanny, you'll have a lot of fun with her, she's even bringing a few knives with her," Marill said. Lanny started regretting stealing their notepad so he tried to think of a way to escape but all he could think of was pizza.
I know that feeling all too well.
##############
Well let's see how everything tallies up.
Negatives:
1) The plot of the cloned crew and the Erona is built up nicely, with the exception of the terrible ...building bits, and yet is resolved in a few lines. You can't say the episode was rushed because of lack of time. A lot of time was wasted on the James exposition and the girls who fancy him.
2) Jessie's makeup tantrums are too frequent and are always annoying. It isn't funny and adds nothing to the story. Unless you imagine it's why the Voyager crew build their own Voyager.
3) There's no explanation as to why the Voyager Clones hide their ship (in a cave no less, lol). They simply do.
4) Jessie blabs to everyone and their uncle (Tom) about one of James' traumatic childhood incidents. An incident that revolves around a 4 year old being in an abusive relationship with a 9 year old. It's not a positive that it explains why he's so petrified of the idea of a woman wanting to date him, as it comes from Jessie and it is so forced it makes me quite, QUITE mad. It also spoils Test of Time, rendering that part of the story completely pointless. It shows you nothing new other than how the girl managed to lure him over.
5) The Erona crew also explain nothing. It's not a fault that they don't explain to the Voyager crew, because DUH, but they should exposition in conversation with each other. Why are they looking for Voyager, even just a hint would be nice. What are the forcefields for, to protect them from Demon class or the ship? If it's the latter, how do they survive on it?
6) The writers subplot is better than the actual intended story.
7) Despite that, the reason why Marill and Raichu holiday on the Demon planet when Firera and her brother are due to visit Marill's house is stup... scratch that, there is no reason. It just happens.
8) James once again can't decide what his character is, going from extremely timid child hiding behind his abuser.. er I mean best friend, to "what you say about me" standing up for himself guy so fast your neck would snap from the whiplash.
9) I'm not so sure this is a flaw with Demon² as it is clearly a prequel to Course Oblivion and that introduced the idea, but still mentioning it. The reason why the crew were cloned was because Harry and I think Tom described a huge affinity and connection with the planet. They adored it because it made them. First chance they get they rebuild Voyager and leg it to Earth. Yeah not buying it.
10) With no Demon or Course Oblivion in FV, having a sequel and prequel to them is a bit silly. Although, see positive 5.
11) This episode is a perfect example of what I found the most wrong in Season One. The episode starts out slightly promising and it looks like some effort went into it, but round about the halfway mark something appears to distract me, I write that, realise I'm running out of time and/or lose interest in the original story and rush to the finish line. The episode goes from second best episode of the season to crapbags in one scene. It's not that impressive, the scene itself is probably Hunters length.
I really don't see the point of the Vicky crush on James, or anything revolving around that. If the point was to give readers an idea why James is the way he is, why couldn't it have been shown in Test of Time instead? It was only a few episodes away. The crush adds nothing to later Erona episodes either. Fugitives would've actually been finished properly and have its title make sense if it weren't for the crush storyline distracting and time wasting. I'm sensing a pattern here.
12) Jessie calling James a coward after explaining why he's acting timid around flirty women. Compare this to any modern day FV episode, or heck anything post Season Two and you'll see why this bugs the s$$$ out of me. Jessie not only understands why James has his quirks, but she still has bucketloads of respect and affection for him in spite of them. She always sticks up for him when idiots make fun of him for his sensitivity. I don't think she's ever considered him a coward, quite the opposite in fact. I dunno, this couldn't be more out of character if I had her making out with every character she saw while wearing a scruffy dress. God.
13) I said 2 points but I'll be fair and take off 1 for the Jesse James running gag that this clearly started. Jessie Anne James is also annoying.
Positives:
1) The Erona introduction is pretty good for its age, even when it goes OTT with the clothes description.
2) Before it turns into Pokémon Shipwreck, the writers subplot isn't that bad. Don't get used to it.
3) Firera and Lanny's scenes are written in much more detail than anything in FV so far, even the clothes describing.
4) Lanny's 10x more interesting of a character than any of the writers, although when he's around Firera's not half bad.
5) Yeah without Demon or Course in FV having a prequel/sequel to them is a bit pointless. However FV's premise, at least in S1, is meant to show that original episodes do still play out in the background. Keeping that in mind it was an ok idea to show what happened in between the two episodes that shows why Course happened, while also introducing the Erona. It's the execution of the idea that's bad.
Marill's Rating: 2/10
Exclaimed Count: 16 (127)
Muttered Count: 25 (269)
Motto Count: 1 (10)
Sexist Crap (against my own gender) Count: 2 (8)
Jessie's Sin Points: 6 (6)