Marill Re-Reads Too Q
Here's the stats so far.
Exclaimed Count: 153
Muttered Count: 624
Motto Count: 15
Sexist Crap Count: 31
Jessie's Sin Points: 23
Morgan the Sue Count: 7
Seven Dies Count: 5
Hopefully this one shouldn't take long. This is previously the shortest episode of the series until Hunters ending was deemed too terrible and was cut out. I clearly didn't bother reading any other episodes or we'd no longer have Muse or Timeless at all, and Aggressions would be one part.
But anyhoo!
There's not really much to say here. I know this was inspired by Q2, though I have a good feeling it was only the actual writing of it that was influenced. Too Q's basic concept I'm sure existed before I'd seen or even heard of it. The proof is in the characters involved in the story, or rather not so much. Some didn't exist during FV's planning stage and unlike 99-100% of Season One so far, Too Q remained true to its original plans. I KNOW!
Let's take a look.
##############
Please Note: this is another episode review where the quotes will have odd looking paragraph breaks. I'm finding it difficult to figure out the pattern of it. I know why it happened, dodgy keyboard or the computer didn't like the keyboard. I don't remember it getting better occasionally, I figured it was broken until it was replaced, so this looks random. Anyhow, it's a minor problem and that's if you even see it like I do. I like to pick at FV more than almost anyone.
"Tom, we're not even married yet, we can't have a child now," B'Elanna moaned as she was working at the console. What B'Elanna and Tom didn't know was that Harry & Triah were eaves dropping.
Oh yeah, Tom and B'Elanna are engaged. Holo Q seems so long ago.
"But I've always wanted to be a parent, B'El," Tom muttered.

"So have I but don't you think we should take things one step at a time?" B'Elanna muttered.
OH SH$$ MY TINY VIOLIN, IT'S HERE SOMEWHERE. NO, NO, THAT'S MY WHINY MALE ENTITLEMENT DETECTOR
CRY MOAR PARIS
too bad I remember the ending to this episode
"Fine, have it your way," Tom said. He left Engineering.
AH IT'S OVERLOADING
ABANDON OFFICE
B'Elanna looked over to Harry & Triah. They noticed and they quickly continued working.
Heh, why do I get the feeling everyone in Engineering heard this
and what's that, Triah has a job now???? or is she only there for conveni... OH HAHA I KNOW THE ANSWER
A strange noise caught B'Elanna's ear. It was coming from the Jeffries tube. She walked towards it and she opened the door. She gaped in shock.

"Where did this come from? B'Elanna to Sickbay," B'Elanna said.
AH WHAT IS IT, I DIDN'T KNOW THIS WAS A HORROR EPISODE. WHAT IS IT, A GIANT SPIDER, OH WAIT SHE CALLED SICKBAY, IS IT A DEAD BODY, A CUT OFF LIMB, NEELIX'S COFFEE MUTATED
OH GOD, IT'S THE CHEESE ISN'T IT
"Has anybody except the Captain and Samantha got a kid?" B'Elanna asked.
GOD DAMN IT TOM, I TOLD YOU NOT TO SPIKE PEOPLE'S DRINKS SO THEY'D DO SHIPPY THINGS. NOW LOOK WHAT YOU'VE DONE. YOU'LL HAVE TO TAKE RESPONSIBILITY AND RAISE THIS BASTARD CHILD FOR A WHILE. I'LL CALL IT PARIS JUNIOR SO YOU'RE NONE OF THE WISER.
DON'T WORRY, I'M JOKING, I WOULDN'T DO THAT *snicker*
"Then why is there a three year old sitting in the Jeffries tube?" B'Elanna asked as she stared at the Klingon kid who had his back to her.
Lol, you can tell he's a Klingon when he's sitting away from you?
And if you can, why would you ask if he's someone elses kid? B'Elanna's the only Klingon right? The correct response would be to panic and wonder how the hell Tom got his hands on a Genie's lamp.
"What's going on?" Triah asked.

"Beats me, I'll go and find out," Harry replied. He left Engineering.
Wouldn't it be quicker to ask B'Elanna, or did he see everything?
Triah heard a kids giggle coming from the upper part of Engineering. She climbed up the ladder and she got to the top.

"Kiara, Naomi, is that you?" she asked as she got to the top.
OH GODS THIS IS TERRIFYING
THIS EPISODE'S MY WORST NIGHTMARE well next to spiders everywhere BUT OHMYGAWD
Triah walked up to him and she stopped the chair. He looked Japanese and he had short black hair. "So, who are you?" Triah asked. He giggled at her and he tried to spin the chair again. "Triah to Sickbay."
Hmm, so is the next victim going to be Tuvok and we'll get a narration that says the kid he finds has Dumbo ears...er I mean is Vulcan. I'm assuming it's only the white human characters who won't get this.
oh and considering what I remember from this episode, why just Japanese?
"Doc, who do these kids belong to?" B'Elanna asked.

Sickbay had become a nursery. B'Elanna, Triah, three other girls, three little boys and two little girls had dominated Sickbay.
Well I'll give the antagonist... - oh for god's sake Marill the clue is in the title - Q one thing, at least he doesn't discriminate against the nameless unknowns.
"I'm checking the results now. I just hope there are no more," the Doctor muttered. Much to his horror Morgan walked in trying to persuade another little girl to follow her in. "I don't believe it," he moaned.
Um Q, really?
Really?
Morgan walked back out and a few seconds later she came in with the kid in her arms.

"Doctor, where the hell did this brat come from!" she yelled which made the girl cry. The other kids decided to join in as well.
Haha, Morgan isn't a kid person and never will be.
"I've finished my analysis. First let me scan this other girl," the Doctor said as he took the wailing girl off Morgan. He scanned her for a couple of seconds and he walked towards his console. "Hmm, interesting," he muttered. He tapped his commbadge.

"Sickbay to Bridge. Can you tell Lieutenant's Paris, Anderson and Kim to come to Sickbay. Oh and also Ensigns Liyhye, Juhid and Ayala as well," Doctor said.
AYALA LIVES
Five minutes later the six guys walked into the room. The girls were laughing at them.
Oh I wouldn't laugh if I were you
"Doc, are you trying to say that they're the dads?" Triah laughed.

"Hmm, that's quite funny. Why don't you get the mums here too," Morgan said.

"I already have," the Doctor said.
Okay then, let's sum up. Six kids. Three boys, three girls. All the "parents" are here. On the women's side we have: B'Elanna, Triah, Morgan and three randoms. On the men's side we have Harry, Craig, Tom, Ayala and two men with clearly randomly typed in letters for names.
Who's forcibly paired off then? I guess the only trick part of that question is the unknown peeps.
"What's wrong Tom, I thought you wanted a kid," B'Elanna said sarcastically. Tom ignored her.
OH SNAP
The Doctor picked up the second boy and he handed him to Harry.

"This one belongs to you and Triah," the Doctor said. Both of them stood there in shock.
See, why is the kid only Japanese? Huh, huh? I'M WAITING PAST MARILL. IF YOU'D SAID ASIAN NO EYES WOULD'VE BEEN BATTED. I'D ONLY HAVE SNARKED ON THE "KLINGON" KID WHO'S ONLY QUARTER
OH AND WHAT DID I SAY, WHERE WAS THE RACE DESCRIPTION FOR MORGAN'S? *cough*who should be half Native American herself but I'm gonna let that one slide cos that was just me being a dumbass, past and present. The flu's fried my already dumb brain.
Anyway Tom responds in the only way he can muster:
"You've done it again, Harry. First it was a Hologram then it was a..."

Ten minutes later:
"...then it was giant blob, and now it's a clean freak girl that has Craig for a step brother," Tom said.
Haha this joke never gets old
Poor Triah though, lumped into a list that includes a giant blob... wait did Harry make out with the aliens from Muse? WHAT A SCANDAL, MAYBE JAMES WAS INNOCENT AFTER ALL, THEY WERE ALREADY PISSED OFF
"Are you quite finished yet?" Harry asked.

"No, I missed Morgan out of that list.
Thanks a lot, I forgot about the Harry drooling over 15 year old Morgan scene. THANKS SO MUCH
She was in between the mermaid and that Monkey Island 1-28 character," Tom said.
Oh hey, this is quite neat. Though the joke that Monkey Island would get to 28 is pretty sad since they never reached 6 and even Final Fantasy is still on 15. Why is it neat? Reboot Monkey Island episodes of course. I need to check where Too Q will end up before (and after) it's rebooted.......
Score. Directly after Tales of Voyager. omgspoilerz
This joke HAS to be in reboot Too Q now, it's perfectly timed and accidentally too.
"Monkey Island?" the Doctor muttered.

"Yeah that game that came out in the 1980's and the creators went a bit nuts on it so they made twenty seven more sequels over the course of one hundred and fifty years," Tom said.
That's some bizarre alternate history you got there Tom. I don't even find it funny, Monkey Island games weren't spat out once every year or something. Again Final Fantasy would've worked with this joke looooong ago, ok not that long ago, when 8-10 were being made at the same time. Too bad I never knew they existed then or when I wrote this.
"Which character did he like, cos I'd love to control her," Craig said.
EEW CRAIG, NOT IN FRONT OF YOUR DAUGHTER
THAT'S A SCARY THOUGHT, SEASON ONE CRAIG WITH A DAUGHTER
"It doesn't matter anyway Lieutenant, you have this lovely three year old girl to look after.. with Morgan," the Doctor said.
nightmare fuel
and foreshadowing, kinda
how old's Kiara right now? winkwink nudge nudge, this is truly why I like Too Q. It's simply a foreshadowy tool for Season Two
Everyone looked around and they couldn't see Morgan anywhere. The Doctor noticed that she had fainted and she was lying on the floor.
:( Poor Morgan
"Lets just hope he doesn't ask his own daughter out," Tom muttered. The Doctor helped Morgan onto a biobed.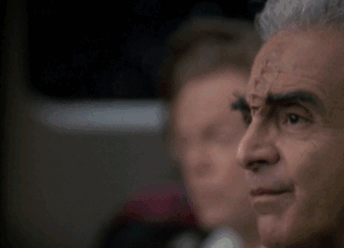 I had a feeling I'd need this one.
I just didn't think it would be so soon after I edited it for use here...literally an hour ago. Maybe I should edit it so it's Tom's face lol.
"Oh well, I'll leave you to get used to family life, bye," the Doctor said.

"But Doc, where did these kids come from?" Harry asked.
Lol
Doc treating this as if they've all been hiding these kids, or the kids hid themselves for three years and that it's perfectly normal.
Oh and Morgan is 16, with a 3 year old. Which is tricky as it is, but she's only been on the ship for a year. Nobody really steps in and goes waitaminute, shouldn't we contact her parents.
"This actually sounds familiar to what happened with Kiara," Tom said.

"Yeah and we still didn't find out how she came to be," B'Elanna said.
DING DING
"I don't care as long as Morgan and I have a kid," Craig said in a dreamy tone of voice.
Ok scratch that, the picture above should be Craig drooling
EEW CRAIG, GROSS
"I think I'm going to be sick," B'Elanna muttered.

"We all feel like that," Tom said.
YEAH ME TOO
"No seriously," B'Elanna said.

"Not in my Sickbay!" the Doctor screeched.
Apart from a bathroom what could be a more appropriate place for someone to throw up? Hmm clearly not a Sickbay where sick people go. That's dumb
"How are they getting on, Doctor?" Kathryn asked.
JANEWAY GIVES NO S$$$S
WE HAVEN'T HAD A J/C ARE BAD PARENTS IN A WHILE COMMENT, I'M A TAD RUSTY
"Not too well. The three couples that are guest stars are doing fine because nobody cares about them. Morgan still hasn't left Sickbay after fainting. Tom and B'Elanna are getting on okay with each other but not the child. People are complaining because Harry & Triah are always fighting," the Doctor replied.
Three unknowns: why bother with including them in the story? To make it seem less like things only happen to the MC's. Fair enough
Morgan: :( the foreshadowing hurts
Tom and B'Elanna: LOL WTF hahahahaha, it would make more sense but be predictable if Tom was the one struggling, what with him wanting kids. Though that allows for the cliche of B'Elanna realising she is ready for mummyhood. hate that
Harry and Triah: well that doesn't surprise me, the series very rarely shows these two in the same scenes and they're not meant to be a pairing. I only actually remember Upendi's drunken finale. and the misdirect in Season Four.
"I'm actually surprised that one of the kids wasn't one of theirs," Chakotay said as pointed at Jessie and James.
I KNOW RITE
IT'S ALMOST LIKE THIS WAS PLOTTED OUT BEFORE THEY EXISTED
BUT THAT'S NEVER STOPPED THEM BEFORE. IT'S A CHRISTMAS MIRACLE
"He's right. I'm surprised the writers weren't nasty to you two this time," Kathryn said.
I think they got more than enough lack of consent scenes in the last one. I'm still mad.
"Just wait until Season Two, hahahahaha," Marill's voice laughed.

"Marill, what are you doing here, this is our story only," Firera's voice asked.
Hey, I like foreshadowing and so far the episode's been very clever about it. Marill has to stop by and ruin it with this one line that's obviously meant to be funny but it falls flat. Like everything she says, even now! I mean come on, all caps doesn't make anything funny, what's that about? And that talking about herself in the third person, so weird.
What is funny was the pretending to not write one or two episodes like this one, so it looked like FV had a diverse writing staff. When it was really Marill typing all of this crap with a few suggestions thrown in.
"By the way, Doc, do you have any idea where these children came from?" Kathryn asked.

"No idea, Captain. It's still a mystery to where Kiara came from as well," the Doctor replied.
Aaah, my deja vu headache!
"This actually sounds familiar to what happened with Kiara," Tom said.

"Yeah and we still didn't find out how she came to be," B'Elanna said.
HEY GUYS I HOPE YOU REMEMBER THAT KIARA CAME OUT OF NOWHERE. IT HAS NOTHING TO DO WITH THIS Q TITLED EPISODE OR ANYTHING, I SWEAR! KIARA CAME OUT OF NOWHERE YOU KNOW
Anyway scene ends, moving onto foreshadowing and the original Hunters retcon scene (IT WASN'T TRUE Q THAT DID IT, I KNEW IT... ok I didn't, but STILL)
Morgan woke up to a small face staring at her. Morgan sat up quickly in shock. The girl was sitting on her legs.

"Hi!" she yelled.
AAAAAAAAAAAAAAAAAHHHHH!
"Doctor, get this thing away from me!" Morgan yelled. The Doctor and Craig rushed into the room.
I'm getting self-insert vibes from Morgan again, can't think why.
*quickly checks the room nervously*
"She's not a thing, Morgan. She's your daughter," the Doctor said.

"I DON'T HAVE A DAUGHTER!" Morgan yelled.
Oh Too Q, you sometimes subtle rascal you.
"You do now," the Doctor said.
She's 16 at most, doesn't date or anything, kid sprung out of nowhere, give her a break. Sheesh.
"Oh come on, Morgan, what's wrong with her?" Craig asked.
GOD DAMN IT CRAIG
"I don't want a bloody kid!" Morgan moaned.

"Tough, you have one now," the Doctor said.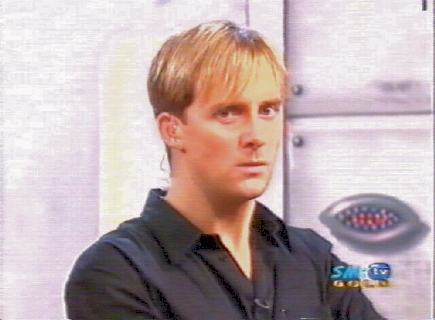 "And what are you going to do about it baldy!" Morgan yelled she picked up the girl and she pushed her into Craig's arms and she ran out of Sickbay.
foreshadowing
"So, Craig, what are you going to name her?" the Doctor asked.

"Er, Lene is nice. That was my mum's name," Craig replied.
So we're just going to pretend that didn't happen? Or are you letting her go on the account of she's just a kid, this is a weird situation that'll probably be undone and... oh to hell with it. I'm more interested in the Lene name for Craig's mum. I do wonder why I picked it (I know why I forgot Hunters already picked a name but hey!) cos if you think about it, it's a bit creepy. I picked someone called Lene to play Morgan, Craig fancies Morgan and round about this time the actual "actors" got married, twice.
What was I trying to do here?
Yeah Morgan herself I don't think was planned to get an actual name change in Season Two. Like James' surname I ended up not liking it and her storyline/backstory allowed the chance for a name change. James' on the other hand was super lazy (I can't even remember if his surname was ever Taylor-Stuart until I decided to do this lol) and I already know how I'll be handling that come Season Two time.
"What should we call him?" Tom asked.

"Mischief," B'Elanna muttered as their kid started crawling on the console. He pressed some controls. The lights went off for a couple of seconds and they came back on. Tom picked up the boy.
Haha, he's his father's son. Always being a pain in the ass, attention seeking. Keep an eye on your drinks
"What about Tommy," Tom said.
So does that mean Harry's named his and Triah's kid Harold? Or just Harry Junior?
First Jimmy now this. God damn!
"That's similar to your name but I like it," B'Elanna said.
I DON'T ACTUALLY, BUT I'M TRYING TO SET A SHORTEST EPISODE RECORD HERE, SHHHHH
"Hehehehe, what does this button do?" Tommy asked. He pressed the button and the warp core disappeared. "Cool!" he giggled.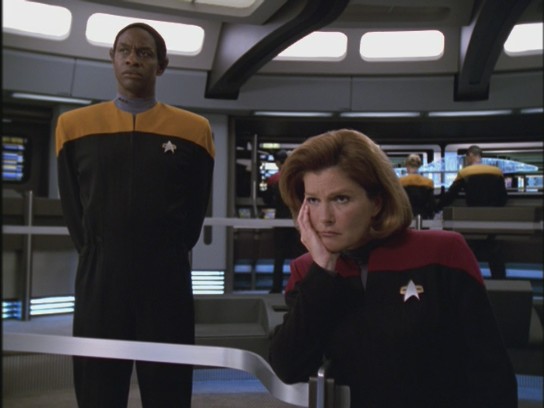 "Oh sorry, it was Tommy," B'Elanna said.

"Tom huh? Tom report to my ready room."
OH I SEE, IT WASN'T LAZINESS, IT WAS TO PULL OFF THIS AWESOME JOKE. WELL PLA...
HAHANOPE!
Kathryn headed into her ready room. Jessie and James were at the helm.

"One of you two, get the warp core back. And for god's sake there can only be one helm person," Chakotay said.
OH CRAP JESSIE'S AT THE HELM
ABANDON SHIP!
SILLY CHAKOTAY, THE SUPER GLUE IS NOT DUE ANOTHER REAPPLYING YET, IT'LL BE A WHILE
"Oops, wrong station. I was wondering what happened to my saves," James said.

"Saves?" Chakotay asked.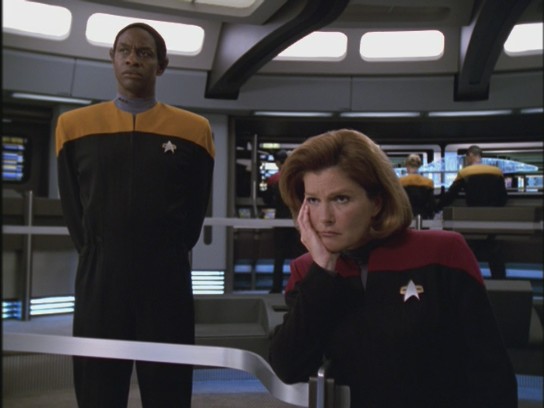 WHY DOES EVERYONE HAVE TO BE STUPID FOR THE JOKES TO HAPPEN?
WHY?
"Your kid!" Triah yelled as she pushed the kid into Harry's arms.

"No, yours!" Harry yelled as he gave the kid back to Triah.
This goes on a while
Good thing this kid isn't real cos yikes!
"So, er, guys. What are you calling him?" Chakotay asked. Harry and Triah glared at him.

"Kojiro, and he's yours!" Triah yelled.
OH OF COURSE
"Hey, I just thought. James in the Japanese Pokémon is called Kojiro," Tani said.
THANKS TANI, I KNEW THAT BUT I COULD'VE GOTTEN AWAY WITH IT
"Definitely yours!" Triah yelled.

"I'm not having a kid named after a cowardly goof ball!" Harry yelled.
Um, so where did the name come from then?
"I heard that!" a deep goofy voice said.

"Er, that wasn't James, the voice was too deep," Harry said.
OH GOD, IS THAT ERIC STUART OR THE NEW VOICE ACTOR? EITHER WAY, KILL IT WITH FIRE
"Oooh, another James. I wonder if he's a cutie too," Tani said.
For a short episode this is really dragging its feet
"It's more than likely to be the cartoon character. Don't ask me how it could be possible. But it did sound like him," Triah said.

"I was right, he is a cutie! I just love that baby face and the blue hair," Tani said. Everyone felt sick. Suddenly another girl that's not on the cast list appeared out of nowhere.
BUT I THOUGHT YOU DIDN'T KNOW WHO HE WAS.
ANYWAY, I HAVE NO IDEA WHO THIS IS SUPPOSED TO BE BUT I DON'T CARE
"Excuse me, but who are you?" Chakotay asked.

"Oooh, you're cute," the girl said.

"Excuse me but the monkey asked you a question, you colour blind girl," Tani said angrily.
Okay I'm seriously wondering how this was this the shortest episode with this crap filling it up? There's gonna be very little material to use in this reboot, isn't there?
Anyways SKIPPPPP
Everyone was there including the kids. The kids, however, were crawling around on the floor eating chocolate. Chocolate hand prints were all over the floor.
Harry, you know what to do
"Er, question number one. Why are these three year olds less mature than Kiara is?" Kathryn asked.
Hmm, these re-reads and my illness could be fogging my memory here but one ickle question. Has Kiara even been around the last few episodes? Why isn't she even in this one?
"I may have an answer. Q's grow very quickly but they do not mature as quick, I believe that Q has put these children here to play a joke on us," the Doctor said
Ah yes you'd know this from the time you babysit that Q kid one time.
Oh wait. WTF are you talking about Doc?
"Excuse me, but who are you?" Morgan asked.

"You don't recognise me darling? Surely you must remember my last visit, when you were two years old," Q said.
Let's not tempt fate here, Q boy
"Q, why are these children here and what the hell have you done to your hair?" Kathryn asked.

"My dear Kathy, that was a very rude question, but for you I will answer. My son, Q2, decided to have some fun so he brought these children into existence. For your second question, I have the same hair style that I have in original Voyager episode 'Q2," Q replied as he put his feet up on the table.
Q still feels very forced, never mind.
I thought his name was Q Junior, or just Junior. It's a season seven thing so I'll forgive not remembering that
"Well Chief, your guess is as good as mine," Q replied. He stood up and he walked up to Tani. He stared at her for a couple of seconds. "Tell me Kathy, how many more characters are you going to add to this very large main cast list?" Q asked as he stared at Tani.
Oh hey, this is awkward
"Q, as far as I know, there is two more main characters coming in this season. Now will you sort this problem out before it gets more out of hand than it is already," Kathryn said.
Yeah and if I recall correctly these two newbies come out of thin air. No episode devoted to their arrival. It's weird and yet somehow works *cough*
"Of course. I just have to find my son," Q said.

"This episode is just getting better by the minute," Chakotay said sarcastically.
I think everyone was already on that page many scenes ago
"This is so fun," Q2 giggled. B'Elanna, Tom and Tommy walked into the room.
What is? Why is he randomly standing around Engineering when all the kids were in the Conference Room?
"That must be Q's brat," B'Elanna muttered. They both walked up to Q2.

"Hi, having fun?" Q2 asked.
No not for some time now
"Meh! Who cares," Q2 replied.

"We care. These kids are really a nice gift but we can't except them. It doesn't feel the same," B'Elanna said.
Nice
Gift
HAHAHA
If that was Q's intention then sure, this is a good line. But you know this was a practical joke and until that was mentioned, was a pretty cruel and imposing thing to do to someone.
"The turtle head is right son, why don't we just.." Q said.
This episode has a lot of really bad insults thrown in the place of names before dialogue. Turtle head, monkey, baldy, Chief. It's really annoying. It's not like it is one character, though the ones I remember top of my head are primarily two Q's.
"Sorry, this episode is running out of writing time already," Q replied.

"Oh okay, next time we'll have a much longer episode, right dad?" Q2 asked.
Ho boy, that's setting the bar high!
Captains Log: This episode.. er I mean this situation didn't last as long as we thought. We are carrying on with our journey home.
Did James and Jessie recover the warp core? No one said. It may take a while
Meanwhile in the Mess Hall:
Hey, why is there a bolded meanwhile here directly after a log?
What? I blinked and missed a scene, surely you jest
"Okay Tom, B'Elanna, I've determined why you are always being sick all the time B'Elanna. You're pregnant," the Doctor said in a cheerful manner.

"That's great, B'Elanna!" Tom said and he hugged B'Elanna.

Meanwhile in the Mess Hall:
YOU'RE RIGHT
OH WELL, I WON'T BOTHER READING IT, IT COULDN'T HAVE BEEN IMPORTANT OR ANYTHING
The episode started with B'Elanna saying she wasn't ready yet, the incident with the kid didn't ignite anything, make her want one sooner. All we see is Tom's reaction to something we knew he wanted. No reaction to something she didn't want. I also "like" the way Tom has forgotten this "little" tidbit. That's great? No, she said it was too soon and she's the one that has to carry the damn thing. F$$$ OFF AND ENJOY YOUR SEASON TWO STORYLINE YOU CHUMP, KARMA BAYBEH!
Morgan, Craig, Tani, Jessie, James & Triah sat at a table eavesdropping on the previous conversation.
Huh?
The scene changed location, the Doc gave them the news and I doubt it was in the Mess Hall, yet they're eavesdropping.
I'M SO CONFUSED
WAIT, DID SOMEONE BUG SICKBAY SO THEY COULD LISTEN IN
nah this is Season One, I couldn't even spell consistency. I probably still can't *does spell check*
"Ha! Now they've got a brat for real," Triah said.

"Yeah, and I don't," Morgan said happily.

"Okay, who's next?" Craig asked. Everyone looked at Jessie and James.
Aaah Morgan
Aaaah foreshadowing
"Don't make me sick. Kids are disgusting little rats!" Jessie snapped.
Ouch, got a massive couple of paper cuts from that edge
Jessie's Sin Points: +1
Morgan is fine as it suits her character, isn't contradicted or anything etc... but wtf Jessie? I know she's the Denial Queen TM but good lord, Too Q is meant to be foreshadowing Season Two stuff, why this line?
"Um yeah, and why would we have a kid?" James asked.
See, even James is like WTF, where did that come from?
"They have no idea do they," Morgan said.

"Oh Q!" Triah yelled.

"No! Don't do it!" James yelled.
Haha good one
"Don't worry guys, Season Two is getting closer," Morgan whispered.

"What does that mean?" Jessie asked.
Oh, so I maybe didn't need to change some of the text into spoiler blue? Well at least you have proof that I wasn't lying about Too Q foreshadowing stuff, huh. Silver/blue linings and all.
"I don't know, I think the writers were just using me as a messenger," Morgan replied. Neelix walked over to the table.
I feel like I've read this before. Have I made this joke in another episode? Honest question.

"I thought that I could make an appearance in this episode. How about some Tribble Stew?" Neelix asked. Everyone rushed out of the room as fast as they could.
From the man that brought you hairy pasta with sauce. Yummy
##############
Well let's see how everything tallies up.
Negatives:
1) The plot takes a back seat to some stupid fourth wall stuff in an already short episode. If it had all been about the kids and Q then it would've been worth it. As it stands now the kids barely impact anything.
2) Why did Q Junior pick the couples he did, why out of anything he could've done did he do this, why only a few people? Think about it, he wanted to have some chaotic fun. He picked an already established couple for one. We dunno who the unknowns were but their kids were dreary as hell. If he wanted to stir the pot why not more pairings, why not mix it up with unlikely couples (NO C/7, NIGHTMARE FUEL). If he was gonna go in and do this, why didn't he have dozens of kids running around causing chaos?
As an explanation, it doesn't fly. Since the plot was planned before Q2 I imagine the son being responsible was a last minute addition to the plot and it certainly looks like it could be true.
3) My Tom's really started to grind my gears. Fair enough it's a bit upsetting that you want a kid and your partner doesn't. I get that would be something that could easily break a relationship. One of you would have to compromise on something huge. I GET THAT. However B'Elanna didn't say no indefinitely, she just wasn't interested in doing so now. Even if she did huffing "have it your way" as if she's selfish for not wanting to be pregnant for 9 months and stuck 18 years+ with a kid she didn't want to please you, is well, it makes you look like a asshole.
So soon after the drink spiking in the hope that two people make out, so he can film it and show them. I have zero sympathy for him in the storyline that's coming, and I used to have some. Not anymore.
4) Poor Morgan. No one tried to help or sympathise with her. I imagine they judged her harshly on her panicked shouting, and I know some people certainly would whilst ignoring WHY she's saying she doesn't want it, she doesn't want one, keep it away. The Doctor's an absolute d$$$head to her, Craig was already planning the house with the garden and the wedding, no parents in sight. Tani wasn't there for her friend. I know her and James aren't really any kind of thing yet, but nada there was disappointing. Which brings me to...
5) No Kiara.
The episode kept mentioning her (see point 6). There's kids who came out of nowhere, one is Morgan's. It seemed like an obvious excuse to bring her in, even for one scene. No sign of her, what gives?
6) I absolutely hate it when foreshadowing is kicked in the crotch and replaced with blatant "haha just you wait till Season Two" garbage. I do like fourth wall jokes, I actually do like it when someone jokingly spoils something, albeit vaguely. The best ones are the ones that don't actual spoil, only give a nod to people who know it anyway.
Key word here is jokingly. These are not funny, they actually ruined the attempt at subtle stuff Too Q was doing.
7) The pregnancy revelation scene is tiny and yet the whole bit on the bridge with Pokémon-James talk and the fourth wall cameo from someone who probably doesn't or didn't know FV existed is huge. The former is likely that way because of the latter, making it even more annoying.
8) What's with the "that's right baldy", "nice try turtle head", "wrong again Chief" style insults? It was so often it really was offputting. The humour in this episode is painful. When you have to make someone (or something like the warp core ejection controls) dumb for a joke to work, don't even bother.
9) YOU DO KNOW THAT KIARA ALSO CAME OUT OF NOWHERE LIKE THESE Q'S, THAT'S NOT A HINT, I'M JUST SAYING, GOD! (at least now I have a rough idea when Kiara and Morgan's paradox was getting its kinks worked out, this couldn't be less subtle if it had said oh btw Kiara is a one too, just so you know)
Positives:
1) Despite James/Jessie not existing during its planning, like the majority of Season One, they don't get forced into the plot like many others. Or stick their noses in too much elsewhere. I have a feeling why this is (Season Two reasons), doesn't change the fact that they took a backseat for once.
2) At least there's one positive about the no reaction from B'Elanna during the pregnancy revelation scene; the storyline with a kid coming out of nowhere doesn't seem to give B'Elanna a change of heart (or Tom for that matter) which is as cliché as they come.
3) Despite a lot of stinkers some of the jokes still do land, had a little snigger at a few. The Harry's crushes list, B'Elanna's "you wanted a kid didn't you" zinger, at first the Doc's callous meh to the situation when he leaves them to get on with it.
Marill's Rating: 4/10
Exclaimed Count: 0 (153)
Muttered Count: 17 (641)
Motto Count: 0 (15)
Sexist Crap Count: I was tempted to add one for the B'Elanna doesn't want a kid yet, gets attitude for it, is already pregnant and the scene leaving it as "great news" without showing her reaction. Tom being thrilled about this despite her saying no earlier, the scene cutting off before B'Elanna's reaction gives me a whole bad vibe, not that I think it was the point of the very brief scene.
Actually still am because of Tom's attitude towards this. Yeah it's s$$$y behaviour, but is it sexist? I feel like there's more of a stigma for women around not wanting kids. I think I'd have left this alone had it only been B'Elanna, I would've thought it was Tom being Tom especially after Fair Haven, and a marriage issue. However Morgan gets told tough many times and is guilt tripped "aaaw, what's wrong with the kid?"
16 year old Morgan has a kid forced on her she didn't ask for, didn't have any say on her making, which she refuses to accept. It's treated as a big joke, but the poor thing is panicking, fainting and is getting no support, only bullying. Her parents never talk to her, Craig is as bad as Tom here, the Doctor is a few bad words I won't type. Summing up, she's treated like a weird freak for this.
B'Elanna meanwhile doesn't want to rush into having a kid, is open to a one later. Husband-to-be huffs that she won't use her body for 9 months to give him what he wants RIGHT NOW, they get a kid out of nowhere, at no point does she act as if she's changed her mind, they end up with a real kid anyway. Tom's like yay. B'Elanna we'll never know. Doesn't matter what B'Elanna wants, ey. All aboard the baby train girls, anyone who refuses to get on will be judged.
I won't even get started on Jessie's remark. I dunno what to even make of it. Fortunately though she isn't another example here, her remark only gets an awkward um okay because it was a bit OTT.
Yep decided: 1 (32)
Jessie's Sin Points: Earned 1, Lost 0 (24)
Morgan the Sue Count: 0 (7)
Seven Dies Count: 0 (5)