Marill Re-Reads The Voyager Conspiracy
Here's the stats so far.
Exclaimed Count: 146
Muttered Count: 418
Motto Count: 12
Sexist Crap Count: 18
Jessie's Sin Points: 11 (4 were recently added in Test of Time's review)
Morgan the Sue Count: 2
I'm expecting this one to top all the rest. That isn't a hard task I know, but Worse Case Scenario 2 scored higher than I thought it would at an impressive 9/10. Whatever happens here I still consider this my favourite Season One episode, unless I somehow spot something I missed in its reboot last year as bad as Timeless' incest and makeup bits. If Conspiracy does end up rating lower than Worse it doesn't change a thing. I know Conspiracy isn't flawless, I adore it (for a S1 episode anyway) in spite of them.
Note as mentioned the reboot's been written for a while now and I've tried my best in much older re-reads not to compare the two. That hasn't gone down well most of the time. Luckily with there being a year and a half since I've taken more than a glance at it - checking for something - it should be easier here.
I hope so, as even though this shouldn't be released before its reboot considering as I type this, there are 8 reviews to release and I expect the Dark Frontier, Fugitives and Conspiracy reboot trilogy to be up within a month if I'm to keep to my basic schedule. Does it matter? It does if I'm gonna spoil the reboot in this, right? Hopefully I won't and/or release this review before the reboot has.
Blah blah let's do this.
##############
It's Talent Night. Again! Though the last time was Worse Case Scenario 2. I'm sensing a pattern. Talent Night opening=Good episode.
"Okay, who's up for a drinking contest?" Tom asked. Morgan and Craig put up their hands. Tani, James and Jessie ran for cover inside Neelix's kitchen.

Tom, Harry, Morgan & Craig sat at different tables. Morgan drank one glass and she started giggling uncontrollably. She didn't drink anymore.
HELL YEAH FIFTH VOYAGER DRINKING PARTAYS. WOOHOOO
LOLS NOT ONLY UNDERAGE DRINKING BUT UNDERAGE BINGE DRINKING
Interesting how James and Jessie run for cover. Tani probably only does hoping that Jessie will get bored and leave her alone with him. Interesting as in I'm wondering why they do.
Yeah it's a bit naughty, but Morgan's inability to hold her drink is a consistent trait throughout the series.
Tani, Jessie and James emerged from their hiding places. Tom and Harry headed out of the room.
Tani: aaaw, I forgot these two were chained together
"HEADED OUT OF THE ROOM". RIP "WALKED OUT OF/INTO THE ROOM" I SHALL DANCE ON YOUR GRAVE
"C'mon Harry, lets go bug Tuvblocks and the baldy nut," Tom said. Somehow he tripped over the door. Harry dragged him by the arms.
Tom's the best drunk. FACT
"Morgan, you don't have to knock," Kathryn said. She stepped out of the way. Morgan stepped clumsily into the room. "Morgan, have you been drinking?"

"No! Drinking is bad," Morgan giggled. Kiara and Chakotay walked into the room. "Can I put some music on?"
NM, "WALKED INTO THE ROOM" HAS ALREADY BEEN RESURRECTED. I SHALL CALL THIS NEW HOLIDAY "WALKED SUNDAY" AND ON THAT DAY NOBODY IS ALLOWED TO SIT, ONLY WALK INTO ROOMS. BAD FRIDAY WILL BE LIKE A FRIDAY 13TH BUT WORSE
Oh yeah and NO YOU CAN'T
"Yey! Music!" Kiara yelled out, clapping her hands repeatedly. Morgan put on her new playlist. The song 'Makin My Way' by Billie came on.
Damn it Kiara, you're cute and all but don't encourage her
Oh LOOK, ANOTHER SONG FROM THE POKÉMON SOUNDTRACKS
"Oh, this is so boring. Computer skip track," Morgan groaned. The song 'Get Happy' by B*Witched came on. Morgan started dancing really stupidly.
NOOO YOU'VE ALREADY USED THAT ONE. EMERGENCY, WE'RE RUNNING OUT OF GOOD POKÉMON TRACKS. RUN!
"Morgan, you should go to Sickbay," Chakotay said.

"No, I'm not going to see that boring old f***," Morgan replied and she stormed out of the room.
Ah so "walked out of the room" is the one that's dead. Bad Friday and Walked Sunday/Monday is cancelled, sorry.
oh yeah and ohsnap
"Cool, there's this tech thingamajig near by," Tani said from Seven's console.

"For a Borg, you're rather dumb," Tom muttered.
So Tani, when you were talking about wanting to be a baby again, sleeping your way through life, were you talking about your whole 16 years on the Borg Sphere?
If this was an object version of the technobabble term then, epic fail. Still, not complaining because it leads to this.
"Then what do you call it then?" Tani asked.

"A gigantic piece of s***," Tom replied.
And so it begins
"Um Marill, I get that this is a running gag but why is the Catapult the object of the piece of s$$$ joke?"
One: Tom's reaction upon seeing it; "anyone want to hazard a guess?" Aka WTF is that?
Two: Look at it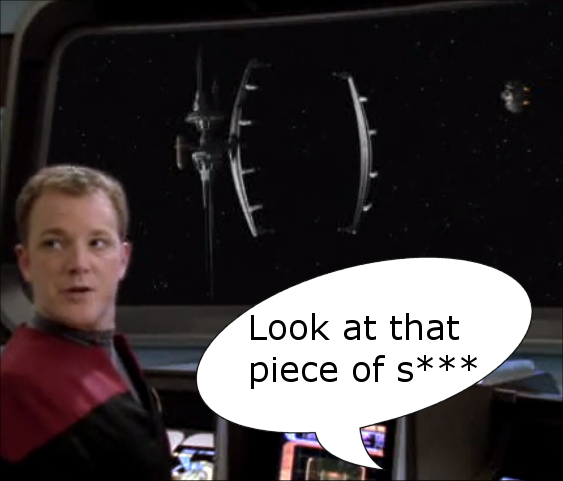 It's like some cheap Poundland version of a Stargate
Three: Despite my initial belief when I saw the episode, the catapult does in fact work but it doesn't work as well for the Voyager crew.
Four: come on, it's a catapult in space. That's damned funny and deserves ridicule.
Moving on.
"When did swearing become allowed in Star Trek episodes?" Harry muttered.

"When O'Brien swore I think. Everything's DS9's fault. First it bores people to death and then sets a bad example to children," Tom said.
Ohhhhh s$$$!
I'm through running from these ba$$$$s
BULLS$$$
Those Klingon ba$$$$s killed my son
Look at those potty mouthed movies. But yeah, it's Deep Space Nine's fault. I'm surprised I even knew that O'Brien swore in it. Which episode out of the roughly dozen I watched had that gem in it? Or did I get a glimpse into the future and see the TNG Recuts on Youtube?
Oh and Tom, it's hilarious that you'd think Fifth Voyager isn't a bad example to the children. OMG DEFENDING DS9, MY SKIN IS ITCHY
PS. Harry, I'm sure this isn't the first swearword of the series
"Well Tommy boy, aren't you going to the gigantic piece of s***?" Tani asked.

"Why not, it beats Chakotay's nebula," Tom said and he changed course.
Oh yeah, this is before they even see it. Classic!
Kathryn and Chakotay walked into the Bridge. "Tom, where are we going?" Kathryn asked.
AHHHH SO CLOSE
"To a gigantic piece of s***," Tom replied.

"Interesting," Tuvok muttered.
Everyone mutters every other line and sometimes every line, but Tuvok's actually makes me imagine him slowly tuning everything out so he doesn't lose the will to live through all of this craziness. Imagine being the only one unaffected as your entire crew become caricatures of themselves. That's Tuvok's life now.
"Oh fine, is this going to be one of those episodes where we nearly get home but something goes terribly wrong?" Kathryn muttered.

"Something like that," Tani muttered. Seven and B'Elanna walked into the room.
GOD DAMN IT
I dunno what gives you that impression Jane. A piece of s$$$ doesn't translate into super fast or shortcut in any language.
"Captain, Seven told me there is some bugs in the ship somewhere," B'Elanna said.

"God, the scripts a bit thin," Tani muttered.

"The writers haven't seen the episode in yonks," Harry said.
Stop commenting on quirks/problems that FV's always had as if they're only in this episode.
But pffft haha, bugs in the ship
TRIVIA: Whilst rebooting this episode I hadn't seen the episode in yeaaaars. The last two times I've chosen Voyager to watch through in order, I never get through it all. The last time was with my sister and brother-in-law, who hadn't seen most of it and was hooked, but we didn't have time to watch them all and got as far as Season Three or Four, can't remember. That was at least three years ago. Whereas here, that would've been impossible. Voyager Conspiracy couldn't have been more than a year old. Yonks probably meant in a few months.
Seven told her story about bugs and Neelix's food, makes a perfect combination. Everyone fell asleep or Marill forwarded the tape.
OH SNAP
and yeaaaah, the only part I forwarded the tape through Voyager Conspiracy was the shuttle scene at the end. The first time I saw it, live on tv so I couldn't fast forward it (those were the good old days), my eyes rolled so many times I'm surprised I didn't get dizzy and fall off the chair. Gawd, I felt so uncomfortable since I saw J/7 as a mother and daughter relationship, and that scene made me think "NO DON'T KISS" and "ohgods, Seven IS the daughter in Kidz Trek, how am I gonna ripoff this one???". TRUE STORY
THANKFULLY J/C FOLLOWED AND ALL WAS RIGHT IN THE WORLD. WOOHOO FOR NO ADOPTED DAUGHTER INCEST
"Well lets go and see the bugs," Kathryn said in a hyper voice.
haha
I'm not gonna explain every joke. I've already done so with this one elsewhere
"Chakotay, what's she on today?" B'Elanna whispered.

"Coffee and Cherry Coke," Chakotay replied.

"Just like the writers," B'Elanna moaned.
AND NOTHING HAS CHANGED WHATSOEVER
"Oooh look at the pretty bugs!" Kathryn giggled.

"Seven, go to her quarters and ready room and make sure that she doesn't get anymore Cherry Coke," B'Elanna whispered. Seven stopped gloating and she left the jeffries tube.
Somewhere James' ears are burning
If anyone should do this, it's him
"It's a catapult, wow," Tani muttered.

"It looks like a big ring to me," Tom muttered.
Tani: WOW IT'S F$$$$$ NOTHING
Tom: I wonder if I can do some bitching maneuvers flying through that
"Would you leave my piece of s*** alone," the alien guy said.
YEAH HIGH FIVE
"Tom, what have you been saying to him?" Chakotay asked.

"I told him to go and wash his face, that make up is just so gross," Tom replied.
THAT'S RACIST
I'M NOT VOICING MY OTHER THOUGHT. NO SPOILERS
"Oooh that reminds me," Kathryn said and she ran towards the Ready Room.
*SNORT* HAHAHA
"Er, hello I'm still here!" the alien guy yelled.

"Oh sorry, it's just nobody likes you. Now we will start hinting. Did you know we're 45,000 lightyears from home?" Chakotay said.
WHY DON'T WE LIKE THIS GUY. I DON'T EVEN REMEMBER WHAT HE LOOKS LIKE, I KEEP GETTING THE BUBBLE DUDE FROM COUNTERPOINT IN MY HEAD
At least they're being very honest today
Except for the 45,000 lightyears bit. I clearly had lost track but so had the Voyager writers. Also I made the mistake of basing this one before Dark Frontier so I'm not even sure if I changed the number to suit, and yes that counts for the reboot too. OHMY *METAPHORICALLY RUNS TO CHECK*
*TWO HOURS OF EXCEL SUMS LATER*
HEY I DID! I worked it out as somewhere between 23-25 thousand light years to go. Since Dark Frontier was after this in the original season, I added the 20 they gained from that back on and viola! Of course when I did the reboot the season order wasn't yet set so... NO EXCUSE, I WANTED DARK FRONTIER BASED BEFORE IT SINCE IT WAS SEASON 5 AND CONSPIRACY WAS 6. YOU F$$$$$ UP MARILL AND IT'S OK BECAUSE YOU SPOTTED IT BEFORE PIECE OF CONSPIRACY'S RELEASE. THERE, DOING THE REVIEW FIRST WAS A GOOD IDEA AFTER ALL, WOOHOO
Yes I did the review before finishing Fugitives and releasing both of them, caught red handed, BAD MARILL.
God I have a headache. No mystery as to why.
"Yes, you're gonna have to do something for me before I let you use my piece of s***," the alien guy said.

"I feel better already," Tom groaned.
Hehe
It's so god damn silly like 99% of FV so far. So why the hell does it work, at least for me, more than the previous episodes (excluding Worse Case)? I dunno, this is why I'm doing this review but theories:
1) The Voyager Conspiracy itself is a daft, surreal episode anyway. It always felt to me like some bizarre fanfiction that had accidentally been left in place of a Voyager script
2) Because of 1 when the series was still kinda serious and less HAHA WRITERS/TEAM ROCKET MOTTO'S, Voyager Conspiracy was planned in to be a parody. Most of Season One so far was not. The so called jokes in these were made up on the spot, jumbled rambly rubbish that shouldn't have been there, and they ruined the planned material or erased it all together. Conspiracy was meant to be only this and probably had a lot of the jokes already planned in.
3) Hyper Janeway is second best Janeway, right after grouchy doesn't take your s$$$ Janeway from Reboot One.
Later in Engineering:
"So, have you run into an old geezer before?" Kathryn asked.

"My grandad?" the alien guy asked.
AHHHHH, SOMEBODY'S BEEN AT VOYAGER CONSPIRACY WITH A KNIFE. IT'S BEEN CUT. GET IT STITCHED UP AND SOME BLOOD STAT
I honestly struggled to remember what went on between these two scenes, as stated it has been a while. I suppose the piece of s***'s function hasn't been mentioned, so erm a meeting about it and Seven's "he's naughty" whines.
Lol my grandad. I don't care, this episode isn't meant to be taken seriously. So far the episode's flaw is that it fits in with the rest of the season now, and might not stand out because of that for anyone else but me.
"Well no. It's just your thingamajig is similar to the Caretakers," Kathryn said. Seven and B'Elanna groaned.
THINGAMAJIG, NO... THE JOKE IS RUINED. PIECE OF S***, JANEWAY. YOU HAD ONE JOB
"To get to the point, did you get that tetrion reactor from an array six years ago?" B'Elanna asked.

"No, I was home six years ago. I stole that reactor, I was that desperate," the alien guy said.
OHNOES I LOST MY TINY VIOLIN
"Oh stuff it. B'Elanna continue helping him fixing his reactor thing," Kathryn said. She and Seven started to walk out of the room.
Okay seriously, someone clue in Janeway on the running gag.
"Haven't we missed a few scenes?" Seven asked.

"Nah! Anyway, any thoughts?" Kathryn asked.
HAHA, IT'S ALMOST AS IF FIFTH VOYAGER'S NEVER DONE THIS BEFORE
"Oh sure, and don't find any conspiracies," Kathryn said.

"What?" Seven asked.

"Only joking," Kathryn said as she left the room with a big grin on her face.
WINKWINK
"Who fired those really cool weapons that looked like the Enterprise E's torpedoes?" Seven asked.

"Please clarify."
They did??????????
"Oh for god sake! The writers can't remember the name of the weapons so just tell me who bloody fired them!" Seven exclaimed.
Okay Seven "sweetie", you're not supposed to flip your lid until later in the episode.
Morgan (who was obviously still drunk), Tani,
OH OBVIOUSLY, WHY WOULDN'T JANEWAY'S 15 YEAR OLD DAUGHTER STILL BE DRUNK ALMOST A DAY LATER AFTER HER SIP OF BOOZE, WHEN HER PARENTS KNOW ABOUT IT. MAKES TOTAL SENSE
(who was still drunk) would've been fine in an episode like this.
Jessie, James and Craig came into the Bridge. Tani was holding a small blue Bush CD Player.
OHNO. NOT THE BUSH CD PLAYER. IS THAT THE ONE THAT EXPLODES OR FIRERA'S NOT SO SECRET LOVER?
"Now where is the wall socket?" Tani muttered as she looked around the room.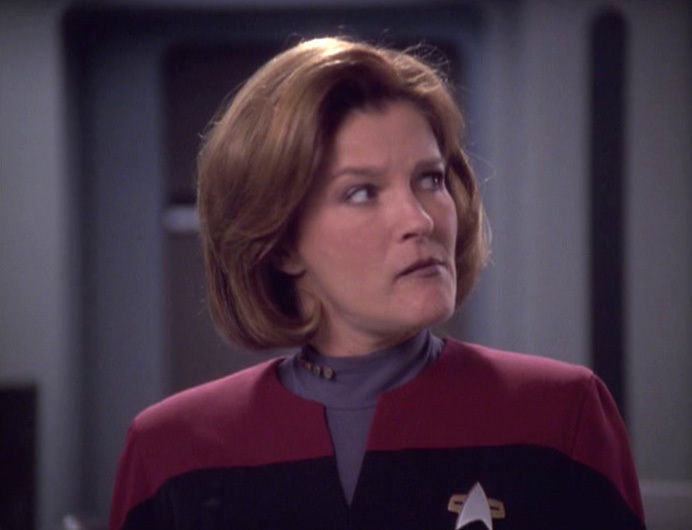 "Who's in for some inflight entertainment?" Jessie asked.

"You five are not going to use that thing on the Bridge are you?" Tuvok asked.
Remember what I said before about Tuvok? The poor rational person surrounded by idiots, watching everything be destroyed around him. Don't ever forget it. It's so much more tragic and hilarious at the same time.
"Hi Tuvie! Hows your ears today!" Morgan yelled.
THAT'S RAC... she's drunk and a kid. I'll let her off.
Somehow Tani found a wall socket. She pulled out a CD from her small bag. It said Heartbeat/Tragedy. It had a picture of Steps on the front.
OHNOES
I STILL HAVE THAT EXACT CD SINGLE (REMEMBER THOSE???)
Something tells me I had recently acquired it when I wrote this.
"Okay guys, into positions!" Tani yelled.

"What are you doing?" Tuvok asked.
Poor Tuvok
The group ignored him. Morgan climbed onto the console behind Kathryn and Chakotay's chairs.
Pffffffftttttttttthahahahaha, of course the leaders' teen daughter would do something like this. It's like FU you can't touch me, nyeh nyeh. Typical teen rebellions.
They all started dancing to the music.

"Oh I love this song," Tom said. Harry groaned.

About four minutes later the song finished.
PHEW WE WERE SPARED..... for now! *cue dramatic cliffhanger type music*
Morgan finally lost her balance and she fell backwards. The others laughed at her. Craig helped her to her feet.
HAHA THAT KID FELL THREE FEET ONTO HER BACK, SO FUNNEH
When Craig's the only decent one in your group, to a young girl he wants and is creepy with, you need to take a good long look at yourself.
Seven came onto the Bridge. "What was all that about?"

"Don't ask," Tuvok muttered.
Tuvok right now: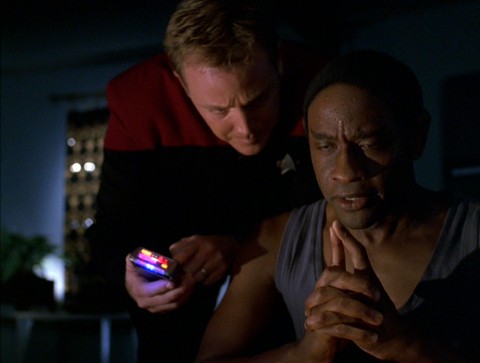 "No, it was Morgan and her friends. She was still intoxicated," Tuvok said.

"We know. She won't go to the Doc and for some reason her Borg chemistry is not destroying the alcohol in her bloodstream," Chakotay said.
How cute, look at you trying to whip up a reasonable explanation for one of the jokes. I can't help it, I'm gonna pinch your cheeks. Oh goochie goo.
(you know I'm crazy, let's not beat around the bush here)
"The point is, five members of the crew decided to put a song on, on the Bridge and dance on consoles and on your chairs," Tuvok said.
Sorry Tuvok, if you don't embrace the stupid you'll end up shouting in all caps at everything and writing extremely boring rants. Believe me!
"My chair! That's it. Computer where is Morgan Janeway?" Kathryn growled.
The last straw; no one steps on the Mighty Captain Janeway Chair TM.
"I still find it hard to believe that your mum let us entertain the Bridge crew," Tani said.

"You'd better not of been lying to us, or it'll mean our heads," James said.
Oh Morgan, you little scamp you!
"Hi, are you here to tell of Tani for what she done?" Morgan asked.

"Hey!" Tani moaned.

"Morgan! How dare you put your dirty feet on my chair! Do you know how long it'll take for Harry to scrub that off?" Kathryn yelled.
I'm sorry but, I'm laughing and can't think of a comment. It's probably the same nonsense you've been reading with me all through these reviews to you, but to me this dialogue hits the giggle spot.
"Tani was the one on your chair," Morgan said.

"Hey!" Tani moaned again.
Well at least she's being honest this time!
"That's it, you're grounded," Kathryn said.

"You can't, it's the day where I have to regenerate instead of sleep," Morgan said.

"Fine, you're grounded just for tonight," Kathryn said.
Um, what?
You can't ground me because tonight I won't be home anyway.
Okay fine, you're grounded only for the night.
HELP, I LOST MY SEASON ONE GIBBERISH TRANSLATOR
"Oh god. I'll have to put up with Seven all night," Morgan moaned. Tani laughed at her.

"And you Tani, you're going to scrub my chair," Kathryn said. Tani stopped laughing.
Harry: phew, now I can spend the night as I planned, watching gorry horror films. Oh yeah gorry bodies.
Seven was talking with Neelix in the Mess Hall. "Kes always said that something else was going on, but she had quite an active imagination," Neelix said.

"Was there any other ships besides Voyager and the Marquis ship?" Seven asked.
What's this I detect? Actual lines, or improvised from memory lines from the episode I'm parodying. Noooo! You were the chosen one... oh I've done that joke already :(
"You're boring, do you know that?" Morgan moaned.

"Boredom is irrelevant, you must regenerate," Seven said.
oh snap
This is the first hint of the Morgan and Seven rivalry? This... *snort, giggle*
Seven stepped out of her alcove. Morgan was sitting on a crate, she looked bored to death.
So she's still grounded? And she's doing what she's told? Somebody get this girl to Sickbay
"Blah, blah, blah, blah," Seven blabbered on. Chakotay tried to stop himself from falling asleep while he was standing. "You must not let Captain Janeway get a hold of that piece of s***." Chakotay yawned and he walked out of the room.
Yes this is a real quote. I really don't think there'd be any doubt 16/17 episodes in.
I kinda like and hate it. There's no context, this is where the scene starts. The episode could be funny if you remembered Voyager Conspiracy. If you don't, TOUGH
I like it because even Seven's getting in on the piece of s*** gag, unlike Janeway who's probably distracted by her own. As for blah, blah, blah, blah; I'll leave it as I prefer the reboot take on this better.
He ran into Morgan who was listening to a personal CD player. "Hi!" she giggled. He ignored her.
So complaining about sharing a room with Seven the day she was grounded worked then, she's free?
They both stepped into the turbolift. "I turned the Doctor into a teddy bear," Morgan said. Chakotay still ignored her. "Tuvok is a son of an elephant," she tried again. He still ignored her.
I'd ignore you too Morgan. Those are super lame and you should hang your head in shame you drunken fool. Wait, is she still drunk? It didn't say she was, obviously!
Oh and it's relevant:
Morgan the Sue Count: 1
Why? Morgan is all over this episode. I mean sure, the later scene between her and Seven was planned in. It however does not need any of the scenes we've had with Morgan so far to work. Morgan I'm sure is not drunk during it. The band Seven insults her for is not the same one she danced to on the Bridge. Morgan getting grounded only gave us "you're boring" and "so?" The exchange doesn't add anything to the later scene. So yeah, Morgan's only around because it's the first time she's not been needed for a majority of scenes, so I MUST PUT HER IN. She's taken tips off James/Jessie and hogged as much as she can.
"Just a little damage, nothing serious, I'll send the modifications to you. My piece of s*** is yours Captain. Safe journey," the alien guy said. The viewscreen switched off.
YEY MY VERY OWN PIECE OF S$$$. I'M SO HAPPY
Apart from Chakotay's hint comment, and a Caretaker mention, we still haven't been told what this thing does.
"Yey! We're getting closer to home using a piece of s***," Kathryn said.

"How comforting," Tom muttered.
It's a little ironic that the piece of s*** is the only shortcut technology Voyager uses that doesn't blow up in their face or require a dangerous mission first. I'd say it is comforting Tom.
"God, what a big strop," Morgan grumbled.

"What?" Kathryn asked.
WHAT?
Oh right, she's talking about her dad ignoring her hilarious Tuvok is Dumbo joke that we've already been subjected to.
"That jerk just ignored me when I was talking to him. I hate him," Morgan muttered.
15 year old Morgan acts like a 15 year old.
In other shocking news Marill wastes time. Join us at ten for more details on this SHOCKING insider scoop.
"Why would she do that. We'll still be 35,000 lightyears away from Earth," B'Elanna asked. Jessie, Craig and James were standing near by.
35?
It was 45 before.
Wait, did you mean 35 because that's where they'll be once they use the piece of s***? I haven't seen the episode in years and even I remember that is wrong.
OH AND WHY WOULD WHO DO WHAT?
Yes this is a parody, but when its not trying to be funny I'm allowed to critique it surely.
"The Captain was driving me nuts, someone really has to do something, everyone's getting addicted to Cherry Coke again. It makes everyone hyper," Harry said. Jessie, James and Craig daydreamed for a little while and they ran out of the room. "See what I mean?" Harry asked.
Heh heh
"Harry, we don't need any help, go and bug the Doctor," B'Elanna said.

"Okay," Harry said and he left Engineering.
B'Elanna: Munchkin go play with the Doctor
Harry: Yes mummy *skips off*
Round Two of The Boring Lectures was on. In other words Seven was blabbering on to Kathryn.
Remove the second sentence. I'm sure everyone reading knows what the first one means, especially when this follows
"Seven," Kathryn said.

"Blah, blah. Don't interrupt. Blah blah," Seven blabbered on.
You know what, I love/like this episode but the Seven talks J/C's ears off scenes are wasted potential. God, I need the new version online. Hopefully it should be by the time this is uploaded.
"Blah, blah, blah, blah, blah," Seven babbled. Kathryn nearly fell asleep on the console. "Blah.. Captain! How dare you fall asleep when I'm talking to you," Seven said angrily.
YES HOW DARE YOU. THE GODDESS IS SPEAKING TO YOU
Oh s$$$ I forgot about this next part, Voyager Conspiracy loses a point:
"Pizza, pizza, pizza!" Marill chanted.

"Cherry Coke, Cherry Coke, Cherry Coke," Firera chanted.
For once the writers are in character. Well I am anyway.
Some crewman passed Firera and they started daydreaming about Cherry Coke. One girl had a bottle of Cherry Coke, Firera started following her.
Ok fine, smiled a bit at that image.
"Oh fine, Me and Nikki will eat the pizza on our own," Marill said. Firera walked backwards.
I know but everyone else will be like: WHOOOOOOOOOOOOOO??
"Oooh pizza!" she exclaimed. Nichola, Marill's sister walked around the corner. "Pizza, pizza, pizza!" Firera chanted.
NM there it is
"How did we get on Voyager?" Nichola asked.
KEEP THE NAMES CONSISTENT SARAH, OH SORRY MARILL.HAHAHAHA
"We'd better go, Seven is coming. We'll hide around the corner," Marill said. She and Nichola hid around the next corner. Firera started following another Cherry Coke bottle.

"Come on, lets go, pizza," Marill said as she grabbed Firera's arm. She followed her chanting pizza. Nichola also followed.
PIZZZZZZZZZZZAAAAAAAAAAAAAAAAAAA
This scene feels like it was taken from Xenoblade Chronicles X, the game where a bunch of aliens are murdered over their love of pizza, by a pizza store owner. One of which is pushed off a skyscraper in front of your MC taking a casual stroll around town. Ah poetic. PIZZA
Anyway back to the episode. Naomi drags Kiara along for the Seven is rude to kids because she's a paranoid "the world revolves around ME" bitch scene
"What's wrong?" Naomi asked.

"Your parents, which side are you on?" Seven asked.

"Seven, I love both of them," Kiara said.
So, Janeway's?
"And you, your father was Ktarian. The Ktarians were officially with the Federation but they sympathised with the Marquis," Seven said.
Later...
Seven: You were originally Federation, but you took on Marquis. WHO'S SIDE ARE YOU ON?
Voyager: *says nothing, it's a ship*
Seven: I KNEW IT, YOU'RE IN ON IT TOO!
Damn it, I may have to edit my reboot.
"Oy! Stop being so horrible," Morgan said angrily.

"Who's side are you all on, Chakotay's or Janeway's?" Seven asked angrily.
I'm gonna choose Chakotay's as his scene was funnier.
Kiara started crying, Naomi tried to comfort her.
AAAW HELL NAAAAH *ROLLS UP SLEEVES*
"Tell them it's too late, get lost!" Seven yelled. Kiara ran off crying and Naomi followed her.

Morgan pushed Seven. "Haven't you got anything better to do than pick on little kids?"
OH YEAH, IT'S ON. IT'S SO ON, SEVEN ACTUALLY KNOWS WHICH SIDE IT IS. LET SMACKDOWN COMMENCE
"Who's side are you on?" Seven asked.

"Definitely not yours. No one makes my sister cry and gets away with it," Morgan said angrily.
You saw this coming surely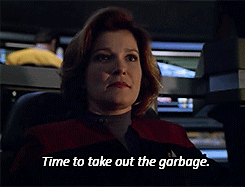 MAKE MOMMA JANEWAY PROUD
"What are you going to do, Aqua girl?" Seven asked.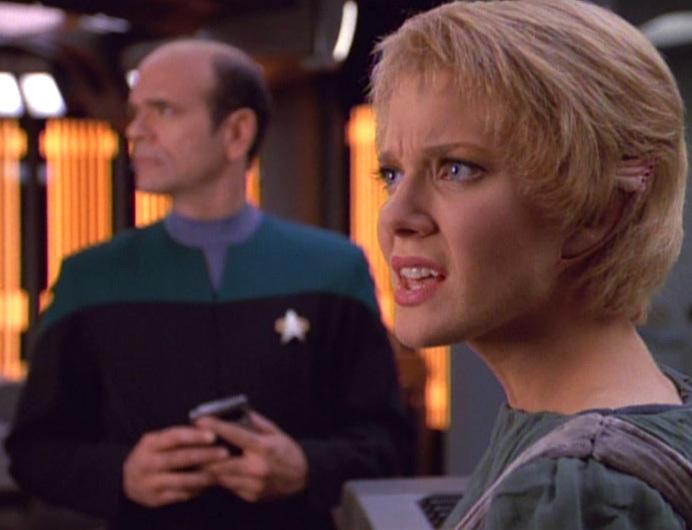 Well, good news is James now has competition for the lame comeback awards at the end of the season:
"All because of you, you cow!" VERSUS "What are you going to do, Aqua girl?"
LET BATTLE COMMENCE
"Aqua Girl? What's that suppose to mean, Barbie?" Morgan asked.
Yeah, what is that suppose(d) to mean? Enlighten us oh Goddess of Nine.
"Has anyone told you that you look like Lene from Aqua?" Seven asked.
WHAT?
OH S$$$ YOU'RE RIGHT, HOW COME I DIDN'T NOTICE
And this is bad because? As soon as I saw a picture of the lead singer of Aqua, - ok I dunno if it was immediate but it was the first pic I saw of her - I thought she had the perfect look for Morgan.
Ignoring the fact that Seven has heard of a pop band from 400 years ago and knows the lead singer's name too, why is this an insult? I at least liked Aqua then, they're still my favourite music artist today. Lene I thought was/is pretty, so what gives?
"Oooh! I hate Aqua! And I definitely hate you," Morgan said angrily.
Yes, she's still drunk. Her apparent hatred for Aqua isn't only forgotten forever, it's reversed.
"Then what are you going to do about it, Lene?" Seven asked.
Um your game was already weak Seven, see:
"What are you going to do, Aqua girl?" Seven asked.
I wouldn't repeat the same threat, so why would you? It's a good thing Morgan already wanted to punch you after the Kiara bullying. I'm going with that interpretation, so THERE!
Also Annika calling her Lene. Haha. It's funny Morgan takes this name later, well kinda, the names are pronounced the same way.
"What!" Chakotay asked.

"That you're a two timing son of a b****?" Kathryn asked.

"No, you're the two timing one," Chakotay said.

"What's that suppose to mean, Tattoo Boy?" Kathryn asked angrily.
Oooh, further contenders for the Lame Comeback award.
YOU TRAITOR! NO YOU! LOL TATTOO!
"I know about your little plan, you're not going to get a hold of that piece of s***," Chakotay said.

"No plans you little nit wit! Now off to the Brig with you!" Kathryn said angrily.
Without context and of course the s*** joke this is actually funnier. To me.
LITTLE NIT WIT, STOP JANEWAY, WE ONLY NEED ONE SUBMISSION PER CHARACTER
"Don't act dumb, because you already are. Anyway I found out about you little plan for the piece of s***. Fancy, you tried to say that I had plans for it, you cheeky nought," Kathryn said.
oh snap
Cheeky nought. Everyone's doing it now(t)
"Wait a minute. Seven said the same thing to you that she said to me?" Chakotay asked.

"The cheeky cow! She set us up," Kathryn said angrily.
You've already said cheeky. Reboot Janeway would eat Conspiracy Janeway for an afternoon snack and still stuff her face at the buffet for several hours.
"Go ahead, and make it quick," Kathryn said.

"Morgan was found seriously injured on Deck Ten."
And there I was worried that people would think Morgan was picking on Seven for the hell of it. Got nothing to worry about. Seven not only made the 2 year old cry by telling her to pick a favourite with her parents, she smacked the 15 year old and left her for dead. NOT COOL. ENJOY DARK FRONTIER AND UPENDI YOU CHEEKY LITTLE NIT WIT NOWT, MWAHAHAHA
yeah yeah I know she was ill, but if I recall correctly she had an information overload. She was still her, only more emotional. It's not the first episode she's taken a hissy fit, hurt someone and fled the ship, leaving mummy dearest (or Uncle Tuvok) to chase after her.
Also, its a bit suspect that we not only didn't see the fight, or rather read it, and that fellow ex-Borg Morgan ended up seriously injured. Wouldn't they be at least evenly matched? Let's see:
You got age and size to consider, normally. Morgan's a still growing girl, Seven isn't and has a height advantage. Both are slim. Morgan is a Janeway though and should have some edge. Her being a Pokémon Master(lol) means "nowt" here. Seven would've grown up in a maturation chamber since 6/7 years old, I doubt the Borg skimp there. While Morgan didn't and grew up in a Borg vessel which I doubt is stocked with food, so the bunch of kids manning it will have had to scavenge to stay alive. FINALLY Morgan was never fully assimilated, Seven was. Whatever makes Borg strong she still has canonically, would Morgan? Probably not. The implants she'd have would've been the initial nanoprobe injection's contributions and that's it.
Hmmmmmmmmmmm... now that I mention it, Seven does have an advantage over Morgan. I guess I didn't want to write such an unfair fight showing a teenager getting seriously injured. MAKES SENSE
If you completely disregard the later reveal about Morgan being not only a Slayer but of the Chosen variety as well; aka strongest two out of all. And as James showed in Aggression slapping Borg around like rag dolls is laughably easy. I assume I skipped the fight because I wanted to avoid giving away that she was strong, and yet still wanted a vague hint that she was. Seven would need to use some force to stop that fight, Morgan's stubborn and she was Janeway-mad, she'd take some putting off, hence the seriously.
"Oh god, is she all right now?" Kathryn asked.

"She's fine because I'm just so great."

"I want you to come to Cargo Bay Two. You'll have to scan Seven's new alcove," Chakotay said.
Hmm, almost a J/C are bad parents moment. Not great, mind you.
Also, what new alcove?? Can't remember if it was ever mentioned. *skips* NOPE
Kathryn and Chakotay headed out the door. "Chakotay, forget everything I've just said," Kathryn said.

"Done," Chakotay said. They left the Cargo Bay.
PHEW THAT WAS A TENSE FIVE MINUTES, GLAD THAT'S SETTLED
"I'm going with you," Chakotay said.

"No, she's going to bed without any supper," Kathryn joked.
Ok, forget what I said above. J/C are terrible parents. The original didn't have that line. Janeway only makes a joke about putting Seven to bed without supper for being naughty, when she beats up her daughter. CLASSY
[ADVERT BREAK]
Authors Note: If you think the DF scene is important tough. It's too boring and we never watch that bit so we don't know the lines as well as the rest of the episode and you know how bad that's turned out. Anyway it is 10:52pm, we're not staying up all night just because you want to read the same scene you can watch on tape. Right, we'll continue from after this scene.
All caps is no longer effective...
1:05 in is more or less my reaction to most of this season.
Seriously, if I did this everytime I skipped scenes, Season One would be Season Five size. *awkward coughing and then silence*
"I've got rid of the alcohol in her blood, she should be fine now," the Doctor said.
I knew it. She was still drunk. Add that to the hefty list of points not in her favour with the Seven fight.
"What about your other patient?" Kathryn asked.
You mean the woman who beat your ex-Borg teenaged daughter enough to render unconscious? Just checking!
"She'll be fine too," the Doctor replied. He walked away.
Um, so we don't get an explanation? If you've never seen the original or barely remember it, FV is basically saying HAHA TOUGH. At least it paints Seven as worthy of abuse in the next 3 episodes and beyond, teehee.
"So, you two are planning some conspiracies huh?" Morgan asked.

"No, that's what Seven thought," Chakotay replied.

"Oh, don't even think about it, ever, or you'll regret it," Morgan said.

"Yes ma'am," they both said.
YEAH CHAKOTAY, DON'T GET ANY FUNNY IDEAS. I'M WATCHING YOU
"I don't believe a word of it," Chakotay said.

"Me neither," Kathryn said.

"Coffee's so gorgeous," Morgan muttered.
I really doubt that was what Janeway was talking about, Morgan.
"That's because I put Cherry Coke in the cup and I heated it up. It's called Hot Cherry Coke," Kathryn said. Morgan drank her 'coffee.'
EW
"You're right, we've been through too much together to stop trusting each other," Kathryn said. Meanwhile Firera was writing the scene.

"Aaaaaw!" she giggled. Marill was asleep as usual, but she woke up suddenly and she stole the pad. "No! You'll ruin it!" Firera exclaimed.
OH YEY, IT'S BEEN A WHILE SINCE WE'VE HAD FIRERA SUCKED ALL THE SHIPPY NONSENSE OUT OF MARILL'S LACK OF BRAIN RETCONS. I'M GLAD THAT HASN'T BEEN FORGOTTEN ABOUT, NOSIREEE
Oh well, if Marill hates shipping the scene's gonna change right?
"You didn't poison the coffee, did ya?" Chakotay asked.

"No more than I usually do," Kathryn said.
*crickets chirping*
Morgan fell over her chair pretending to choke.

"Morgan, stop playing around," Chakotay said. Morgan started giggling like a kid. She climbed to her feet.
um. Even for Morgan and in this season, this is pretty immature.
"Loosen up. Lets party!" Morgan yelled. She ran out of the room yelling, "Tragedy! When the feelings gone and you can't go on it's Tragedy!"

Kathryn and Chakotay groaned. "Not again," they both moaned.
UM. what was in that hot Cherry Coke? I mean really?
J/C ARE ROTTEN PARENTS
##############
Well let's see how everything tallies up.
Negatives:
1) 15 year old Morgan spends most of the episode drunk after a binge drinking contest with three adults. And it's meant to be funny.
2) Despite being the J/C kids, Morgan and Kiara have a habit of ship-blocking them by intruding on their scenes. It'd be okay if it was interesting and/or funny.
3) TRAGEDY! When you got no funny jokes and a scene to fill, sing TRAGEDY! The lines are dull and we don't know why, it's time to dance. With no one to laugh at, episode's going nowhere.
4) Yeah it's a parody but too many key parts of the original are left out, or worse, randomly mentioned later as if we're meant to know. The alcove for example. The piece of s*** doesn't have a direct explanation to what it is.
5) Writers scene that I had forgotten about, but at least it wasn't half as bad as the previous ones.
6) Morgan appears far too often and it's not necessary. She doesn't need to be there when Chakotay's had his CONSPIRACY lecture, she didn't need to dance on the bridge, or be grounded in the Cargo Bay whilst Seven learned in her sleep. She didn't even need to be drunk, maybe (might have contributed to the serious injury part, unsure), she only needed to have that showdown with Seven at the end.
7) Oh my, AUTHOR'S NOTE/ADVERT BREAK. NOOOO, JANEWAY/SEVEN SHIPPING MAKES ME ILL, TOO INCESTY. Yes I did find my Season One gibberish translator in the end.
8) WTF was up with the I hate Aqua nonsense anyway? I still don't understand how that made it in. I liked Aqua before FV was created, at the very least I liked Doctor Jones. I know this for a fact. Why? I was racking my brains trying to figure out what to do for Voyager fanfiction when my previous attempts fizzled out, listening to music with that cd sitting next to me. I looked at it and thought something like "she'd make a perfect Roxanne" and bam, hey I already tried to use Kiara, let's Kidz Trek this "What If Series" up a notch more with Roxanne and her paradox in too. Hell yeah, which episodes do I want to show AU versions of?
Seriously. Not kidding here. That's basically how it went. Sigh.
I was already planning to have Morgan lead the later band too, so having her hate half of my music collection would be pretty dumb, wouldn't it?
It wouldn't be worthy of a point against it if it didn't ruin the Morgan and Seven face off, which btw started out so well. Aaaw.
Positives:
1) Yeah Morgan's drunk but so was Tom. Always a bonus even if it's brief.
2) Piece of s*** never fails to make me smile, and it wasn't forgotten about in later years.
3) Hyper Janeway makes any episode 10x better, but the reason it was picked wasn't only for simply humour purposes. The beginning of the original Janeway does seem so buzzed to hear and see these bugs on her ship (pun unintended so lol)
4) Apart from the grounded confusion, Morgan and Janeway's back and forth over the dancefest on the Bridge makes me laugh still. Morgan childishly blames her friend who can only whine "hey", Harry once more being labelled as the bridge cleaner aka odd jobs guy.
5) It's more hit and miss than I remember, but Voyager Conspiracy feels like a parody of an episode that I love. Whilst previous entries that weren't meant to parody their originals felt like they were stamping on them, swivelling their heel and spitting on them. Compare this to Timeless for example. Yeah I like Conspiracy more than that but it's still a high rated episode for me. Yet most of the episode's copy and pasted, with kids stealing the lines, J/C scenes mostly erased, Harry being kicked out of HIS episode via suicide for Kiara's pedo crush on James/Jessie's son that never was.
I can't explain it really. Aggressions/Scorpion, Year of Hell, Hunters, Unforgettable, Once Upon A Time, Timeless, The Fight. All of them were meant to be alternate versions, follow their stories but change them up a bit to show they're AU. They weren't really meant to take the piss out of them. There might be a fourth wall comment or one liner at their expense occasionally, but that was all I wanted. Voyager Conspiracy would be the first true parody, unless you count Worse Case's sequel (no Demon's wasn't meant to be "funny" either).
Most of the above are painful to go through because I know this. Unforgettable was fine as it did follow its plot, with some disruption. Once Upon A Time managed to be funny sometimes and it did lose some of its story, but managed to turn out mostly ok. Forget the rest, they're shambles. Trying to be something they're not, while still trying to keep to the point.
In a nut shell: I adored Voyager Conspiracy because it was a J/C hinting ridiculous story, and so I wanted to make it even sillier for my series. That's exactly what it did. I can tell I enjoyed writing this one. Except for the author's note, lol.
6) Morgan and Seven's rivalry finally kicks off, and it wasn't because Morgan had fourth wall insider knowledge and picked on her for scene stealing, or called her a whore for dressing in that catsuit. No. It really kicked off because Seven made Kiara cry, and then she was beaten up trying to defend her. Morgan has a legit reason for disliking her now, no matter what. Regardless of the circumstances, some people would not forgive and forget so easily.
Season Five finale episodes & Reboot One spoilers: it's a shame with Dark Frontier and Piece of Conspiracy swapping places that this no longer applies for the reboot, considering how their relationship ends. Still, they only had silly back and forth, maybe a shove, until Piece of Conspiracy comes along.
7) Morgan' threat/order "no more conspiracies" and J/C's response. I don't feel I need to say anymore than that.
Marill's Rating: 9/10 (funny note, it was 10 but I'd somehow forgotten that Aqua bulls$$$)
Exclaimed Count: 3 (149)
Muttered Count: 19 (437)
Motto Count: 0 (12)
Sexist Crap Count: 0 (18)
Jessie's Sin Points: 0 (11)
Morgan the Sue Count: 1 (3)