Marill Re-Reads Upendi
Part Two: The Sexist & Jessie Sin Count's Gonna Implode
Last time on Marill Re-Reads Upendi
Now it's odd, this [Dark Frontier] is the strongest episode of the trilogy but at the same time it's also not my favourite. Upendi is.
Upendi would likely be the strongest of the trilogy if it were not for the quite large singular problem; Part 1.
I had plans to completely redo Upendi Part 1, maybe use bits of the final scenes(s) and edit Upendi Part 2 since I remember it being half decent for a Season One entry.
Anyone reading who are doing their own original and/or ripoff line count, start your engines.
Ok I'll accept the "Old" team not doing anything because there's a chicken in the field and Morgan going bats$$$ insane wielding a chainsaw around.
OH MY GOD, DON'T YOU TWO DO ANYTHING DIFFERENT. MORGAN, GIVE ME YOUR CHAINSAW, I'M GONNA SEPARATE THEM
Morgan shoving Craig out of the way to reach James. Priceless
WHAT?
OMG FORCED FORESHADOWING PUNCHED INTO FACE, IT HURTS SO SO BAD
I imagine I wrote that brackets part with this thought in my head "there, dodged the racist button." NOPE
And now the conclusion
Before I start I must say something. I had a peek at the infamous fight scene earlier and that decided it for me that I should do the reread before the reboot. Why? Ho boy. I'm not deluded, I remember it being pretty brutal. The Sexist counter was made for this episode, and I'm not joking around.
The scene itself was written not only for Upendi but for events in Season Two, since I had failed to build it up in the later episodes I had already written. It would've been better if I hadn't. You may have been able to spot the forced signs of it in Part 1 like I did, it shouldn't really fool anyone. Jessie and Morgan have zero things to fight about, this fight is abrupt and stupidly OTT even if they did.
Prepare for "hilarity"
##############
"Well, er.. we're still alive," she said in a surprised tone.

"No thanks to her," Morgan groaned as she stood up. She and Tani looked Jessie's way.
Yep called it. Jessie had to be ridiculously incompetent during the end of Part 1 for this whole scene to happen. Now in theory that should've been easy to write in, what with her being mostly lazy and whatnot so far. No, instead we got this (some lines amended for time saving purposes):
"That torch's power won't give us enough power to land a starship, we need more of them," Tani said.

"I think you lot should look for some more flashlights," Morgan said to Craig, Jessie & James.

"Found another one," Jessie said.

"Connect it to the power thing," Morgan said. Jessie quickly walked over to the engineering console and she started to connect it to the console.

"I can't get this thing to connect," Jessie said. Craig and James rushed over to her.

"Jess, try disconnecting the other one," James said.

"Ooops, sorry everyone," Jessie said.

"Reconnect quickly, or we'll crash," Tani said. Jessie took out the cable connecting the first flashlight, the consoles went off again and the ship started to shake violently. The torch that was being used for light rolled to the other side of the bridge when the ship lurched sideways.

"Oh s***! I can't see what the hell I'm doing!" Jessie yelled.

"I got it," Jessie said. The consoles reactivated but it was too late.
Ok, it's really badly written like you'd expect. Even I had to skim it a few times to get it. To sum up:
Voyager's had a blackout, they're currently powering stations with the flashlights

They've detected the (TRAP) power reserves on a planet, so they figure "we must land."

Yes land when they're powering things with flashlights but let's ignore that for the moment. It's not the point. The same events would've occured regardless of the power source.

Jessie finds one more "battery" and rushes to connect it up to her own station.

Now even the episode blatantly admits that you can't fly a ship on one flashlight earlier, saying "we need an extra one" but the entire spark of the fight is set off because Jessie can't figure out that she needs to unplug one of the old (I assume!) dead batteries before putting in a new one. She even has a "lol oopsie" line like she's spilled a fraction of her drink, not done something so obsenely stupid in a life/death situation.

From what I gathered she unplugged the wrong one, cutting off their power completely.

In those seconds the plot tosses the flashlight away. Note, it's on during this so she was gonna install it like that. Now it's rolled away her only concern is she can't see. Not that the only on flashlight rolled away, making it easily spotted in a dark bridge.

It's too late when she's done and the ship crashes.
Yeah, Jessie in Season One is quite useless and only there for vain jokes and beating people. In a pinch you wouldn't want to rely on her. True. The problem here is anyone this stupid shouldn't be anywhere near the Bridge. She mucked up terribly at her own station, almost killing everyone, ONLY to trigger this scene. Let's take a proper look at it then.
"As usual, everyone blames it on me. If Tani knew how to fly a ship properly we would of.." Jessie said.
AND to make it even better, makes Jessie insufferable and point blame elsewhere.
Jessie's Sin Points: +1
"I did the best I can, if it wasn't for me we would all be dead. That stupid little cow doesn't even know how to connect things to the computer," Tani said angrily.
I'm still not sure if Tani should be able to fly a starship, and ever does again.
"Give me a bloody break, maybe you should have been helping us out if you hadn't of been too busy standing around doing nothing," Jessie said.
Jessie, Jessie
shut up
"What could of she have done?" Craig asked.
GO HOME CRAIG, YOU'RE DRUNK
OR POSSIBLY BRAINDAMAGED FROM THE CRASH I DUNNO
"Quit blaming your failures on me!" Jessie yelled.
LOL
I'm not laughing at her once more denying being even more dumb than she usually is. I'm laughing that James hasn't said a word yet. Even he knows she f$$$$$ up here. He won't pile on, but he can't defend her either.
I think that's about to change because here's when it gets a little... awkward
"My failures! More like yours! I suppose what Tom said is true, Geordie lasses are just stupid f****** sluts, a waste of space," Morgan said angrily.
HERE WE GO:
Sexist Crap Count: 1
Morgan dear, yes she's being defensive about being blamed. Yes that's annoying. I get you're pissed, and you have every right to be. Calling her a slut and waste of space, no calling an entire city/county of women these two things is not on. As a kinda Geordie myself I can't believe I wrote that.
Tani groaned and she rested her head on the console. Jessie stormed over to Morgan.
This is the part where you play the older/bigger woman here, ignore the silly 15/16 kid going OTT on the personal insults and...
"Speak for your f****** self!" she yelled.
Call the 15/16 year old a slut and waste of space too.
Good job.
Sexist Crap Count: 2
Jessie's Sin Points: +1
"Oh please, do I look like a slut to you? Maybe you should look in a mirror more often," Morgan said.
Sexist Crap Count: 3
It's not only James now, the rest of the bridge crew are silent here. This s$$$'s awkward as hell.
"Listen, Barbie, I don't need to look in a mirror, all I have to do is look at you because you are the biggest slut in the Delta Quadrant," Jessie said angrily.
Sexist Crap Count: 4
Um Jessie, may I remind you that you're 26 here. Morgan's at most 16. I can forgive Morgan being immature and crude, but you? This is almost as bad as yelling at 1 year old Kiara for crying over her dead mother.
Jessie's Sin Points: +1
Oh and Barbie? This isn't Seven. Maybe that's the problem, she can't see who's she's talking to.
"Barbie! How dare you compare me to Seven and a doll!" Morgan screeched.

"Oh, what are you going to do about it?" Jessie asked.
Sigh
Tani tried to get in the conference room to escape the noise. Craig and James just stood there wishing they were somewhere else.
Ah, I was starting to think James had died in the crash... or from awkardness.
I'd say Tani was the smart one here but power cut... good luck!
"You'll see, by the time my mum's finished with you, you'll be wishing you'd never joined the Marquis," Morgan said.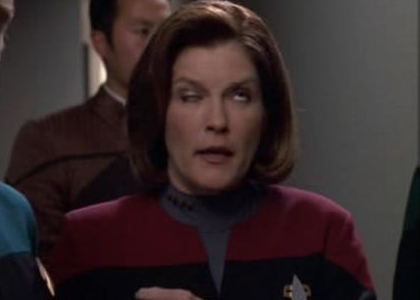 whut?
"Is that the best you can do? Set your mother onto me?" Jessie asked.
Apparently
"Then what will you do? Set your boyfriend onto me?" Morgan asked.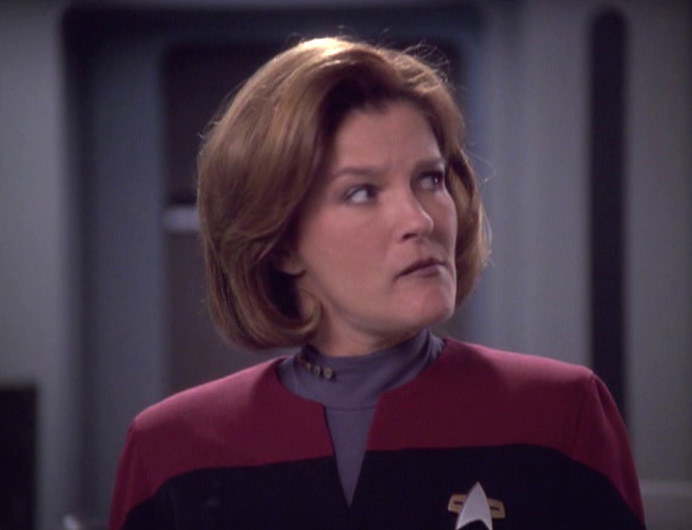 Um. Again I say, whut?
This is Season One, Morgan. If Jessie wants to do the violence she tends to do it herself. James usually just replicates popcorn or cops a fee... er I mean pretends to hold her back.
If you wanted to poke at Jessie's trigger, there are better ways. It works anyway.
"I haven't got a boyfriend you stupid cow," Jessie said angrily.
Well at least they're off the slut insults.
"Are you sure? I just thought you two would be perfect together, two Geordie Dunces," Morgan said.
Oh wow, this is lame. It's so lame you'd expect a silly teenager to say it to another. Adults would probably laugh it off.
Not Jessie though!
Jessie had definitely had enough, she quickly picked a small bit of wreckage and she got ready to hit Morgan with it.
Jessie's Sin Points: +10
Sorry. No wait, I'm not sorry. Morgan may have said some s$$$ but threatening her with metal IS NOT ON. SHE'S 16 FFS. 10 POINTS
"Oh you want to play rough do ya?" Morgan asked and she did the same.
Self defence. I know who's side I'm on.
Craig and James groaned and they quickly went over to stop the vicious cat fight from starting.
Sexist Crap Count: 5
Come on, they're about to smack each other with metal debris and it's still a catfight. FU
The two girls struggled to get out of the boys' grips on them.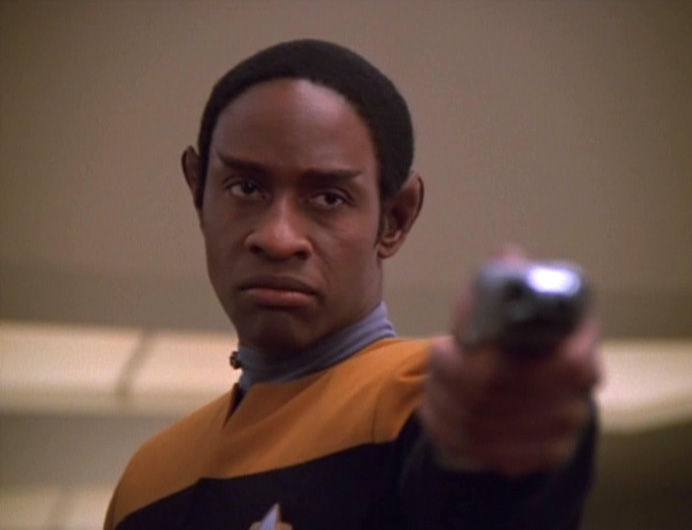 Sexist Crap Count: 7
1 point for each girl.
By Upendi it's got to be canon now that Morgan would not only slide out of Craig's hands, he'd probably be butt first on the floor from the recoil.
Jessie has been the brawler out of the J/J pair so far. James has had 3 episodes top of my head where he's proved capable of inflicting his own hurt, he just doesn't (Timeline, Fugitives and Test of Time). If Morgan's strength hasn't been decided then his sure as hell hasn't. Jessie might have struggled more with him than Morgan did with Craig, since Morgan's ex Borg and Craig's protrayed as a pushover, but she still wouldn't be "struggling".
Classic boys are stronger than girls bulls$$$. Morgan loses her strength so Craig can hold her back, while James' is remembered so he can hold Jessie back. FU
"Craig, if you don't get your hands off me, I'll tear you apart!" Morgan screamed.
*clears throat*
"I'll give you a Cherry Coke if you let me destroy her," Jessie said angrily.
Oh Craig, double the hurt. Morgan threatening you is bad enough, but Jessie bribing her holder backer instead of doing the same. Double the burn, she don't care enough.
Neither of the lads let go.
OH LADS, I HAVEN'T MISSED YOU
Suddenly they all heard a banging noise coming from the turbolift. Everyone stopped and Tani peeped out through the door. They all saw the door opening slowly.
OH FINALLY
"Oh, there is somebody in there, a little help?" the voice said loudly. Craig and James hesitated as they looked at Morgan and Jessie who were swapping death glares.

"Craig, let me go, I'm in command here, I order you," Morgan said.
Morgan ffs, your inability to get out of Craig's hold on you is really pissing me off
"Just leave Jessie alone for the time being," Craig said as he let go off Morgan's arms. She growled at Jessie and she headed over to the turbolift, Craig followed.
Well um, way to show some maturity Morgan. I'm half serious.
"Er.. James, you can let go of me now. I order you to," Jessie muttered.

"You can't do that, I'm a higher rank," James said.
I would've said foreshadowing long ago but the Morgan and Craig thing really riled me up. It's not foreshadowing, it's misogynistic.
"She's lying, just keep a hold of her," Craig said. Tani rubbed her head as she walked back onto the bridge.
Okay that's a little odd. Is Craig worried that she will attack Morgan if James lets go of her? I'd understand the hesitance if he was the one holding her back, ahem.
Morgan and Craig tried to pull open the turbolift doors. Craig was shocked when they saw who it was. Morgan quickly raised the wreckage she was holding. A young alien girl was inside the turbolift. She had lighter black skin and she hard dark brown hair.
*gasp*
OHNOYOUDIDN'T
Spoiler alert, the first of the aliens to reach out, the good "guy" has lighter skin.
WTF 16 YEAR OLD MARILL
THIS ISN'T ME, I CAN'T BELIEVE THIS. I DIDN'T EVER THINK LIKE THIS, DID I WRITE THS BLINDLY. DID I NOT SEE IT? AM I JUST SO MORE AWARE OF THIS STUFF NOW? HALP
"She's Kes," Craig said.

"Don't be stupid Craig, Kes left the ship years ago," Jessie said.

"And she didn't have dark skin like that," James said.
AND BROWN HAIR
AND BROWN HAIR, KES DIDN'T HAVE BROWN HAIR EITHER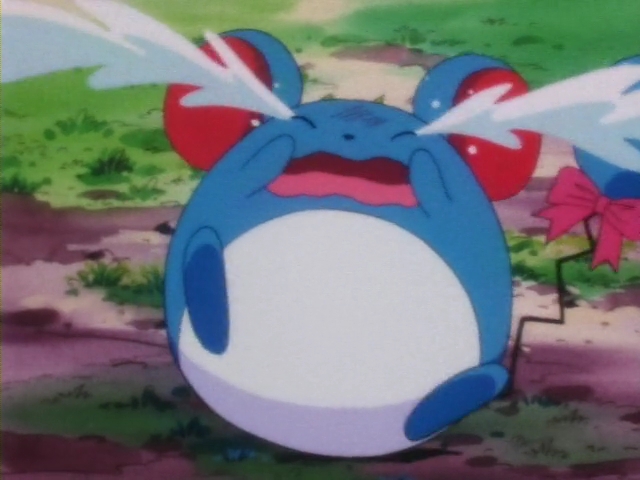 "I am not Kes, my name is Vitera," the girl said.

"Now can I kill her?" Morgan asked.

"No, she's not armed," Craig said.
Morgan, BREATHE SERIOUSLY
"Morgan, I thought you were in command," Tani muttered.

"Good point, time to kill," Morgan said. The girl cowered at the back of the turbolift.
When I re-read Season Four and Five I'm gonna remember this, and it's not gonna be the same. :(
"Morgan! She's harmless," Craig said.

"Just because it's a girl," Tani muttered.
IT'S?
"And besides, why would you want to help us?" Morgan asked.

"What my people do is wrong, they just do it because we're mistreated," Vitera replied.
I'm almost dreading what she's gonna say. I had the best intentions but it doesn't read like it, whatsoever.
"My people attack other alien species to gain power off them. We were exiled off our homeworld twenty years ago, three years before I was born. We were forced to live on our ships with no power or food," Vitera replied.
okay
"Why were you exiled?" Morgan asked.

"We were once ruled by an evil king, now every race in this sector think we're evil. My family are one of the king's followers, that's why we were the first to be exiled. My mother believes that we're hated because of the way we look, everyone else around here are light skinned," Vitera replied.
Oh
OH
WHAT?
I remembered it wrong all this time. The aliens are bullied, exiled etc... because of the actions of a leader they had long ago. Their new leader is the one who thinks it's because they look different.
So the prejudice aliens are justified in their hatred? The leader is using the alien equivelant of "it's because I'm black isn't it", and they're responding with "no, the king you worship did some s$$$"
THAT'S SO MUCH BETTER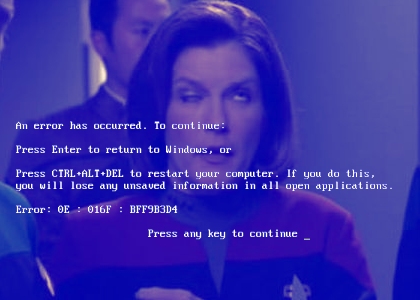 That's it Upendi, I'm close to being done. You're getting that full blown rewrite at this rate.
"No, he was assassinated twenty years ago, but like I said my family still follow him. I'm the only one who doesn't follow him," Vitera replied.
A break from my self hatred breakdown. Trivia time.
This is mostly following Lion King 2's backstory, well Lion King 1 basically. Yet in the film it's the youngest son, the one who isn't Scar's son apparently, who defects to the so called good pride after at first going in as a spy/assasin. His sister, who later defects near the end of the film as well, was voiced by Jennifer Lien. Since I like Kes and thought that was neat, I changed it to the sister who defects first which is why there's IT'S KES rubbish in here.
I think the youngest son character has been written out completely, leaving only the older goofball brother voiced by Andy Dick.
"Why on earth does your family follow that old king of yours?" Craig asked.

"Because my mother was married to him," Vitera replied.
I know they're aliens and all, but this isn't how royalty works. If this is LK2 shouldn't the king's slayer be the new ruler? Shouldn't he be the one who exiled them? If the story isn't doing that, why hasn't one of his kids succeeded him? Or rather, the Andy Dick character since.....
"And you're his daughter?" Morgan asked.

"No way, he died three years before I was born, luckily. Anyway the point is my whole species follows my mother now and most of them, even though they don't want to admit it, don't agree with her methods of survival," Vitera replied.
Well at least it's still only the queen who's the villain here, that her followers are too afraid of and don't agree with her.
I'm still mad though.
"Why are they coming after us, we have no power left?" Morgan asked.

"They know what you know. There is a huge cave on this planet, inside this rather large mountain near by, it has tones of dilithium inside it. My people don't have the technology to mine through it. That's why they drained your power, they knew that you would be forced to mine it," Vitera replied.
Oooh tone of dlithium, pretty...
nope that joke was never funny. It's especially bitter now
Actually, that plan isn't half bad. It has nothing to do with the source material too. Another plus.
"Nuvan?" Craig asked.

"My half brother, his father was that king, I just hope you don't meet him. He's incredibly insane," Vitera replied.
I sure hope the Doc doesn't meet him. The OMG IT'S KES, NO IT ISN'T SHE'S GOT DARKER SKIN, was bad enough. I don't need a Round 2.
"That's a stupid plan, my people are really strong when it comes to fighting," Vitera said.

"Obviously they haven't ran into somebody like me," Morgan said.
Pfffttthahahahhhhhhhhhhhhhhaaaaaaaaaaaaaaaa
Oh Morgan. You couldn't even bat off Craig earlier.
I could probably fight you at this rate.
"Lucky them," Jessie muttered.

"Oh shut your big mouth!" Morgan yelled.
Yes this isn't going to stop for a while. Enjoy!
"Oh sorry, your Barbie Highness," Jessie said in a sarcastic tone of voice. You could almost see the steam coming from Morgan's head. She stormed over to Jessie.
You've already called her Barbie. If it was Seven and the fight wasn't full of sluts and Tom or Harry "heroically" holding her back, then I'd be OH SNAPping you right now.
"Listen you. I'm sick of your Barbie remarks. If you don't shut up I will kick your Geordie butt," Morgan said loudly.
Morgan, I'm starting to think you don't know what a Geordie is.
"Oh I'm shaking," Jessie said in a sarcastic tone.

"No you're not," James said.

"Exactly, I was being sarcastic," Jessie said.
James forgets one of his most prominent character traits and misses this, F$$$ THIS EPISODE
"Well you should be, I doubt you'd be able to fight back when you're boyfriend is holding you back," Morgan said.

"He's not my boyfriend!" Jessie yelled.
I can't believe I'm hating a Jessie denial of her relationship with James scene
I can't believe James still has to hold her back. CHILL OUT JESSIE
"Not yet, you two would make a perfect couple," Morgan sneered.

"Eeew, no," they both said in unison.
Okay, that's not helping
Eeew?
This is what I used to talk about until I re-read S1 and figured "this denial these two, especially Jessie has is fine, it's in character, suits their backstories and it does work." That I was ragging on Season One for making them childishly act like they both had cooties, eeew girls/boys, when there was nothing like that. It was how it should be. They like each other and are ashamed of it, Jessie will deny it until she and others are red in the face.
Only I was right all along. Eeew no. Well done Upendi. Go f$$$ yourself.
"What's so gross?" Morgan asked.

"Morgan, just leave them alone," Craig said.
Yes, what's so gross? I'm waiting. You both were squicked out in unison, though that part doesn't surprise me.
"Oh shut up. I'm enjoying this, I'm insulting her and she can't do a thing about it," Morgan said.

"Oh let go of me please, I want to kick her a**," Jessie said angrily.
1) Morgan, you know or you should know as well as I do that she still couldn't do a thing if James wasn't there.
2) Jessie, she's still 16. I know this scene's dragged and it feels like years have gone by, it hasn't.
"Don't bother Jimmy, I think she's enjoying the closeness," Morgan said.
Okay fine. Begrudingly done:
OH SNAP
*mutters* Jimmy fu
"That's it! Let me go!" Jessie screamed.
I know, I hate people calling him Jimmy too
"I think we should get that dilithium or at least plan how we're going to get it," Tani said.

"Can't you see I'm busy," Morgan moaned.
TANI FOR PRES... CAPTAIN
"Fine, as long as she promises that she won't attack me when he lets her go," Morgan moaned.

"I promise nothing," Jessie growled.
FFS JESSIE
WE'RE STILL IN SCENE 1, LOOK HOW LONG THIS REVIEW IS
"Fine, he'll just have to keep a hold of you until you calm down," Morgan said and she walked away.

"How am I suppose to help when I've got a hold of her?" James asked.

"Oh you're helping already," Morgan said.
One of them will tire first. Anyone want to bet?
"No you're not, let me go, or I'll be forced to do something," Jessie said angrily.

"Like what?" Morgan asked.

"I'll, er.. bite him, then he'll let me go for sure," Jessie said.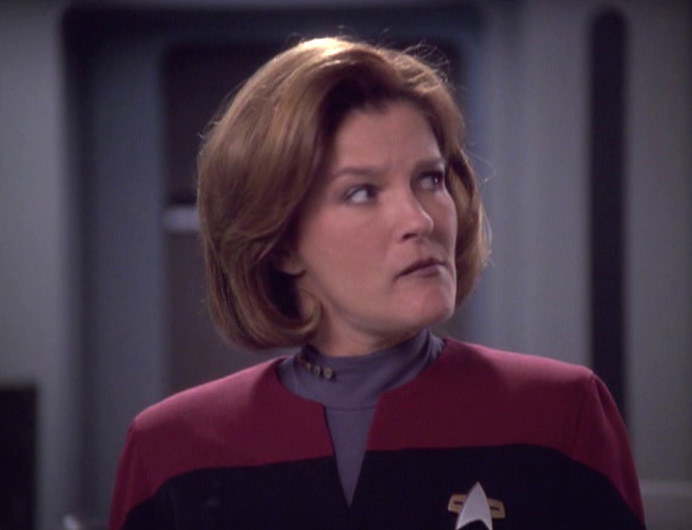 Come on Jess, you are not THAT naive, are you? OF COURSE YOU ARE
"Uhoh," James muttered.
Take that anyway you want, folks
"Oooh, bite him, huh?" Morgan said in a teasing voice, then she winked at them both.
If Morgan the teen who spent her life in a Borg Sphere with aliens jumped on that comment, then Jessie I dunno what to tell you.
HOLY CRAP A NEW SCENE
For some reason the Upendi program was still operating but everything was dark.
FOR SOME REASON
MY HEAD HURTS, I GIVE UP
I'll continue this later. Not that it makes any difference, except for this remark you probably wouldn't have known.
UPENDI PART 2 RE-READ, TAKE TWO. ACTION!
For some reason the Upendi program was still operating but everything was dark. The rest of the main cast were there, except Kiara & Naomi. Tom and Harry were at the far side fiddling with an access panel. Kathryn, Chakotay and Tuvok were standing over them.
Oh hey it bugged me that in Night the Holodeck not only was still on during the blackout, cos you know they're important enough to have independant power, oxygen is for losers, but that it was frozen with its own blackout. Let's do that again, woohoo.
If it turns out it's meant to be making fun of that then I'll stop re-reading Upendi and write an episode.
"There's just not enough power for the manual over ride," Tom replied.
Haha, it's funny because Tom literally doesn't have enough power to use the manual overide. If it turns out that "that's the joke" then I'll stop re-read... oh I did this already.
"Then we'll just have to force them open, Tuvok go and get Seven," Kathryn said.

"Aye Captain," Tuvok said and he walked away.

"Why Seven? Why does she always have to save us?" Chakotay asked.
I assume it was business as usual on the not-FV episodes we didn't "read". Otherwise what are you talking about Chakotay?
"You got me wrong, I'm just bored so I want to amuse myself," Kathryn replied.
Reboot Janeway? This might not be so bad after all.
"Use your assimilation tubules to assimilate the door panel," Kathryn said.

"Is that a good idea?" Seven asked.

"Of course it is," Kathryn replied.

Seven nodded. She walked over to the door panel and she placed her palm against it. The assimilation tubules went into it, nothing happened so she tried to get her hand back out but she couldn't.
Here I was expecting it to blow up or electrocute her, yes even during a power cut. Hey there's still power in the Holodeck you newbs, duh!
So um, no wonder I didn't guess this. I don't even get why it happens.
"Er.. Captain I'm stuck," Seven said as she struggled to be set free.

"Oh dear, I never expected that to happen," Kathryn said as she tried to hold back a giggle.
NO NEITHER DID I
OH SARCASM? I STILL DON'T GET IT
"Agreed, everyone will have to help pull the door open," Kathryn said.

"I'm still stuck here!" Seven yelled.
I have the Seven Dies counter on standby... or more accurately I copied and pasted it below this in advance. DO NOT MAKE ME A LIAR UPENDI 2 LIKE UPENDI 1 DID
"Oh we know that already," Tom said.

"Then can I have some help?" Seven asked. Nobody heard her, they were too busy trying to pull the doors apart. Seven groaned, the writers had struck again.
Be grateful you're still alive Seven. Though you always come straight back, yes you're right, not being dead and stuck is probably worse.
I know, I know this is the last Season One episode written but it's still very jarring to have this Seven hatred coming from people like Tom so suddenly, and at a stretch everyone since no one offers to help. Janeway and Chakotay you can argue for in-series, Seven did put their daughter in Sickbay a few episodes ago. Though she more than got her own back in Part 1 0_0 Of course the real reason is bloody Endgame's creation of the WORST PAIRING EVER
Oh hang on, waffling and I missed something.
Nobody heard her, they were too busy trying to pull the doors apart.
Seven's at the panel, stuck right? How the hell are they doing this with her in the way? Don't tell me they're pulling it open on one side. OH AND DON'T TELL ME THIS IS SEASON ONE AND THERE'S NOTHING LOGICAL, COHERENT OR ANY NICE FANCY WORD ABOUT IT.
Ahem.
The Holodeck doors finally started to open and everyone gaped in shock. A few of the black aliens were waiting for them outside. The leader had scruffy dyed blonde hair and he had a goofy looking face.
oh snap at Andy Dick's character
It's probably fine but "black aliens" rubs me the wrong way, and I have a feeling it's more to do with the previous descriptions.
Why are they standing around outside the Holodeck waiting for them? For all they knew they couldn't open the doors.
"Hehe, more prisoners, take them!" he squealed.

"Wait, who are you?" Kathryn asked.

"I am the great Nuvan, son of the great Xara and Scaran, and you are going to die," the guy replied.
YOU USED GREAT TWICE, I INSTANTLY DISLIKE YOU
OH AND LOL TO THE TOTALLY LAZY "SCARAN". Xara is Zira with two letters changed but even that looks less like a lazy parody name than Scaran.
The other aliens took their own prisoner each and they left the Holodeck.
I must've misread the part where each alien had weapons. I mean how else can they get away with dragging Voyager crewmembers away one on one.
Lol at the thought of Janeway or B'Elanna going quietly, especially this way and without weapons.
Nuvan walked into the room. "What a really cool place, hey who the hell is that?" he asked when he saw Seven. Seven saw him too.
THIS IS HOW ALL LOVE STORIES BEGIN, OMGSPOILERZ
"Who are you?" she asked.
THE GREAT NUVAN OF THE GREAT XARA AND GREAT SCARAN, HE'S GREAT, PAY ATTENTION
"I am Nuvan, you?" he replied as he gaped at her.

"Seven of Nine, but you can call me Annika," she said as she stared back at him. If anybody else was around they would of saw the love hearts around their heads.
Heh heh, its utterly dumb and you have no idea why I'd put them together; other than maybe the Lion King 2 parody still "needed" a love story. It's still the best part of Upendi. Not that there's much competition.
An older woman was wandering around the room, with a disgusted look on her face. She stopped and looked down at all the prisoners she had.

"This ship is a big let down, it's boring and dull. It could use some more colour," she said.
This is a villain I can get onboard with.
So clever, so intimidating. Amazing.
Yeah, without the all caps it's hard to tell isn't it?
MY SEVEN DIES COUNTER IS STILL UNDER MY TEXT WAITING TO BE USED, WHYYYY?
"Who are you?" Kathryn asked.

"My name in Xara, the queen of the great Aquariums," the woman replied. Tom laughed.
*facepalm*
I can think of many adjectives to replace great with, and that's without my thesaurus. Amazing, Wonderful, Brilliant, Fantastic.
Thesaurus also suggests: Magnificent, Terrific, Cool, Groovy (lol), Good.
And that's without looking at its ideas for "noble", "important" and "famous", which could've been the great Xara and her son were aiming for.
That's not even the worst part either.
AQUARIUMS? WTF KID MARILL, WHAT'S THE CONTEXT FOR THAT? AND YOU THOUGHT THE SEVEN/ANDY DICK CHARACTER PAIRING WAS AS OUT THERE AS A CHAKOTAY/SEVEN SHIP. YOU WERE WRONG
No I'm serious. Why Aquariums? I want an answer other than I LOVE AQUA, I JUST RECENTLY BOUGHT THEIR FIRST ALBUM, I KNOW I'LL NAME A SPECIES AFTER THEM
IT GETS F$$$$$$ "BETTER"
"Do you guys live in the water of something?" he asked. Kathryn hit him on the head.

"The ugly guy is smart, we used to live on the planet Aquarius, it's an ocean world," Xara said.
THERE IS NO OTHER ANSWER IS THERE, IT'S LITERALLY "I JUST BOUGHT THE AQUA ALBUMS, I'M GONNA NAME THE UPENDI GUYS AFTER THEM"
It's probably true. I remember one birthday getting only cash so I spent some/most of it on the Aqua albums. One from HMV, the other Woolworths (RIP, I will always love you etc...). Since my birthday is in June and Upendi was done in June there is little doubt here. It also explains the OMG LET'S MAKE A VIDEO FOR HALLOWEEN bit which I don't think happens till Season Two. VTV Live probably only has Pokémon soundtrack songs, Tragedy and Steps' Buzz album.
No wonder later episodes refer to these guys as the Upendi villains. Good god.
"Hey were you all born between January 21st and February 19th?" Tom asked. Kathryn hit him again.
OMG THIS IS PAINFUL, HIT HIM INTO A COMA PLEASE
"Correct, that's when all our children are born, have you been to our planet before?" Xara asked.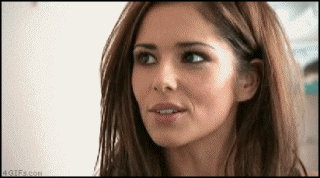 Fffs kid Marill (yes the extra F is a mistake but I'm so annoyed it's appropriate). Just admit you couldn't name things for coffee and picked the names from the two CDs alternating nonstop in your CD player. SPARE YOUR FUTURE SELF AND EVERYONE ELSE
"It was just a guess," Tom replied.

"A guess? For that you will be punished, you must of been mocking us," Xara said.
YOU GUESS STUPIDLY PARIS. YOU WOULD'VE SAVED EVERYONE FAR TOO MUCH TEXT IF YOU ASKED IF THEY WERE HAPPY CARTOON HEROES LIVING IN A BARBIE WORLD. THAT THEY'RE HAVING A FREAKY FRIDAY, IT'S THE FEAR THAT THEY FIGHT IN THEIR DREAMS. MY MAMMA SAID HAVE SOME CHERRY COKE. AND THEN THEY SHOULD VISIT BACK TO MARS AND VIVA LAS VEGAS TO LIVE FAST, DIE YOUNG. OH S$$$ I'VE GONE BEYOND 2001 LYRICS HERE, MY BAD!!!
"Idiot," everyone muttered quietly. Marill and Raichu appeared, everyone groaned.
The self awareness and yet still doing it-ness is staggering.
"How dare you attempt to punish Tom," Raichu said angrily.

"Anyway we are the only ones who are allowed to punish him, oh and our characters are allowed to," Marill said.

"Then you puny children will punish him," Xara said.
Like everything, that rule makes no sense.
"Remind me to kill her at the end," Raichu whispered. They dragged Tom over to the wall and they started beating the crap out of him.
Hahaha, me beating the crap out of someone, even Tom. Now that's comedy.
"That's for calling Geordie's a waste of space!" Marill yelled.
Morgan did that too.
"And that's for calling us stupid sluts!" Raichu yelled.
We still only have Morgan's word on that, I think if he did this in any scenes I would've called him on it.
"This is entertaining," Xara said
STOP LYING
Nuvan and Seven walked into the room arm in arm.

"Hello mum," Nuvan said.

"Who the hell is that, she looks like a plastic doll," Xara asked.

"She's my new girlfriend," Nuvan replied. Everyone nearly puked up.
Some original insults would be nice. I hope I don't have to wait till Season Five for them.
"Typical, she had to choose a bloke that looked like my rival EMH," the Doctor muttered.
Haha Doccie, I doubt that was the thought process behind this little story. Upendi's proven many times it does things without any logical reason.
FYI it's only Andy Dick because he voiced Nuka, Nuvan's Lion King 2 persona. You know like Vitera and the Kes jokes. Nothing more, nothing less.
"What do you want to do now, Sugar?" Seven asked.

"We can kill all of these people, Honey Buns," Nuvan replied.
I'm sorry, still ship it. Seven/Nuvan forever.
"Not so fast, Nuvvie, don't you want to torture them for information on their mining equipment first?" Xara asked.

"We can do that first, is that okay with you my little sugar bunny?" Nuvan asked.

"Of course it is, those people have done nothing but humiliate me and hurt me throughout the years," Seven said.
Um, Seven's clearly defected. Can't you get that info from her? She always claims to know everything.
But hey, I'm glad the Seven storyline is kicking off at long last. It's rushed, because it wasn't done properly in the older episodes and I only had the delayed three following Voyager Conspiracy to do it in. It was one of the things I badly wanted to show developing throughout Reboot Season One.
It's even more frustrating it was rushed since originally Seven was to die in Thrown Key, but around Fugitives, Dark Frontier and this the C/7 pairing happened, so I decided I wasn't done with her yet. If I didn't, then a stolen episode in DF and this changing sides thing was all she would've had before being killed off.
"That's a lie! We tortured and killed her a few times too," Triah blurted out.
PFFT HAHAHA
It's a shame Triah said this line. Suits Morgan or even Jessie very well. Heck Tom would've fit since he's been blurting out stupid things.
Oh and her killcount's still 4 (still got the 5 one pasted underneath this. I think I must've been too ahead of myself here), one was Morgan, second was an accident, third was Janeway with Tuvok following orders, and fourth was Morgan...'s "accident". Always and we being said by Triah, it's less funny when you think about it.
Though I'm being too lenient. It's probably counting what happens in later episodes which were already written.
"Exactly, I think she shouldn't of said that," Kathryn muttered.
I think that was supposed to be: "EXACTLY!" exclaimed eargerly. Then she muttered, "maybe you shouldn't of/have said that."
You never know though.
"I want to torture all of the people who hurt my Honey Bun," Nuvan said.

Everyone slowly put their hands up, then realised that he said torture and then they put their hands down, Harry and Neelix were too stupid to put their hands down.
What's the problem? Triah mentioned Seven's been tortured a few times, which I don't recall. I don't think Janeway's stuck in computer panel trick because it's off (oh I get that now. She can't assimilate it because it's off, harHARHAR!) counts as a few times. Clearly nobody here knows what torture means, so it can't be that bad right?
Oh and Neelix sure, but why is Harry too stupid? Tom would make more sense after that Aquarius conversation.
"Okay, those two first. Next I want to torture the people known as Morgan, Craig, Jessie, James and Tani, they are the ones who have given me more pain," Seven said.
OH WHAT A COINC...
"Conveniently they were the ones chosen for the night shift," Kathryn whispered.
yeah. If even the story's pointing it out and it's not funny doing it, it's s$$$
Let's investigate that claim shall we.
Morgan: hell yes! Seven did start it by beating her up for defending Kiara and Naomi, but Morgan retaliating by beaming her into space and dropping a chainsaw on her, accidentally or otherwise, is a tad literal overkill. Funny though, ahem. I do have to remind myself that at this point in time FV is a slapstick parody. Still remaining on a hell yes! Morgan pissing her off into doing stuff like this was the point. One of the things Season One did get right.
Craig: Top of my head, nada. At most he'll have done on or offscreen is hit on her and/or add her to his list. Maybe crushing on Morgan instead of her set Seven off??
Jessie: She has been rude to her a few times, calling her names, telling her to shut up. It's Jessie though, it's clear she hates everyone and that even includes James sometimes. Still might count in Seven's paranoid mind pre-Conspiracy.
James: I have a feeling it's a yes but I can't think of an example, Reboot One is clogging my memory. All I can think of is he discovered her Human Error program. AND COME ON, HASN'T HE SUFFERED ENOUGH, I SAW IT TOO, STILL SCARRED FOR LIFE
Tani: I imagine Tani could've easily pissed off Seven by being another ex-Borg. I'm probably letting Reboot One influence my answer here too though.
At a stretch 3/5: Morgan, Jessie and James. Without a stretch, I'd say Morgan and possibly Jessie. Which would fit with Upendi Part 2's bitchfest 2001 and give it meaning. I have a feeling Part 2's still gonna pretend that's the point though.
"Oh, is that why the ship crashed, you let Jessie and James be on the night shift," Chakotay said.

"Well who would of guessed that this would happen?" Kathryn asked. Everyone put their hands up again. "Next time, I'll just make them clean the plasma manifolds," Kathryn muttered to herself.
WHY DO THEY WORK ON THE BRIDGE AT ALL IF THEY'RE THAT INCOMPETENT?
THOUGH YOU HAVE A POINT ABOUT JESSIE, GOOD GOD
YOU GOT YOUR 15/16 YEAR OLD DAUGHTER TO WORK THERE TOO, ALONG WITH SIMILIAR AGED TANI, AND CRAIG WHO DOES NOTHING. YET JAMES & JESSIE ARE WHO YOU BLAME, THE ONLY ONES WHO CLEARLY AND CANONICALLY WORKED ON VOYAGER SINCE CARETAKER?
oh sorry I mean, lol James and Jessie are hopeless but so charming, I forgive them
"I'll find them Honey Buns, if it's the last thing I do," Nuvan said. Seven kissed him on the cheek.

"I'll go with you, they might come after you too," she said.

"You are the most wonderful thing that has ever happened to me, give me some sugar baby," Nuvan said. The pair started kissing. Xara groaned. Everyone else puked up.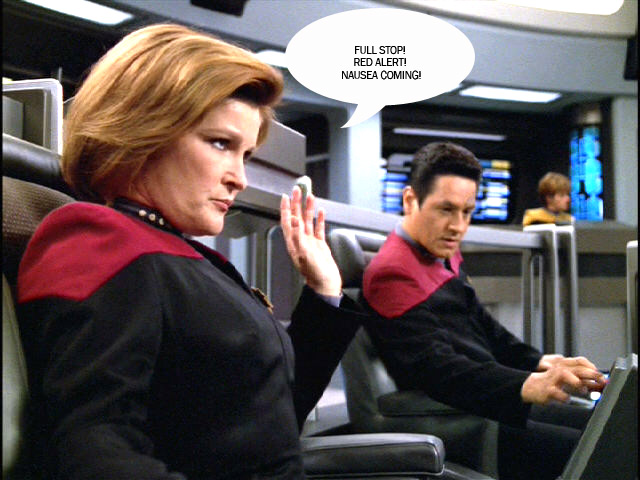 Still shipping them
"It seems like fighting them is the only thing we can do," Morgan said.

"Blood lust or plain harmless slapping?" Tani asked.

"Blood lust everytime," Morgan replied.
Oh Morgan, you little scamp?
0_0
I'm beginning to have a newfound appreciation for Tani. She's a breath of fresh air amongst these sociopaths.
"You do understand that my mother will have her whole army against you, you won't stand a chance," Vitera said.

"That's why we need an army of our own," Craig said as he handed a PADD over to Morgan. She looked at the PADD.
I don't like where this is going.
Let me guess, white holo clones of the aliens. Because this episode isn't racist enough? MY HEART WAS IN THE RIGHT PLACE HONEST...........
"Holographic soldiers. Craig there is two linked problems with that plan. 1) They need mobile emitters, 2) they need their own power source which right now they can only get from mobile emitters," Morgan said.
Someone get Morgan a copy of Holo Q
At the very least it might distract her for a few hours.
"We can just replicate more emitters," Craig said.

"If we had the power for it," James said.

"Oh yeah," Craig muttered.
Seriously, the ship crashes with two teenagers, Craig, James and Jessie on the Bridge. The crew immediately assume it was James and Jessie.
Jessie I'll give them that
But James, yeahyeah they're conjoined twins a lot of the time so I do get the mistake, only a tad. Though when he's not joined by the hip, James is usually the smart one and can get sh$$ done. Here he is proving my point, also proving how silly it is to not humour the idea that Craig or the two teenagers had anything to do with this.
While we're on that topic. Jessie and Morgan's fault, and Janeway's for letting her daughter not only man a station on the bridge but allowing her to command it. If Morgan said it out of earshot, Janeway still should've checked on them and would've seen it for herself.
"That might not be a problem. We can find more flash lights and we can connect them to all the replicators on this deck. Replicators don't use that much energy on their own," Tani said.
NO NOT MORE FLASHLIGHTS. IS THIS WHERE JESSIE REDEEMS HERSELF?
OH AND WHAT KINDA TECHNOBABBLE IS THIS? OHMYGOD I'M LAUGHING AT THE "SUPERIOR" INTELLECT.
Ten minutes later:
Good lord, it'd take them that long to get to one location without the turbolifts.
Acting Captains Log Stardate...er...Thursday: So far everything is going according to plan. The cow and
Sigh, some would say this is another Sexist count because cow, another C word, and bitch are female only insults, two of which shouldn't be insults since they're actual terms but they are used as if they're bad. I dunno. I like to use bitch for everyone, cow sounds funny but I rarely use it. The C word, haha nope. Think I had Damien say it once to another guy, it was supposed to be a shocking remark from a villain wannabe.
They maybe right. To me this is just Morgan being snippy behind Jessie's back. It's gotten old fast.
James are programming the holograms, Craig and Tani are replicating the emitters, and Vitera and I are discussing the Aquarium's battle tactics.
I still can't get over their names.
Aquarius I may be able to forgive. I could.
Aquarium though. That's a place, somewhere you'd find fish, sharks, whales, dolphins. It's not a race of people.
Hey cool, I'm doing my own log, I'm special, ha. Wait, how can I do a log when the power is down??
Wait, is Seven doing this log? ohsnap
"You're just talking to yourself, it's the first sign of insanity. Maybe I should put you out of your misery," Jessie said.

"I'd like to see you try," Morgan said.
She wasn't calling Jessie a cow behind her back? Why did Jessie only comment now then?
Oh and Jessie, think about it. You're threatening to kill a girl no older than 16 because she accused you of screwing up during a crisis, which you did, and then threw some teenager slut insults and hinted you like your best friend, which you do. Think about it and get back to me.
Jessie's Sin Points: +1
"Do you girls realise that you're wasting power by recording all of this in the log thingy?" James asked.
Gone from the smartest one there to an idiot in the space of a few words. Nice.
"Oh that explains the Bold Italics," Morgan said.
It does? I suppose pressing Control and B is tiring. It's why I only use Italics now.
Everyone snuck into the room, luckily there was nobody around. Craig opened the shuttle bay doors.
Yeah yeah, luckily.
"I'd better go, my mum will get suspicious, I just told her I was going to the loo," Vitera said.
If this was meant to be funny it missed by a few lightyears
whatelseisnewMarill
"Okay, thanks for your help, and you'd better not betray us," Morgan said.

"Don't be stupid, that would be predictable," Vitera said. She ran out of the bay, as everyone else walked through the bay's doors.
This is the part where Xara shows up and goes "ahha, thanks for your help Vitera in luring them here." Morgan goes, "oh hell nah!" While Vitera secretly wonders if the episode can get anymore cliche, lightning strikes in the shuttle bay for the fight scene.
"Remember, Tani, don't activate the holograms until I give you the signal," Morgan said.

"What was the signal again?" Tani asked.

"Me yelling 'here come the dorks,'" Morgan replied.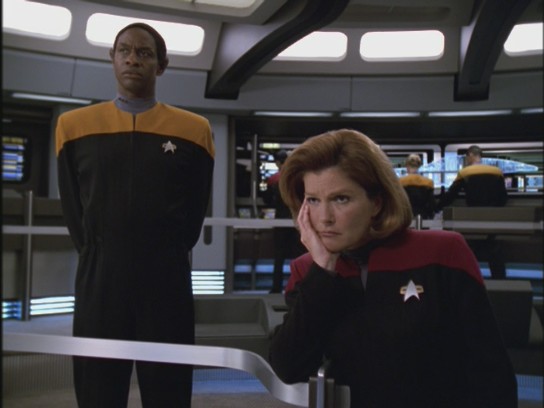 "Some crewmembers are heading for the cave. They're falling for our plot," Xara said.
I'm sorry, it could be because I'm looking for stuff to snark, which the episode's making very easy for me. At this point I had no idea what the hell was going on.
Here's what I can summise so far:
+ They're gonna bulls$$$ some holograms out of thin air in a manner that would make Holo Q blush or proud, take your pick, to fight the aliens who apparently have an army
+ They're going out via the shuttle bay
+ Jessie seriously needs a punch in the face before she kills a kid
+ Morgan does have some bloodlust, so maybe it's not a bad thing
+ Seven has turned on the Voyager crew after falling for Andy Dick
+ The aliens don't like anyone because their king used to be a tyrant, and they still think he's great, or at least they think his quite dull so far wife is great. The whole family is great. Don't forget they're black and Xara thinks that's the only reason people don't like them, and it has nothing to do with their attacking people. Nah.
+ The Upendi program was merely a backdrop for the senior staff who aren't the newmain 4 and Tani to be trapped in for a few minutes, but it may as well have been an empty hologrid for all that it mattered.
+ All the Voyager crew are chump enough to be arrested by one alien each, who never seemed to have weapons.
+ Something about a mining trap so their victims mine their fuel for them.
+ They're only now I'm assuming thought of stealing the equipment/technology they'd use to do this, so they can do it themselves from now on.
+ The villains never think, even with Seven on their side, to check the bridge for the characters they're looking for. Janeway pretty much told them.
So yeah, I got to the "they're taking the bait" and without that summary I couldn't figure out what was happening. I know I took a break but this isn't a good sign, Upendi's story is terrible.
I could be wrong but here's what I think is happening. Morgan and company are setting up their own trap by falling into Xara's mining trap, but instead of getting a pickaxe shoved in her hands and told to dig, she's going to bravely shout "HERE COMES THE DORKS" which will activate the ninja holograms to begin the epic showdown of 2001.
Oh, and even with Upendi's very lazy storytelling I foresee Seven and Morgan facing off, Andy Dick to die because his LK persona does, Xara to re-enact Worse Case Scenario 2's ending literally (probably with Jessie or James once more), Morgan to bleat on about everyone being one, Jessie and Morgan's rift being erased as abruptly as it started and hopefully a Seven Dies moment (probably by Morgan's hands). I KNOW that it ends with the Upendi ride being used and a drunken make out session so it's not fair to pretend I foresaw it.
Let's see how right I am, ey.
"We can kill them easily, they're only teenagers more or less," Nuvan said as he looked at the PADD. Seven looked at the PADD too.
I'M GLAD SOMEONE GOT THIS RIGHT, DUNNO WHY IT WAS SOMEONE WHO WOULDN'T KNOW THIS
"That's them, that's Morgan and the others I told you about," she said.

"Mum, permission to lead the attack team," Nuvan said.

"Granted," Xara said.
Yeah nailed it, the others were only named for the coincidence comment. Seven only wants to get back at Morgan.
"Of course, Honey Buns. Remember don't let any of those creeps hurt you," Nuvan said.

"They won't, this time I'm armed," Seven said.

"Seven, I can't believe you're betraying us like this. You know that the bad guys never win in Voyager episodes," Kathryn said.
You know with the way some of the characters have behaved; Jessie's bloodlust, Morgan's too, the chainsaw incident, chasing basketball opponents with knives, Triah's torture and killing Seven many times comment, and the tubules in wall prank, you'd be more than forgiven for thinking this argument is straight up bulls$$$
The "Aqu... *snigger* no, the Upendi villains may be doing it the wrong way, but they're desperate, they're run by a woman who is paranoid and used to be married to a dips$$$ of a king. Vitera's proof they're not all evil. Nuvan's more interested in impressing Seven. Seven herself is pissed at her treatment.
You could argue Voyager are the badguys here. There's a good argument for both sides being terrible too.
I guess Lion King 2 kinda portrays this too. Simba banished a group of women and three kids to a poverished place because they disagreed with him. It also looks fishy-ly racist too, with the banished lionesses being darker coloured (and drawn uglier for some reason). Yeah Zira's mad and is delusional to the very end, but you kinda get why she ended up like that, and say what you like, she wanted to help her people. She only became truly evil to me when she threatened her kids because they switched sides.
Moving on.
"I don't care, I want to kill that horrible daughter of yours most of all," Seven said evilly.

"That's my Annika," Nuvan said and he gave Seven a big hug.
BRB, writing Nuvan/Seven fanfiction.
Mount Akiara:
I'm sure there's something Aqua related with this name.
Oh nm, A Kiara.
lmao
The five crewmembers had made their way up the less than steep side of the mountain. They were almost level to the Bridge on Voyager, but the mountain was three times as large as Voyager's height. Luckily the cave they were heading for was in easy reach. There was a natural damn blocking a river, not far away.
I have a problem with the story/plot, but the description isn't bad.
The cave's opening was tiny, Craig looked inside, it only went a few metres and not even a kid could get through the opening. Tani placed a strange device at the base of the cave. Everyone backed away as quickly as they could. Suddenly the device exploded sending rocks all over the place. When the dust cleared the original opening in the cave was a lot bigger. They could all see the dilithium.
Apart from that all being written in one paragraph this is also not too bad for its time.
Okay, compliments over. Nitpick time:
+ The dilithium the Upendi villains want is in a narrow cave about 1/3 of the way up, which can be reached by one measly explosive. It must've been since the team had time to back off. Can anyone see anything(s) wrong with this?
+ If it were that simple wouldn't the people they tricked before Voyager have chosen this spot sooner?
+ Is the episode seriously expecting me to believe that the team hike up a mountain to pull this off. And the mountain is 3x the size of Voyager.
+ Strange device
+ Did anyone stay behind on Voyager to safeguard the bridge? Nope, course not.
+ Nuvan and co waited for them to clear the opening for them with explosives but not to actually mine it. They're capable of shooting people down, but not to open the cave themselves?
+ They imprisoned most of the crew, only leaving the 5 Seven wanted revenge on. Isn't that a bit counterproductive? Why take over the ship before they fall into the trap? It'd explain why they never go for the bridge crew but they wanted to get them anyway so Seven can have her revenge.
This episode has so many plotholes and stupidty it hurts.
"Okay guys, they should make their appearance any time soon," Morgan said. Right on cue Nuvan, Seven and their small army jumped out of the shuttle bay doors. More emerged from small shuttles landing on the surfaces.
Okay, read this twice. Couldn't even smirk.
At least I was wrong, they don't ambush the team as soon as the way's clear and before the mining. They swarm out of Voyager, the ship they didn't need to take over, once the explosion occurs.
Still bad. They don't do traps well. Couldn't be more obvious if they tried. Also it looks like the team are close to Voyager when this happens. I dunno.
"Here come the b*******," Morgan muttered. Tani just stood there. "Tani, activate the bloody holograms," Morgan said angrily.

"You didn't give the full signal," Tani muttered. The army got closer and closer and Morgan's patience started to leave her.
I KNEW MORGAN WOULDN'T SAY DORKS, IT'S NOT A WORD SHE'D USE
Of course it's only used here for this "hilarious" and "original" joke. genius
Oh and chill out Morgan. The ones not in shuttles have to climb a mountain first. Plenty of time.
Tani nodded nervously and all of a sudden a bunch of holograms in cool army outfits holding cool big guns appeared.
BRB HAVING FLASHBACKS TO POKÉMON JAMES DRESSED IN SCHOOLGIRL DRAG WITH MAKEUP SLAPPED ON, SHOUTING "COOOOOOOOOOOOOOLL" AT EVERYTHING
James and Jessie programmed these right?
Neither of them seem the type to pick actual soldiers and big guns. Jessie would think they're a fashion disaster.
"Okay, lets take out the trash," Morgan said.
Morgan, sigh. I'm only using this to make a point.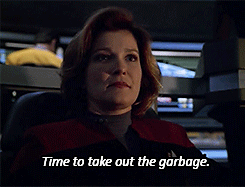 This is one of Janeway's cool badass moments because she's saying it about a ship that dumps their garbage in people's backyards. It's a clever pun, like "time's up" to a time ship about to go boom. Copying her and badly, out of context just makes you look like a silly kid out of her depth who badly wants to be like her cool mum, but isn't even close (yet).
Oh. That works. It might not have been intentional but it works.
Ok, carry on.
"Where did those people come from? There was only suppose to be five of them," Xara asked angrily.

"Obviously they found out about your plan, Xara," Kathryn said smugly.
From the mind that brought you "there's coffee in that nebula" ladies and gentlemen.
Sheesh
"That's it, you lot kill the prisoners. Make sure you kill the lesser known crewmembers first. I'm going down there," Xara said angrily and she stormed out of the bay. The rest of the aliens started killing a few red shirted guest stars (oh come on, they always get killed first).
REALLY, THAT IS BRAND NEW INFORMATION
"There you are, you'd better get a weapon, I'll need your help too," Xara said.

"I don't want to fight mum. It's wrong, we shouldn't have to fight for survival, why can't we just get along nicely," Vitera said.
You know, I understand what you're trying to say but that "we shouldn't fight for survival" line, omg. Fail.
"Vitera, it's the only way, they don't care about us. Lighter skinned people don't care less about us. I can't let them win," Xara said and she continued to head for the battle scene. Vitera felt helpless as she watched her mother go into a battle that was for nothing.
There's so much wrong here I cannot express it properly. I imagine most of you will agree that this is done badly and doesn't paint younger me in the best light. I was naive and 16, it's no excuse though. I did want to write an episode using LK2 as a base, that showed how sh$$y racism is and the episode goes out of the way instead to say "it's not racist, they deserve it for being violent, the only one who's racist is the black woman leader claiming it's not because of her behaviour but her skin colour". It's completely backwards and I am so bloody ashamed of this.
Reboot Upendi will likely be written from scratch to do this right, barring a few lines like; "that's not true, we killed Seven a few times too."
At least though I like the helpess, battle for nothing line. That may stay too.
Seven attacked Morgan from behind, she got knocked to the ground.
Well got one right, but this one was super obvious
"I am going to kill you for all the things you have done to me," Seven said.

"Revenge, why didn't you say so," Morgan said. Seven got ready to fire her weapon at her but Morgan was too quick for her. She rolled away just before the shot. She quickly climbed to her feet and she hit Seven in the head with her rifle. It wasn't long before the two were in a vicious fight
At least it isn't a catfight this time.
Nuvan looked around, he saw Craig, and he ran over to him.
Didn't Seven only name them. The power's gone. How does he know what they look like?
This looks like an actual fight scene, Morgan and Seven's looked a bit basic in comparison. And it's Craig who gets it. Okay??????????? Checking it out.
Craig tried to fire his rifle at Nuvan but he knocked it out of his hands. Nuvan placed his right foot on Craig's stomach and he put all of his weight on it. He then aimed the rifle at his head.
Wrong, it's barely a fight. Poor Craig. He doesn't even get described as being knocked, pushed or punched down, he's down on the floor to be stomach stamped and it isn't explained why. Too bad, the first real fight scene that looked fine at first glance and it mucks up like this.
Craig saw somebody who was about to throw a knife at somebody behind him.
0_0
Wait, somebody?
WHO?
Morgan's busy, and I doubt I got someone else to do this in Season One of all things.
He tried to push Nuvan further up, the guy threw the knife and it hit Nuvan in the back. He fell to the ground, blood was gushing from his back.
The guy? And holy crap Craig. It took a proofread of this review to spot what he does. That's what I get for skimming. Craig's pinned to the ground, dunno how he sees the knife thrower but still he pushes the guy pinning him upwards so he gets it. Though I dunno why he needs to, if he's being pinned already it was always gonna hit Nuvan. My WHO!!!!!! exclaims still applies. That knife was intended for Nuvan, not Craig no matter how many times I reread this bit.
"Noooooooo!" Seven screamed. Morgan quickly took advantage and she shot her in the back. Seven fell to the ground.
Does this count? I'm counting it.
Seven Dies Count: +1 (5)
*long drawn out relieved sigh* FINALLY
Xara saw Nuvan die and she had a similar reaction to Seven. She stormed over to Morgan thinking it was her who killed her son. She punched her hard in the face which caused her to fall to the ground.
um, I know it wasn't Morgan. Already called it, and a second skim through said it was a guy.
WHO THE F$$$ THREW A KNIFE IN A BACK LIKE A PRO?
She was about to fire her weapon at Morgan when she felt somebody grabbing her from behind. A phaser rifle was pressing against her neck a few seconds later and she was finding it difficult to breathe. Morgan stood up and she was shocked to see who had saved her life.
Ok I know who this one will be, I called this one too. This will make everything okay, they'll be BFF's after this...........
I know it's her even without scrolling down. She's earned this for that badass move.
Jessie's Sin Points: -1
Xara elbowed Jessie hard in the arm and she tried to pull the rifle away, Xara was far too strong for her. She took the rifle from her and she used it to hit her several times. Suddenly she felt something hit her arm. She winced in pain, it was a phaser blast. She turned quickly to see who it was, she couldn't see anybody with a phaser rifle because of all the people in the way.
This is an issue even now. When 2+ characters of the same gender fight, it bugs me that I have to keep chucking in names so you know who's doing what. I stubbornly do it though. Here I was like I DON'T WANT TO, SHE'S FOR EVERYONE and it's quite hard to read.
Oh and WHO THE F$$$ IS THIS MASTER NINJA THROWING KNIVES AND SHOOTING AT PEOPLE WITHOUT BEING SPOTTED, IE FAR AWAY AND STILL MANAGE TO HIT SOMEONE IN THE ARM
SERIOUSLY IT'S BUGGING ME.
It's not Morgan, or Xara would've seen her with the rifle. Also the line about Xara assuming Morgan killed her son wouldn't be there, it's written as a mistaken identity. I doubt Jessie threw the knife (even in the later seasons she isn't tossing knives and stuff around like a pro) and she definitely didn't fire the phaser, same reason as Morgan. Craig is probably still down and out, stomach cramps and all. That leaves James and Tani. Then "the guy" description of the knife thrower narrows out Tani.
It could be one of the holograms since the target was Nuvan, unless the paragraph was trying to tell us that one of the Upendi-ers tossed a knife at Craig with their prince in the way, who was already winning.
If this wasn't Season One I know what my answer would be. Even if it is the final episode written for it, a few episodes before certain S2 episodes. Upendi wouldn't be that blatant about something important.
The phaser blast will definitely be James. I'd put my money on it. Jessie was in trouble, it's just his MO even here. The knife throwing. It might not seem so but killing Nuvan is an important moment in both LK2 and Upendi. It's the moment the main villain loses what restraint she has and instead of carrying on with deceiptful plans, goes for a full blown invasion. I refuse to believe it was done by a random hologram or one of his own, heck Craig by proxy isn't enough.
Hopefully we'll find out and it isn't another frustrating element of Upendi.
She swapped the rifle to her left arm and she turned quickly to continue hitting Jessie but she had gone. She turned around again and she saw Morgan facing her, she hit her hard in the face and Xara fell to the ground.

Morgan picked up the rifle Xara had dropped. Jessie and James walked up to her.
Oh, is this the face off moment.
Lol at random James appearing. Could be a OMG WE'VE BEEN SEPARATED TOO LONG moment, or a hint. Who knows. I'm still betting life savings on James being at least the shooter. Though he arrives on the scene quickly for someone apparently obscured by distance.
"Are we friends again?" Jessie asked. Morgan held out her hand and Jessie shook it.
What?
They were friends before?
News to me.
But okay, I'm glad Jessie's the one to do this since she started it.
Jessie's Sin Points: -1
Still no apology though.
"Of course, Geordie," Morgan replied. Jessie and James walked off. Morgan used the rifle to beat the crap out of Xara.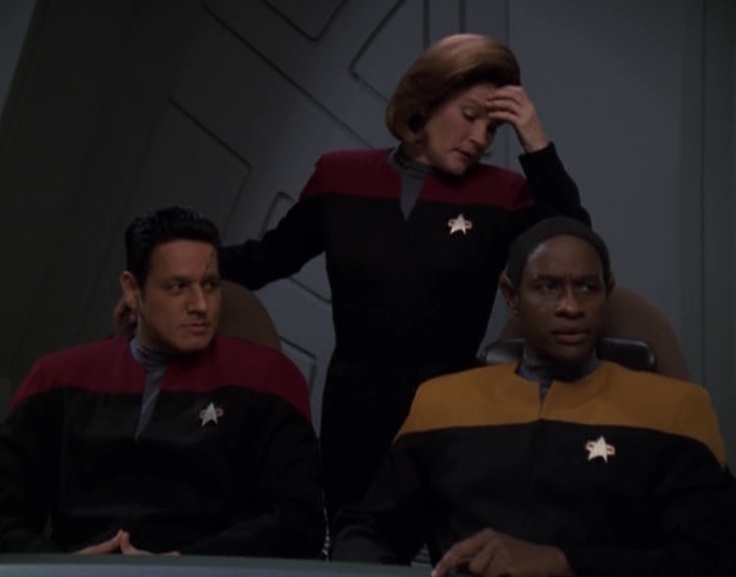 Am I the only one laughing at the fact James walked over to this fight scene, did and said nothing, then walked off with Jessie.
I mean wtf was that about?
I'm also laughing that they left Morgan alone to beat Xara to probably death. How nice! Now's not the time to get a room, that's later!
"Was that you who shot Xara by the way?" Jessie asked.

"Yeah, she seemed an easy shot," James replied.
HAHA YOU ALL OWE ME THE AMOUNT THAT'S IN MY BANK
WHAT DO YOU MEAN YOU BET ON JAMES TOO AS IT WAS AS OBVIOUS AS THE SUN RISING
DAMN IT
"Vitera, what are you doing here?" Jessie asked.

"We need to stop this, it's wrong," Vitera replied.

"Don't we know, by the way Morgan's beating up your mother and we're not even going to tell you what happened to your brother," Jessie said.
Okay I'd sin this, but this is S1 Jessie being nice/thoughtful.
Everyone saw Xara and Morgan fighting extremely violently in the middle of the battle.

"There's only one way to stop this," Vitera said and she ran off.
Extremely violently?
I know I had that line about Vitera's species made for fighting, or some crap, but fgs am I meant to believe Xara can violently hold her own against Morgan? After being choked and shot with a phaser. LOL
Xara pushed Morgan away from her. They both stood facing each other, both trying to catch their breath. Everyone including the holograms just watched them. Vitera tried to push her way through the crowd. She finally got to the front of the crowd. Morgan and Xara were about to attack each other again. Vitera ran as quickly as she could and she stood in between the two. They stopped suddenly when they saw her.
THERE'S ONLY ONE WAY TO STOP THIS
LION KING 2 SCENE WILL DO IT
IT'S SUPER EFFECTIVE
"You're even weaker than I thought, get out of my way!" Xara yelled.

"You're not going to fight each other anymore, not while I'm here," Vitera said boldly.
One thing I can say in Upendi's defence is the lines were original... if they were meant to be Lion King 2's story. The Red Dwarf scenes is clearly another story.
Not now though.
Vitera didn't know what else to do. Morgan was deep in thought.

"We Are One. Now I understand that song," Morgan muttered to herself
WHAT?
SHE WASN'T EVEN IN THAT SCENE
WHAAAAAAAAAAAT?
"It means that everyone, including these people, are one with us," Morgan muttered.

"You're joking. They attacked us," Craig said.
Come on, Craig's supposed to be the good, level headed kind one. If anyone out of the five should get this, he should.
"We are not they, us. Just look at us, we're quite a lot like you. Apart from the skin colour what differences do you see?" Vitera said. Everyone looked around at each other.
WTF VITERA
LIKE MOTHER LIKE DAUGHTER
I know what she's trying to say but again she's mucking it up, STAWP
Lion King 2 version of this, from memory:
"Not them. Us. Look at them. They are us. What differences do you see?"
How hard is it to keep this line. I'd be okay with ripping that off.
"Let it go, Xara, it's time to put the past behind us," Morgan said.
Called it again, Worse Case Scenario 2's finale replays. In Morgan's defence, she probably never played it.
"I'll never let it go!" Xara exclaimed. Nearly everybody saw the damn beginning to break away. "You white people killed my husband and now you will all die at his cause," Xara growled.
Ohhhh my
That changes everything.
Nope, no it doesn't. She may not be completely delusional, but she's generalising because one "white" person assasinated her kingly husband. I see what I was doing here. The black people in this act stereotypicaly racist white, generalising people and hating because of skin colour, while the white (or light skinned as it said earlier, classy) are the victims of their prejudice, being tricked into slavery (ie the mining).
Swapping them doesn't make it better, past me. It's really, really bad. SO SO BAD
She quickly went for the first person she saw who was in a easy reach. Everyone saw her going for Jessie,
Yep. Nailed it.
she managed to push her away. She lost her balance and she started to slip down the side of the bank, she grabbed Jessie by the arms and she pulled her with her as she slid down the steep side of the cliff.
Had the same issue in Worse Case, it was one of the very few I did. Here it's one of many. Why Jessie? What does it have to do with anything?
In LK2 it was Kiara, the one who had talked everyone else down with her "we are one" speech. In an act of bravery she jumped in the way to protect her father from Zira/Xara. That's how she ends up in this prediciment. Zira dies because she can't let go of her hate, refuses help from Kiara and slips (or in the deleted scenes kills herself so Kiara has to live with that s$$$, wow).
What has Jessie done in this story? Been a bitch many times, but made up for it by saving Morgan's life in a badass moment. Oh and apparently had her ass saved by James, because yeah... I'd call that a sexist moment but she attacked Xara one on one physically, while James sniped from afar. You can't compare. Jessie didn't throw herself into the fight, immediately get owned and then saved by a man. I'm not counting it.
As far as I'm concerned Jessie's part is done. Unless the story goes down the Morgan returns the life saving favour. I hope not. Morgan doesn't really owe her, Jessie really was out of line before. Her action made up for it by a longshot.
Let's see, shall we. Even if there's very little coherent arcs in this episode, this was done for a reason I'm sure.
Vitera nearly screamed when she saw her mother disappearing off the side of the cliff. She tried to run after her but Morgan and Tani held her back.

"What the hell are you doing?" Craig yelled as he saw James going towards the lesser steep side of the cliff, and then actually going down.
Oh
I don't know what to say. It's too soon, it's too soon. Carrying on.
"Save my mother, please!" Vitera screamed, she was almost crying as Morgan and Tani held her back.

Craig ran after James but he saw the damn break away and the river burst out.
I like the way Craig selflessly runs after James. Wow. That's friendship right there (I ship it). Also proves what I've said all through the damn series. Craig actually deep down is very brave, he rarely gets the chance to show it and when he does he SHINES. I'm not joking, Craig's best moments for me is when he stands up and does what no one else can, despite the odds, and in those moments he's usually outgunned so to speak. It's impressive. Closing of the Eyes comes to mind, Three's A Paradox... come on!
Anyone wondering why I'm not gushing over James doing the exact same thing for Jessie. Patience. I haven't gathered my thoughts yet, I'll need to read the rest.
"Oh god, Morgan the damn's broke!" Craig yelled.
Why are you telling Morgan this? What's she gonna do?
"Don't go down, it's too dangerous," Morgan said loudly.
I have no idea who she's trying to warn here. Which is a shame. It could be Craig, could be James, could be both. We'll never know.
Craig looked over the side, Xara was clinging onto the ledge, the river was only a few seconds under her. Jessie had a hasty landing on top of the ledge. Craig saw James still trying to make his way down.

"I must be as insane as he is," Craig muttered to himself. He started to make his way down too.
Craig... *gushes some more*
"Craig! You stupid idiot!" Tani yelled.

"Lads, they're all the same, they all have to be heroes," Morgan groaned.
Haha, she's (probably) not wrong.
As Craig made his way further down the cliff face it was getting much harder to stop slipping. He looked around, he saw Jessie trying to move over to help Xara and he saw James getting closer to the ledge. They were all soaking wet from the river outburst
Jessie's Sin Points: -1
I know LK Kiara did this, but the way she's been acting, the fact that Xara is the reason she's there, Jessie can be petty and for god's sake she's soaking wet now, I'm surprised she didn't finish the job.
Xara was starting to lose her grip. Jessie's leg was broken and she couldn't move very well, she gently slid her way closer to the edge.
F$$$! Jessie continues to be badass
Jessie's Sin Points: -1
"Oh come on, take my hand and I'll try and pull you up," Jessie said.

"You should be here, not me," Xara growled.

"Sometimes I don't know why I even bother," Jessie muttered.
IKNOWRITE
She tried to sit up but she winced in pain when she tried to move her left leg. Xara continued to lose her grip, her fingers were very close to the edge.

Jessie held her hand out
Oh I thought for a second she gave up after that threat. Nope.
Jessie's Sin Points: -1
Jessie held her hand out again but Xara's attempt to slap her hands away again made her lose her grip completely, she fell and in a matter of seconds she was washed away by the current. Jessie gave up on her attempt to sit up and she lay back again on the ledge. Suddenly she heard a familiar voice.
So I think the point of this is not only did Jessie recieve some bad karma for her behaviour earlier, she made it up to the one she hurt (Morgan) by saving her life, and redeemed herself with this attempt to save the villain even if she's the reason she's injured and close to death too.
I doubt I thought this through that well back then.
"No, are you crazy? What the hell did you think you were doing?" Jessie asked angrily.
Lol, typical James and Jessie with his attempts at heroics and her scolding him, but secretly being grateful. All is well...
"Sorry mum, I've done it again," James said.

"Don't call me that, anyway you could of been killed, stop risking yourself for me," Jessie said. He tried to help her sit up, as he did that she gently hit him in the arm. "Are you listening to me, young man," she said in a mock angry tone.

"Sorry mum, I wasn't listening, I was too busy worrying about you," he replied. They both started laughing.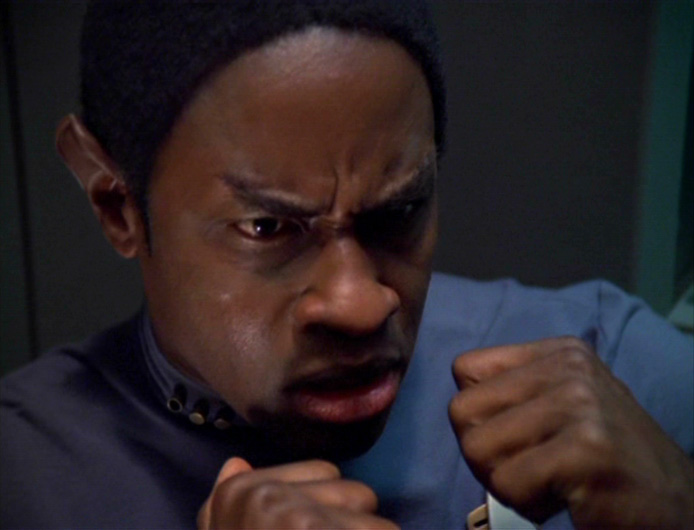 Remember this when the final scene rolls around. REMEMBER IT. BURN THIS CONVERSATION INTO YOUR BRAIN.
"Sorry to worry you, but I think you should be more worried about Xara, she sort of fell," Jessie said.

"I don't care, I never liked her anyway, I only cared about what would happen to you," James said.
Um, ohsnap?
Typical I guess, anyone lays a finger on her he hates them for all eternity. I guess it kinda fits. Still looks awkward as hell though.
"You big softie, come on, give me a hug," she said.
Wait, what? "Oh I didn't like that woman who died 2 seconds ago anyway, I only give a crap about you." "Aaaw you softie, snuggle time!"
The scene started out as James and Jessie, then at the second line they turned into chemistry-less weirdos.
AND I STILL DON'T KNOW WHO THREW THE KNIFE
James put his arms around her and they gave each other a hug. Craig reached the ledge.

"I hate to interrupt, but I think we should get you to Sickbay," he said.
And now it's Craig who points out the stupid James is saying/done, THE TIDES HAVE TURNED
"That's going to be a little difficult, transporters are off line," James said.
OH NM
"Are you good at climbing up hills with your hands full?" Craig asked.

"I'm not carrying her up the cliff," James said.
Ok after that, please don't revert back to coward James. It's jarring.
Actually would coward James even be so callous to Jessie? Nope.
"I can't do it, I can't even climb up cliffs. And anyway, it's rather bad manners what you're doing. You could at least stop hugging your mummy for a second while you're talking to me," Craig said. They both stopped hugging each other.
Um
+ They're still hugging during this conversation?
+ STOP WITH THE MUMMY STUFF, IT'S GROSS. SERIOUSLY. REMEMBER THIS FOR THE LAST SCENE FULL ULTRA CREEPNESS
+ Craig hurried down the cliff despite knowing he can't climb. I dunno if that's him being brave and selfless or just plain dumb.
"I think I'll just stop the mummy thing right here and now," Jessie said.
YES
"Oh great, we'd better get climbing then, folks," Craig said.

"How can I climb without my arms?" James asked.

"I don't know, don't ask me, well I'll see you at the top," Craig said and he started to find a good place to climb up.
Oh ok, it is how I thought the earlier line was meant to be read. James won't carry her because he can't, he needs at least one hand to help climb. Still seems a bit cold though.
And lol to Craig leaving without him.
"How far is the less than steep path?" James asked.

"Five minutes, that one gets worse as it gets further up, why bother," Craig replied.
It's interesting. In older episodes I probably would've finished the scene lines ago and summed things up in a log. The reader would be left annoyed that they were in a situation but weren't shown how they got out.
Upendi finally bothers to show it and it's a little, stale. For a first time it can't be helped. Gotta learn somehow.
"Why do we want to go up?" Jessie asked.
Jessie's delirious. Poor thing.
Craig didn't hear her and he started to climb up the cliff face.

"He's an idiot," James muttered.
Why?
"Well if he was stupid enough to come down here like you did, then he qualifies as an idiot," Jessie said. James stood up.

"Okay, how are we going to do this?" he asked.

"Well, if you're going down you won't need your arms as much, you can still carry me," Jessie said.
Oh, there's a path down? I see. You know what would've made that last exchange less HUH and annoying, hmm I dunno how about MENTIONING THAT!
No seriously, this is flawed. I checked. Here's the question again, which I'm assuming is when James and/or Jessie figures out what to do.
"How far is the less than steep path?" James asked.

"Five minutes, that one gets worse as it gets further up, why bother," Craig replied.

"Why do we want to go up?" Jessie asked.
Hmm maybe because NO ONE SAID YOU COULD GO DOWN
I mean it's not daft that they can climb down, or that path Craig used continues after he left it. It's just the dialogue and description avoids saying anything until James starts calling Craig an idiot.
Anyway James moans over Jessie's comment about not needing hands to walk down, dunno why.
"You're welcome, anyway it was your own fault for coming down here in the first place," Jessie said.
Oh snap
"Trying to think of a way down," James replied.

"Well at least you're cleverer than Craig, he's making his way up. Anyway I'd suggest you carry her down using the the slope we used to get up here."
LEAVE CRAIG ALONE, THE DESCRIPTION OF THE AREA WAS SURPRISINGLY THOROUGH FOR SEASON ONE AND IT SAID NOTHING ABOUT A POSSIBLE PATH DOWN. IT SOUNDED HAZARDOUS FOR CRAIG AND JAMES TO GET WHERE THEY DID
YOU'RE ONLY TALKING ABOUT THAT PATH NOW, SO FU UPENDI
"All right, you both win," James moaned.
WHY ARE YOU COMPLAINING? YOU CALLED CRAIG AN IDIOT FOR CLIMBING BACK UP. YOU CAN'T WALK IN A STRAIGHT LINE, DOWN WAS THE ONLY OTHER OPTION.
Gotta ruin his heroic moment to make him a moany manchild again. I was right to wait to comment on this scene.
"How far is that path again?" he asked.

"Five minutes away," she replied.

"Damn, I'm not going to make it," James said.

"Don't be stupid, I'm not heavy," Jessie muttered.

"No it's not that, I've just seen how far down it is," James said.

"Oh great, this is going to take some time," Jessie muttered.
Points for James' fear of heights being a factor. Though can't remember if or when Jessie said she was, with James chiming in as he normally does. Hmm
Those points taken away anyway for the dialogue once again not telling us, and instead badly showing reactions, to how the mountain is. I thought there was a path nearby, that James can carry her down that way without needing his hands. But now there's a five minute climb/walk there. I'm gonna assume walk along a ledge, but still. damn
Acting Captains Log Stardate.. Friday the 13th, oooh that's unlucky. Anyway after a brutal battle us and the aliens have finally made an agreement. We have split the amount of dilithium that we mined, and mum gave them some food supplies. Lets hope they won't cause much trouble now.
Why are you still making a log as Acting Captain if Janeway's back in charge?
Why isn't Janeway making the log?
That is actually a reasonable olive branch though IMO. Nice.
"This is a really nice place, what do you call it?" Vitera asked.

"Upendi, it's a holographic simulation. It's based on a song in the film, Lion King 2, it has a similar storyline to what happened yesterday. Two completely different cultures fought and they realised that they have a lot in common, or something like that," Morgan replied.
DIDN'T WE ALREADY HAVE TOM OR HARRY EXPLAIN THIS IN PART 1
At least Morgan resists the love story angle, it's in character for one.
"No, I've just heard two songs from it, and Tom told me the moral of the storyline," Morgan replied.

"What was it?" Vitera asked.

"Racism is a load of crap," Morgan replied.
YES IT IS, SO WHY WRITE THE EPISODE THIS WAY
Oh sorry, am I meant to react with teary eyes and say "so right, it's beautiful."
ha!
"That's true, whatever crap means but it does sound bad," Vitera said.

"Sounds bad? It smells bad too," Morgan said.
*crickets chirping*
Nearly everybody was in the program, the only ones who weren't there was Kiara, Naomi and Seven. Seven was in the brig for being a traitor, by the way.
MEH, WE KNOW SEVEN'S GIMMICK NOW, SHE STILL DIED EARLIER. I'M COUNTING IT. SO THERE
Quite a lot of people were drunk as they walked off the Upendi Roller Coaster. Among those people were Triah, Harry, B'Elanna, Tom, Jessie & James. All were drunk.
I WONDER IF ANYONE IS DRUNK
I'm so so glad Morgan and Tani isn't among them.
I'm so going to have to write the Upendi ride in the Reboot. This version cheated everyone.
Tom was the most sober
NOOOOOOOOOOOOOOOOOOOOOOOOOOOOOOOOOOOOOOOOOOOOOOOOOOOOOOOOOOOOOOOOOOOOO
WHYYYYYYYYYYYYY?
He's the best drunk. Why do you hate me Upendi!?
I STILL DON'T KNOW WHO THREW THE KNIFE. WE'LL NEVER KNOW
"Yeah isn't Triah cute?" Harry replied with a giggle.
Hey this isn't Season Four.
Don't worry, you haven't been spoilt. It's just another drunk scene intended to mislead, no worries. Oops now that's a spoiler. meh you won't remember.
"The program Harry, I'm talking about the program," Tom said. Harry stared at him with a confused look on his face. "Oh never mind," Tom muttered.

Meanwhile Jessie was standing staring into the sky and James was standing around looking bored.
Of course he's bored, there's no bobbles or pop here.
Yeah I know that joke's getting old.
"Look at all the pretty stars. Look those ones make a bunny, no that ain't good. Bad bunny," Jessie said as she pointed at the sky.

"Oh yeah, those ones make Voyager," James said as he looked up at the sky. Jessie started giggling like mad.

"That one looks like Tom," she said. She was pointing at a formation that looked like a monkey.
ohsnap
Jessie turned around and she tried to look up again, she lost her balance and she fell onto James, they both fell over. Tom and Harry burst out laughing. They weren't the only ones. The pair were giggling like crazies on the floor.
NOW KISS
BOTH PAIRS OF YOU
Jessie sat up and she then she kissed him on the forehead. She then stood up. It wasn't long before he had stood up.
Ok, now it's Harry and Tom's turn.
WE ALL KNOW THEY WERE SITTING NEXT TO EACH OTHER ON THE UPENDI RIDE. Triah was only there because she wanted to try the ride out, remember. B'Elanna knows she's second on Tom's radar. She's fine with it.
"What was that for?" James asked.
OH S$$$ NOT THIS AGAIN, I ALREADY HAD HOLO Q DEJA VU
"You tried to save me the other day, that was a thanks," she said and then she started giggling again. Upendi came on again, and Harry groaned.
I'M SERIOUS, DON'T DO THIS AGAIN
Tom burst out laughing for some reason. "What's wrong now, Tom?" Harry asked.

"Look over there," he laughed as he pointed to where Jessie and James were. Harry burst out laughing too. Triah looked too and she laughed until she collapsed. "I think they had too much too drink, don't ya think Harry?" Tom asked in between laughs.
WHAT??
"For once Tom, I agree with you," Harry laughed. They both stood up and they picked up the girls who were unconscious
That... they have good intentions, they're good guys, that just looked wrong. eek
"For once Tom, I agree with you," Harry laughed. They both stood up and they picked up the girls who were unconscious and they left the holodeck leaving the likely couple kissing. Suddenly they stopped and they burst out laughing again.
Actually bothered to write it. Here I thought the Tom "look" stuff was a way to hint it was happening without writing the words. WOOHHOO
Then you remember the mummy lines and the "eeew" comment in the beginning of part 2.
YEP. HAHA. JAMES HAS MUMMY ISSUES I THINK, GROSS
REMEMBER THIS COMMENT WHEN YOU GET TO SEASON THREE, MWAHAHAHAHA
"Monkey," they both said and they ran out of the holodeck. You could almost hear Tom ripping his hair out as Harry continued to call him monkey all through the night.
Repeat it all you want, it's still a lower cased, all one word ohsnap. I can't be anymore sarcastic than that.
I also don't get it. Why a monkey? Back then wasn't that Chakotay's insult? Janeway was more interested in the monkey in Resolutions than him, I think that was the joke. I hope. I was a kid, long before FV and I was 15 then, so yeah I don't remember the origin anymore than that. Point is Tom was never called this, I KNOW THEY'RE DRUNK. ahem.
That's it the end.
Oh before I finish, were my predictions correct?:
I foresee Seven and Morgan facing off CORRECT
Andy Dick to die because his LK persona does CORRECT
Xara to re-enact Worse Case Scenario 2's ending literally (probably with Jessie or James once more) CORRECT
Morgan to bleat on about everyone being one CORRECT
Jessie and Morgan's rift being erased as abruptly as it started SORTA CORRECT, yes they made up but it redeemed Jessie a bit, so wasn't really that abrupt.
Seven Dies moment (probably by Morgan's hands) CORRECT
Well I've either read so much of Season One that I can predict what'll happen, have subconscious memory of Upendi after all (I've been surprised a few times in the story, sometimes I pretend to be for comic effect but a lot of the comments in this review are mostly legit reactions I shouted, in my head), or I'm still in that awful mindset 15/16 years later. Scary thought.
I STILL DON'T KNOW WHO THREW THE KNIFE. NUVAN'S DEATH HAS ZERO MEANING
##############
A few closing comments before the scores. I said that Upendi was one I liked the best out of the skipped trilogy #2, mainly because of Part 2 using a story that wasn't mine and yet tried to be original with it, unlike Dark Frontier. Then at the beginning of this review I chucked those comments in the recap as a way to say I CHANGED MY MIND or I WAS WRONG, IT BURNS.
Only I wasn't. Upendi still is one of the better ones. It for example did avoid copying Lion King 2 word for word. It unfortunately though takes a part and a half to get to there, which is a bigger shame when my memory was of only Part 1 doing this. I guess this is because I thought Jessie and Morgan's spat was in it.
It still horribly misses the mark on the racism front, has plot errors coming out of its ears. BUT it commits all the way to the end, is better written than the rest of Season One - which is no surprise since it was the eve of Season Two, has some character development. There's some potential there, most of it I knew about as it's all being considered for its Reboot.
I can't ignore its issues though. I imagine its many problems will give Upendi a lower score than I thought. Before I started this I remembered a particularly embarrassing ripped off opening, Jessie and Morgan shouting WHORE at each other, a cliffhanger, then the story picking up with a tale about aliens who've been insolated by racist neighbours so much they, or their leader, snapped and started to bully any lighter skinned aliens who passed by. Her daughter teams up with Voyager, while her son and Seven get together (something the white skinned hating Xara never complains about outside plastic doll, another missed opportunity), so they can stop and realise they have nothing to fight over, their only difference is something to be proud of and they can start to heal their rifts (that means everyone, the aliens, Jessie and Morgan).
I was right up until the cliffhanger part. Shame really. Upendi Version 2 will do this, rest assured. I'm still petrified that I'll create another offensive piece of garbage, but I will still try. I can't leave this version of Upendi up as the first episode anyone reads after going through the reboots.
Well let's see how everything tallies up.
Negatives:
1) Yes Morgan and Jessie were supposed to argue, show some building tension so stuff in Season Two works better. There's so many problems with it. Why it happens has nothing to do with their fight, Jessie really shows her immaturity here arguing and then threatening violence to a teen girl 10 years younger than her, Morgan's slut comments and Jessie rubber you are glue'ing them (which is worse since again Morgan's a kid).
4 points for this alone: 1 for reason it happens, 1 for Jessie's behaviour getting worked up and not letting it go even after Morgan does, 1 for slut shaming which is bad enough but the argument had nothing to do with sex... yes in S2 Jessie's got a beef with her because she thinks she's attracted to James but none of that is relevant here and now. And the fourth is for the simple act of Jessie grabbing an item that could probably kill Morgan to attack her because she said "you two dumbasses are perfect together". Not on, regardless of age.
2) Deserves it's own point here. James and ESPECIALLY Craig holding Jessie and Morgan back, saving them from each other like manly men should because the girls are irrationally emotional. grooooan. Craig doing it is so insulting because I know he shouldn't be able to do it even if strength hadn't been included in the Slayer package yet. The men could've swapped and it may have worked, not for as long as it did here. Jessie likely would've beaten poor Craig, James and Morgan though would've been some "nice" foreshadowing.
Regardless it's blatantly sexist. I know from this episode I was blind and naive to most things, but surely there's no other reason this happened. All I can think of is Craig has to hold Morgan back, and James Jessie because they're the pairings. NO TOUCHY! Which is also quite annoying btw.
3) This entire scene takes up almost half of the second part. Vitera actively has to ask if this is a bad time, no... just no.
4) The story does the racism is bad hook the wrong way around. I tried too much to make it a Lion King 2 themed episode, they're mad because of what Simba did to them. The aliens should've been isolated because other aliens were afraid of/hated them just because they had literal black skin. Xara should've eventually lost herself in revenge because of this, the assassination of Scaran, then the needless death of Nuvan. Scaran himself didn't need to be a bad guy, neither did Nuvan. She shouldn't have been painted as a bad woman until her revenge need and grief push her literally over the edge.
The point of the story was that fearing and hating people because they look different is incredibly stupid, it's not something people can control and even more importantly it's not something people SHOULD control. Variety is a good thing. It's something to be celebrated. The story also had a best not to stereotype a vast group of people because of the actions of one person lesson, what with Xara and the assassination of her husband. It's what she bases her whole hatred on, thinking all people that looked very basically like the assassin are all murderers.
That was there but it was written as a "it's cos I'm black" moment, since nothing else was mentioned. I said it during the review, that bit alone screams at the reader "see there's no racism, Xara's the only one doing it by calling it out!" And that's so insulting it offended me greatly.
5) Red Dwarf almost copied word for word in Part 1. If I wanted an excuse to punish the five so they'd be on the bridge, I'm sure I could've thought of something but I clearly couldn't be bothered to think for more than a second.
I was never going to steal the drug the opponents drinks with viagra bit, but its replacement turns FV from occasional slapstick parody to WTF HORROR SHOW. Morgan and the chainsaw, casually handing over knives to Tani and Craig to chase Tom and Harry, Craig's casual "they were cheating" excuse for using them. Only good part was the Doctor's chicken transformation, only for the "the Doctor still clucked" description randomly appearing.
6) We are the Aquariums from the planet Aquarius. LOL
7) Morgan's character is wildly inconsistent here. Timeline she's dull as a dud. Spirits she did show a bit of a teenage morbidity, which was quickly thrown in her face when she saw the dead bodies she wanted and it freaked her out. Test of Time can't remember, probably a bit silly. Voyager Conspiracy she's huffy and goofy/silly again, but drunk so *shrug*. Fugitives once more the scenes I remember her in were being immaturely silly, and stubbornly loyal to her father. Dark Frontier she's trying to be feisty and brave but the visions are frightening her. Throughout most of the episodes she's trying to prove herself to be tough and quirky, but DF shows she's trying too hard what with her past self being meek and fearful.
So apart from Timeline, do you see a common theme with this? She acts like a 15 year old. Silly, a little morbid, huffy, defiant, and tends to act brave to cover her insecurities. Also yeah I forgot, mischievous. I remember the Cherry Coke thievery.
Upendi takes her personality and teen traits as an excuse to make her into this violent sociopath. It's jarring. And no it doesn't give Jessie an excuse to act that way back.
Her strength levels are also wildly inconsistent too. Struggled against Craig holding her back, who was pwned without being knocked over by Nuvan, but still had an apparently equalised fight with Xara (and Seven briefly).
8) The plot holes revolving around the Upendi villains' trap and Morgan's trap within a trap. Why take the crew hostage if they were meant to look for dilithium to refuel first before the ambush? How come it's so easy to actually reach the dilithium if Voyager are not the first ones they've done this to? Why did no one stay behind to man the Bridge. It's a good thing the aliens all vacate Voyager to do the ambush, I imagine Janeway and co reclaim it once they do. Which btw questions why they took over the ship in the first place.
Why did no one try the bridge, especially when Janeway says that's where the people Seven wants are. Messy.
9) Tom's homophobic description of the Upendi ride. Hetero couples only! FU
Positives:
1) After the bad after tastiness of the so called catfight and the lol Aquarius chat, the episode does start to improve greatly. With the exception of one apparently missed out line (Craig's getting knocked to the floor) the last big scene isn't as basically written or awful as the rest of the season.
2) Ignoring Craig's earlier part in the basketball scene (not canon! I swear!), this episode is where he really starts to develop into the character I'm very proud of. He's been very two dimensional until now. What I've always liked about him is out of the core 5 (spoiler alert for early Season 3 at most) he's the only one who isn't "special" in some way, so he's underestimated by everyone but still manages to pull off some badass moments of bravery. While he's petrified the whole time, Craig stands up to James when he's not just evil, but in the killing spree stage, and not only that he convinces him to stand down. His part in Three's A Paradox is recommended spoilerific reading (seriously don't if you haven't finished Season Four) for anyone who doubts Craig's inner strength, if that previous example wasn't enough to convince you.
Gah this review is the longest so far and here I am rambling. Point is Craig shows wonderful development here, it's start of something great. I'm still convinced he wasn't doing it to impress Morgan or Jessie, as he only started to climb down once James did. He doesn't act annoyed or anything that would hint he only did it as he was threatened by James' act. His panicked call to Morgan, he didn't help once James was safely with Jessie and it's not like she was fine. Yeah.
3) James also continues his development into modern day James. Notice neither him or Jessie really panicked at the thought, not even one jokey comment, about being involved in this little battle. It's so subtle I didn't notice till now. Shooting someone I guess, you could argue wimpy James would do this to save Jessie, but the cliff bit is tough to argue with. Until revelations in Season Two, your feelings on what he and Craig did should be equal. Since obviously I know them, I do lean more towards gushing over Craig. Though again, both acts nudge both of them into their later characters so hey. Equal babeh.
4) James and Jessie's first kiss (yeah yeah, it was for the series so shut up) and it's not avoided/misdirected in the narrative, though it looked like it was going to be.
5) At least Jessie's abhorrent behaviour goes well with her actions later, and lol me writing that after point 4, I don't mean that. I mean her saving Morgan and she does it quite well. Then her trying to save Xara. It establishes Jessie more as a capable fighter who isn't entirely selfish, which the latter she has been so far. Her slapping Tom around isn't a good example of the former either. It seems like everyone but Morgan shows their potential here, she seems to be OOC.
Marill's Rating: 3/10
Or 6/10 if I decide against scoring Negative Point 1 with 4 points instead of the usual 1. I'm still undecided. 6/10 would mean it was better than fellow 3/10'ers Hunters (hmm episode who's badness was overrated, still nothing happened) and Mirror Universes (hell yes there). 4/10'ers Mental Illness (nyeh) and The Fight (hit and miss). Upendi's better parts are miles better than them, but its worst ones are Mirror Universes FANFIC DIMENSION level. Keeping it at 3/10 has it tied with Hunters and Mirror Universes. Tough choice.
Exclaimed Count: 2 (152)
Muttered Count: 53 (578)
Motto Count: 0 (14)
Sexist Crap Count: 8 (29)
Jessie's Sin Points: Earned 14, then 5 were taken off (17)
Morgan the Sue Count: 1 (6)
Seven Dies Count: 2 (5)