YEAH I WISH
ANYWAY!
MARILL RE-READS "DIMENSION FURY"
In: "Morgan to Chakotay, we've taken control of their Bridge."
"Good work, Morgan. Chakotay to Voyager, three to beam up," Chakotay ordered.
I'M NOT SURPRISED, IT LOOKED LIKE MOST OF THE NAMED CAST WERE TOO BUSY WANDERING AROUND WITH TARGETS ON THEIR FOREHEADS.
"What are you doing?" Charizard asked.
"You should know, you're writing the episode," Chakotay muttered.
HAHA GOOD ONE
ONLY THE BLUE HULK IS TYPING THIS, AND I HAVE AN OLD GRAINY CCTV IMAGE OF THE PERP TO PROVE IT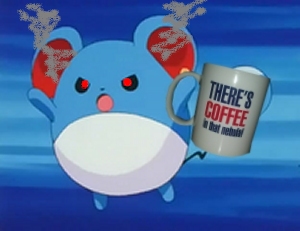 "Ok, but what about the writers?" Emma asked.
"I'm sure they'll get off the ship in time," Morgan replied as she walked over to Craig who was working at a station.
"The ship will self destruct in one minute. That should give the writers time to disappear like they usually do," Craig said and he stepped away from the station.
YES FINALLY, DIMENSION JUMP GETS ONE RIGHT. RIP WRITERS
"Ok, Voyager energise, I've always wanted to say that," Morgan said.
NORMALLY THIS WOULD CALL FOR AN AWW BLESS, BUT THE FOREHEAD IMPALEMENT'S STILL FRESH
"The lead ship has been destroyed, Captain. Three quarters of the fleet was caught in the explosion," Tuvok said.
WELL THAT WAS EAS...RUSHED
AT LEAST IT'S OVER
"But what about the Flyer?" Harry asked.
"Oh yeah, I forgot about that," Kathryn muttered.
OH FIDDLESTICKS
Captains Log Supplemental: I've arranged a meeting with the Dellia's Captain to discuss the alliance. Meanwhile the rest of the Dellia Fleet have been on a search to find the Flyer, no luck so far.
BY GOLLY I DO SOMETIMES MISS THE GOOD OLD CAN'T BE ARSED TO TIE UP LOOSE ENDS, LETS END IT ANYWHERE DAYS
"You knew that this was going to happen, didn't you?" Kathryn asked.
"We knew that the Sixes would attack, yes, but we didn't know they'd send that fleet," Johnstone replied.
"What difference does it make?" Lilly asked.
"It matters a lot, Lil, that fleet is the most powerful fleet the Sixes have. That would only mean one thing, they knew about the alliance," Johnstone said.
IF I CARED ANY LESS I'D BE IN THE KITCHEN HAVING MORE COFFEE
ACTUALLY THAT SOUNDS LIKE A PLAN BRB
"We only made the alliance so we could get back to our dimension, we had no interest in your war," Kathryn said.
OH FFFFFUUU I FORGOT ABOUT THIS
FOR A RAGEFUL EPISODE THERE'S FAR TOO MUCH OTHER CRAP GOING ON
"And I know you're lying, James," Lilly said.
"About what?" Johnstone asked.
"We're not in our home dimension are we?
WHAT
We never jumped dimensions at all. You just used that excuse to ally with us so we'd destroy that fleet if we were attacked," Lilly replied.
WHAAAAAAAT?
"Well I can tell when he's lying, also Jacqueline wouldn't send her ship into the Liger's home dimension because she said Ligers gives her the creeps," Lilly said.
I HATE YOU SO MUCH DIMENSION JUMP
"You took advantage of us, why?" Kathryn asked.
"Because whether you like it or not, you're involved in this war," Johnstone replied.
I MEAN REALLY, REALLY
"How's that?" Emma asked.
"Damien has come back," Johnstone replied. Everyone stared at him in shock.
WELL HE MANAGED IT ONCE BY RETCON MAGIC, WHY ARE YOU SO SURPRISED
"He somehow took over somebody's body. He's after revenge on you and my people. He's using the war to his advantage," Johnstone replied.
HOW??????????????
WHY???????????
ALL OF THIS LIGER AND VOYAGER NEED TO BE ALLIES BULLCRAP DEPENDS ON SOME KEY FACTS THAT ARE MISSING BECAUSE WE WERE TOO BUSY KNIFE THROWING AND CHAINSAW SWINGING, OR RETCONNING STUFF TO BRING BACK DAMIEN
1) ALEX. DESERVES A WHOLE POINT ON HIS OWN. HE WAS MEANT TO HAVE A BIG ROLE IN THIS, AND WELL... YEAH. IT'S NOT HELPED THAT HE DISAPPEARED AFTER MIRROR UNIVERSES. HE WOULD TECHNICALLY BE THE ANTAGONIST, THE SUCCESSOR TO DAMIEN AS PHOEBE WANTED HIM TO BE; A THREAT TO THE LIGERS WHO ARE IN ANARCHY.
AS AN OLIVE BRANCH TO MYSELF HE'S USED AS DAMIEN'S VESSEL AS HE, OR RATHER HIS PREVIOUS ALTER EGO, NEEDED TO BE REVIVED FOR THIS HATE EPISODE. HIS ORIGINS ARE HANDWAVED AWAY, THE POINT OF HIM IS WIPED, AND TO ADD INSULT TO INJURY, EVEN PHOEBE AND CHAKOTAY HAVE FORGOTTEN HIM. GOSH
2) THIS WAR S£££ IS ON THE FLY, THERE WAS NEVER ANY WAR. THE LIGERS ISSUE WAS DUE TO BEING STUCK IN THE FV DIMENSION, AND REALLY THEIR ENEMY WAS THE SAME AS VOYAGER'S; SEVENTH. I'LL NOT SAY ANYMORE AS I'M KEEPING THE ORIGINAL IDEA FOR THE REBOOT. IT'S BASICALLY LINKED TO POINT 1.
SO YEAH, MY POINT HERE IS SIMPLY; ALL OF THIS CRAP THAT'S BEEN ADDED IN HAS ONLY COMPLICATED WHAT SHOULD HAVE BEEN A SIMPLE "HELP US, WE SHARE AN ENEMY," "OKAY," ALLIANCE. GOOD GOD. COS OF THIS WE'VE GOT DIMENSION DECEPTION, ANOTHER SPECIES, A WAR, LILLY'S RIVALRY WITH NOT THE ERONA'S CAPTAIN, FOUR JAMES' AND WE STILL HAVEN'T GOTTEN TO THE DEAL WITH BOBBY/BOSS2.
3) DAMIEN WAS NEVER MEANT TO COME BACK, AND BLAH BLAH ALEX POSSESSION/REVIVAL BLAH, AND SO NATURALLY, HIS PRESENCE HAS REALLY ADDED NOTHING TO THE STORY. HE'S NOT DONE ANYTHING, OTHER THAN GET EATEN AGAIN BY VICTREEBELL. YEAH SEVENTH VOYAGER KIDNAPPED JAMES AND TOM, BUT NOT UNDER HIS COMMAND, HE JUST LUCKED OUT THAT ONE OF THE PEOPLE HE WANTED TO GET REVENGE ON IS ON SEVENTH VOYAGER. I SAY LUCKED OUT, HE DIDN'T GET TO DO ANYTHING
"Why do you want to be our allies?" Chakotay asked.
"We need to work together to stop this war, or we're all dead," Johnstone replied.
"Well we've destroyed their most powerful fleet, well most of it, isn't that good enough?" Morgan asked.
DON'T BOTHER MORGAN, THIS IS ALL NONSENSE. JAMES 3 IS JUST LONELY, OR PROBABLY WANTS TO JOIN A JAMES CLUB. NO OTHER NAMES ALLOWED!
THEY'LL FIND OUT HE'S A LISTER SOMEDAY, IT WON'T BE PRETTY, ESPECIALLY WHEN THE SCENE SHIFTS. JAMES 1 DOESN'T TAKE ANY S£££
"No, I wish it was. This is only the beginning. If Damien gets back control of the entire Seventh Dimension then we're in trouble, we'll be no match for them all," Johnstone replied.
LOL
QUESTION. WHAT WAS DAMIEN'S BIGGEST ACHIEVEMENT IN THE SERIES SO FAR?
AND DOES YOUR ANSWER HAVE ANYTHING FROM SEVENTH VOYAGER IN IT?
DIDN'T THINK SO
IF YOUR ANSWER WASN'T THE RABBIT INVASION THEN YOU'RE NOT PAYING ATTENTION, SHAME!
"He only has the job as Captain because I was originally the Captain of that fleet," Lilly replied.
WHO'S SHOCKED? I'M NOT
"For as long as we're allied, we could keep the fleet with Voyager for the time being, we'll all be safer," Lilly replied.
I DOUBT YOU REMEMBER, BUT A FEW EPISODES BACK I ASKED YOU TO REMEMBER A CERTAIN THING THAT'D BE FUNNY TO KEEP IN MIND WHEN WE GOT TO SEASON TWO. HERE'S THE (FIRST OF MANY) MOMENT(S). AND HERE'S THE QUOTE BECAUSE I'M NOT A MEANY RAGEMACHINE NOW, I'M A NICE RAGEMACHINE
"Captain, I have an idea," Lilly said. Kathryn and Chakotay turned to face her. "That Voyager has the same weaponry and shielding as the Sixes ships. My fleet used to generate a pulse from the deflector to overload their shields," Lilly said.

Damien spruced up his Voyager with different shields and weapons because? Remember in Mirror Universes "this Voyager is no match for us". Sure they were damaged and shieldless, probably, but their weapons. This speaks volumes.

Secondly, Lilly's super duper awesome Lillyia/Dellia fleet (omgspoilerz) obviously would have a defence for this apparently weaker than original Voyager weapons. Bare in mind again omgspoilerz, Lilly is talking about a ship that is hundreds of years old. The Lillyia's we see later are more advanced by 3/400 years. Bare that in mind when they ask Voyager to help them out in Season Two.
YEAH, I'M ON CHAKOTAY'S SIDE ON THIS ONE. WHY ARE THESE LIGERS SO DESPERATE TO ALLY WITH VOYAGER THAT THEY'D LIE AND KEEP THE DAMIEN REVIVAL SECRET?
"You didn't tell me you were the Captain of that fleet," Kathryn said.
"It was a long time ago," Lilly replied.
NO S$$$
AND I JUST REMEMBERED, NO ONE ON THE LIGERS/VOYAGER SIDE HAVE SAID WHEN SHE WAS FROM, NOW THAT I THINK ABOUT IT. JAMES 3 SAID 7 YEARS AGO BUT HE'S A BIG LIAR, PANTS ON FIRE. THE ONLY HINT I REMEMBER IS DAMIEN MENTIONING THE HEIRS BEING MISSING FOR 4 CENTURIES BEING ON VOYAGER. LOL HEIRESS, DUNNO WHY YOU THOUGHT THAT WAS A PLOT TWIST, I KNOW DIMENSION JUMP WAS BAD BUT IT'S RIGHT THERE. COULDN'T BE MORE OBVIOUS IF IT TRIED.
"Yes of course. If I captained a ship at the age of nine, I'm sure I can captain a ship now," Lilly replied.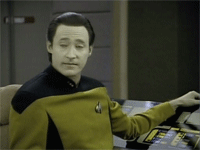 WHAT DID YOU THINK THE TITLE "KIDZ TREK" MEANT? BRATS THE FINAL FRONTIER. THESE ARE THE VOYAGES OF THE KIDZSHIP LILLYI... ER DELLIA. OUR ONGOING MISSION, TO GET KNOCKED UP BEFORE WE'RE FORTY. TO SEEK OUT NEW LIFE AND NEW RESPONSIBILITIES. TO BOLDLY GO WHERE ALMOST EVERYONE, BUT THANKFULLY NOT MARILL COS SHE HATES THEM, HAS GONE BEFORE:
"KIDZ TREK: THE NEXT GENERATION"
EPISODE 1: ENCOUNTER AT MATERNITY WARD
SYNOPSIS: LILLY PONDERS IF THERE'S "ANOTHER WAY" AFTER SHE IS ONCE MORE CAUGHT TRYING TO SMUGGLE A BABY UNDERNEATH HER TSHIRT.
"I had friends and family in high places," Lilly said.
SEE, COULDN'T BE MORE OBVIOUS
"Do you think they'll accept me as their Captain?" Lilly asked.
"I don't know, it's not the same crew you captained. I suppose if you're not your b**chy self you'll get along fine with them," Johnstone replied.
I'M REALLY NOT LIKING THIS GUY. CLEARLY I NEVER DID, HE'S NOT GOOD ENOUGH TO LABELLED A JAMES.
"Red Alert, on screen," Kathryn ordered. The viewscreen showed the Delta Flyer come into view. "Stand down Red Alert," Kathryn said.
WELL THAT WAS...
"Yes ma'am, er Captain there's four crewmembers onboard instead of two," Harry said.
ITS A TRAP
"Tom, where on earth have you been?" Chakotay asked.
"And why does the scanners say there are four lifesigns?" Kathryn asked.
"Because me and Jessie are here to," James replied.
LOL WHUT
"Captain, this is the Seventh Voyager James. He and the other Jessie and the Doctor helped us escape from Seventh Voyager," Tom said.
WHY? AND I MEAN WHY DID YOU HELP, AND WHY IS THE ACTUAL JAMES NOT DOING/SAYING ANYTHING? HOW MANY CORPSES ARE ON THE DELTA FLYER? I TOLD YOU NOT TO LEAVE HIM OFF SCREEN!
BUT SERIOUSLY, EVEN JAMES 1 COULDN'T STOMACH THIS RUBBISH, HE WANTS NOTHING TO DO WITH RAGE JUMP
"It was either that or help that Damien jerk," James replied.
"Makes sense," Harry muttered.
IT DOES?
OH I GIVE UP, DON'T CARE
"Ooh, ooh, will you go out with me?" Tani asked. Everyone groaned.
"I'll think about it," James replied.
LOL
SOMEBODY TELL SEVENTH JAMES THAT THE TORTURE PORN SEVENTH JESSIE WAS DOING WAS JUST AN ACT, SO THEIR CREW STILL THOUGHT THEY WERE EVIL. IT WAS RIGHT?
WAIT... IT WAS, RIGHT?
AND DAMN, PLEASE DON'T TELL ME WE'VE GOT JAMES AND JESSIE BAD DUPLICATES, AKA TEAM ROCKET, STICKING AROUND. PLEASEEEEEEEEEEEEEEEEEE
In: "Sickbay to Bridge, I've been eavesdropping. I think Mr Paris should report to Sickbay."
Everyone heard a baby crying in the background.
AAAAH ITS ENDGAME, ABANDON SHIP!
I MEAN, AAAW
"We'll dock the Flyer into the bay," Tom said.
HE SOUNDS SO EXCITED, DOESN'T HE? OR IS THIS WHY REAL JAMES ISN'T ON SCREEN, COULD BE AWKWARD
Tom, Jessie 2 and the two James' (this is getting too confusing)
YOU DON'T SAY!!?!?!?!?!??!?!?!
They saw B'Elanna holding a small baby, Bryan was standing near by. The Doctor was busy treating Jessie's hand. Tom rushed over to B'Elanna as the others went over to the Doctor.
"What happened to you, Jess?" James asked.
"I had to hold B'Elanna's hand, she broke it in three places," Jessie replied.
WELL JESSIE, IT COULD BE WORSE LAWL
"Er, am I hallucinating, I'm seeing double and another me," Jessie asked.
"Don't we wish you were hallucinating," Tom muttered. The Doctor turned to look and he got a shock.
SEE, TOLD YOU
"Does Seventh Voyager spring to mind? These two helped us escape after one of them tortured me for two days," James replied. The other Jessie just giggled.
WHY DID YOU BRING THEM ALONG AGAIN? GENUINELY CURIOUS
"I thought that since you're a captain again, you'll need this," Kathryn said. She handed Lilly a jar of coffee. Emma and Chakotay just laughed.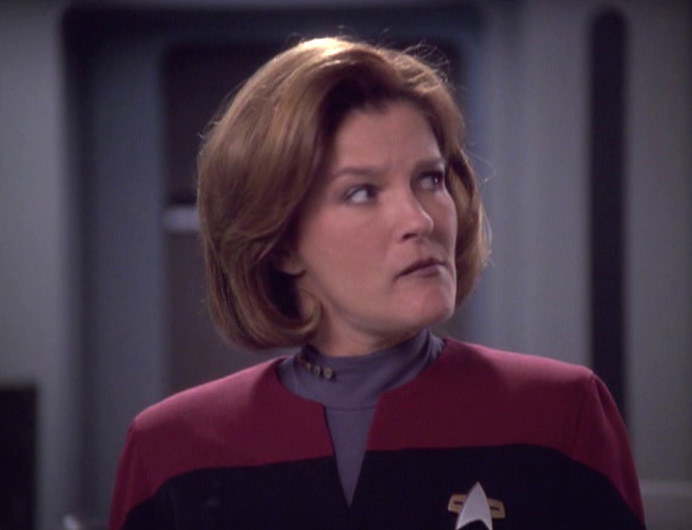 THIS JANEWAY IS AN IMPOSTER. OH MY GOD IT REALLY IS ENDGAME
"Where did your doubles go?" he asked.
"Janeway contacted them, they have to go on the Dellia Fleet, to avoid confusion if you know what I mean," Jessie replied.
AND THEN THEY DIED IN A HORRIBLE TRANSPORTER ACCIDENT.
RIGHT?
Tom was holding the baby. "How's my youngest patient?" he asked.
"He's doing fine," B'Elanna replied.
I WISH I HAD DELAYED THIS UNTIL THE NEXT EPISODE. THIS KID DOESN'T DESERVE TO BE INTRODUCED HERE. NOBODY DOES. MAYBE BOBBY (WHOOOOO!?) WTF WAS THE POINT OF HIM?
"Doc, why hasn't he got the klingon facial ridges?" Tom asked. B'Elanna looked up at the Doctor. Jessie and James gave each other nervous glances.
OH HEY, FUNNY STORY. IT ALL STARTED IN THE LOVE SPELL WHEN YOU MADE A BLIND DATE PROGRAM.
*TWO HOURS LATER*
TOM: WAIT, SO WHY DID THEY PUT HER IN THE MEN'S JAIL?
JESSIE: SO I COULD BE STABBED IN FRONT OF JAMES, DUH
TOM: BUT IF THAT WAS THE POINT, COULDN'T THAT HAVE HAPPENED BEFORE YOU WERE ARRESTED.
JAMES: NO THAT WOULD MAKE SENSE, AND SEASON TWO LOVES ITS S$$$ POINTLESS FILLER.
TOM: OH YEAH, STILL IN THE SEASON ONE MINDSET. CARRY ON
*ANOTHER HOUR LATER*
TOM: I'M STILL CONFUSED. WHY DID YOU HAVE TO KEEP THIS A SECRET
B'ELANNA: DRAMA
TOM: GOTCHA. HERE'S YOUR KID YOU LITTLE SCAMPS, GOOD THING I SHIP YOU HAHA
THE END
"I thought I told you Mr Paris, we had to do an operation on him. We had to remove most of his klingon DNA because it was going to cause some health problems in the future. I'm sorry if I didn't inform you," the Doctor replied.
ADD THE DOCTOR ONTO THE BLAME LIST. HE'S STILL ABOVE JAMES AND JESSIE, WHO'S ONLY CRIME SO FAR IS UNCOMFORTABLE PANICKED SILENCE. B'ELANNA AND DOCTOR LIE THEIR ASSES OFF AND J/J PAY THE PRICE.
WHAT ARE THEY GOING TO DO, BUTT IN AND SAY "ACTUALLY HE'S OUR KID. B'ELANNA TRIED TO DO US A FAVOUR AND LIED ABOUT IT." WHO'D BELIEVE THAT? TOM WOULD THINK IT WAS A JOKE.
OH AND LOL, THIS EXCUSE WAS TAKEN STRAIGHT FROM THE (I THINK) LINEAGE EPISODE. NOTCLEVER
"Maybe one of the god parents would like to hold the baby," B'Elanna said.
"Are you sure that's a good idea, they'll probably drop him or something," Tom asked.
"Don't be stupid," B'Elanna said almost like a growl.
DAMN B'ELANNA, HE DOESN'T KNOW. YOU CHOSE TO KEEP THIS FROM HIM.
ANYWAY TOM OUT OF THE PICTURE FOR A MINUTE.
"Well, does any of you want to hold him?" B'Elanna asked.
"Er..." Jessie muttered.
WELL THIS IS UNCOMFORTABLE
"Go on, he's not going to bite," B'Elanna said. James and Jessie slowly made their way over to the biobed. They had a look at the baby, and they quickly backed off. "What's wrong?" B'Elanna asked. They didn't answer her, they rushed straight for the door.
OH HOW CUTE, THEY BOTH RAN OFF SCARED IN SYNC...............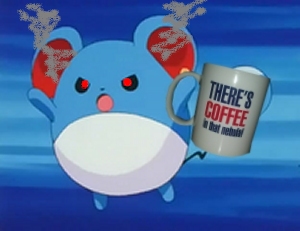 THIS'D BE FINE IF ONE OF THEM RAN OFF AND THE OTHER CHASED AFTER THEM, TO SEE IF THEY WERE OK. BUT NO, BOTH BACKED OFF AND RAN LIKE THE BABY WAS A BOMB.
THIS STORYLINE DOES HAVE SOME HALF DECENT, VERY SERIOUS STUFF BEHIND IT AND THAT DOES NOT BELONG HERE. I'LL GO INTO IT LATER.
BUT ANYWAY TOM WITNESSES THE GRAND ESCAPE AND HAS THIS TO SAY:
"What's up with them?" Tom asked.
"You don't want to know, anyway getting back to the birth certificate," the Doctor replied.
YES HE DOES, HE HAS TO KNOW. WHY ARE YOU AND B'ELANNA SO ETERNAL ABOUT THIS LIE? THIS ISN'T SOMETHING YOU CAN LIE ABOUT TEMPORARILY, EXPLAIN LATER AND HE'D BE FINE WITH IT... OR WORSE, SOMETHING YOU CAN LIE ABOUT FOR THE REST OF YOUR LIVES. EITHER WAY IT'S CRUEL TO BOTH TOM AND THE KID.
AND AGAIN I HAVE TO POINT OUT, ALL JAMES AND JESSIE ARE DOING ARE NOT SAYING ANYTHING AND RUNNING. YEAH NOT GOOD SURE, BUT NEITHER HAVE ASKED FOR THIS DECEPTION TO HAPPEN. YOU'VE DONE IT AND THEY'RE PROBABLY NOT SURE HOW TO DEAL WITH IT. AGAIN, THEY CAN'T SAY "ACTUALLY THAT'S NOT TRUE" BECAUSE WHO'D BELIEVE THEM?
TRUE THEY HAVEN'T OBJECTED TO THIS WHICH WOULD BE TOTALLY BLAMEWORTHY, BUT I CAN'T RECALL THEM TALKING ABOUT THIS SITUATION FULL STOP SINCE INTERACTIONS. IT'S VERY STRANGE.
I MEAN I DIDN'T EXPECT TO BE DEFENDING THEM. BEFORE I STARTED READING THIS STORYLINE I EXPECTED TO RAIN DOWN HARD ON THE PAIR, EVEN THOUGH I'M FULLY AWARE OF WHY THIS HAPPENS AND THEIR HISTORY, THEY HAVE THEIR REASONS BLAH. I DIDN'T FORESEE JAMES NOT ASKING B'ELANNA, ONLY WORRYING OUTLOUD AND B'ELANNA ASSUMING HE WANTS SECRECY.
DUNNO WHY I'M STILL TYPING IN ALL CAPS, THE EPISODE'S OVER.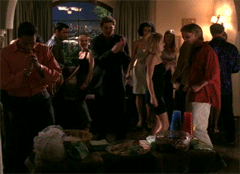 What really happened with Lilly & Emma before they got to the Third Dimension?
OH THAT'S WHY, IT'S NOT *CRACKS KNUCKLES* THIS SHOULD BE GOOD
FIND OUT NEXT TIME ON REBOOT WORLD DOMINATION 3D!!!!!
What will happen to the Seventh Voyager Jessie & James?
I ALREADY TOLD YOU, TRANSPORTER ACCIDENT. LEARN TO READ PAST ME
Where did all these James' come from and will they all leave us alone?
NO, THE JAMES COLLECTIVE WILL MULTIPLY AND TAKE THE PLACE OF THE BORG. WE ARE THE JAMES', OR JAMES'S IF YOU PREFER. RESISTANCE IS FUTILE, UNLESS YOU KEEP US ON THE SCREEN THEN WE'RE POWERLESS. WE WILL RENAME YOU TO ADD YOU TO OUR OWN.
How did Lilly become a captain at age nine?
WHY ARE YOU ASKING QUESTIONS THAT HAVE ALREADY BEEN ANSWERED. I'VE TOLD YOU. PAST MARILL WAS AN IDIOT... I MEAN LILLY HAS "FRIENDS" IN HIGH PLACES.
Who are the heirs to the Liger's throne?
JESUS CHRIST, YOU DIDN'T JUST ASK THAT, DID YOU? OK FINE, THE DAMIEN BE PREPARED SCENE WAS POINTLESS AND AGES AGO, THIS EPISODE DRAGGED ETC, I'LL LET YOU OFF. THE HEIRS TO THE LIGER THRONE IS OBVIOUSLY MAKEUPFACE AND ENZO. RIP, YOU WILL BE GREATLY MISSED.
Find out the answers to all of these questions next time on Fifth Voyager. Well in a few episodes time.
WHAT, THAT'S IT? NO QUESTIONS ABOUT DAMIEN, OR BOBBY (WHO!!?!?!), EVIL C, THIS SPACESTATION THINGY WHICH ADDED NOTHING TO THE STORY, THE SIXES, THE BEHIND THE SCENES FUED THAT MADE THIS EPISODE INTO A HATEFUL KILLING FEST FOR FIVE MINUTES (AND FOR THE TOM RAGE SCENE TOO). NOTHING ABOUT THAT? REALLY? AN ANGRY TROLL TO THE VERY END, HUH DJ.
WELL IN A FEW EPISODES TIME? OH F9 CONTROL FAILURE, YOU HAVE ALREADY BEEN MARKED. GOOD LUCK WITH THAT!
~~~~~~~~~~~~~
Semi-Serious Thoughts
Phew. My Caps Lock is worn out. There was no way I was holding shift the whole time (lol yeah right Marill, you never use it for that).
That was just as painful as I predicted. This review took three, well four different days to go through since last night was cut short by pain (and not Dimension Jump related pain). It was surreal as well, and not in the usual way. Let's divide this up so I can keep focused for once... haha yeah right.
To avoid any(more) confusion, this section only will use this little key because I must remind everyone reading once more, that "Damien" has been technically THREE characters during FV's run:
Generic Badguy: The original antagonist of World Domination The Superior Draft Version, pre-Aggressions Part 2, pre-FV being online etc. He hadn't been named yet, had little to no personality, was merely the guy who controlled Seventh Voyager. He would be in three episodes, die in World, but be revived for paradoxy reasons in Prepare only to die again. That's it. Even Seventh Voyager wasn't really that big of a deal back in the planning stages. Their influence in the Liger storyline in Season Two would be minimal at best, but still more than their boss was.

The Boss: Obviously Generic wasn't "funny" enough for the insanity of Aggressions Part 2. Bare basically, to spruce him up I stole gags from someone else's super villain bit to make him funnier, and if that wasn't bad enough, he was named after who I stole them from, probably because I had the fourth wall writers junk. The Mewtwo comments, fly from here, a lot of his earlier lines were direct rip offs (thankfully some of his better material weren't, see Collective Instinct). And unfortunately I must admit, Damien's obsession with rabbits came from this, as I believe this super villain joke had two rabbits he used as either henchman or like the Inspector Gadget villain, had on hand to stroke menacingly. Of course his delusions of being a good villain were inspired too, but hey Damien was actually far more capable. The Boss' grandest achievements were Pokémon Theme parodies and scaring Jessie into non-Borgdom, Damien's reputation is not but a joke because he adopted his past, I think. Without it we wouldn've have "GO SNUGGLEBUMPS" so, I'm not really that torn up over it.

Damien: His current persona from I think Saturday Night (or F9 if my memories of Saturday are slightly off) onwards, including the prequels. He still had a few traits of the Boss because I stupidly decided to rename and upgrade him after the trouble, instead of using his death in Prepare For Trouble as an excuse to bring in a fresh character (or heck, use Alex as planned!), only rename the one who had died and leave him to rot in Season One. Which would've proved problematic when the Reboot happened, so hey, it all worked out for the best.
The Boss
Starting off "small". I was very surprised at how little he is utilised. He appears, does his Be Prepared routine, badly explains who he is, goes to Sickbay to get his own back on James and history repeats itself with the Victreebell. Lilly's brother warns Voyager that he's back, using him as a reason for Voyager to ally with them. And that's it.
Now remember my little tale at the beginning of the review. You'd think he'd be the main antagonist but he does pretty much nothing. He may as well have not been there, he's word count fodder. Johnstone/James 3/Lister or whatever the hell you wanna call him could've teamed up with Voyager without his resurrection. Of course I say this knowing that that was the original plan before I went all revenge happy, but I could tell from reading it that Boss's inclusion in his reasons were tacked on. "Oh btw The Boss is not dead," the Ligers/Dellia's and Voyager's battle were with the Sixes, who I'm still not clear on who was ordering them around. Was it Bobby, Seventh Voyager, or was it Boss while keeping him a secret from Bobby. I dunno, and I'm not really too bothered about finding out either.
My memories of this event and its order of happening in FV history isn't 100%, not even close. This was 16 years ago, as I write this the whole saga kicking off date is a week or so away (when it's released it'll probably be 17 but hey). God 16 years, I was 16 when this went down so yeah, half my life ago, it makes sense my memory of this isn't crisp. I'm not sure when Boss turned into the Damien of today. I figured it was technically after this one, since it was the ep released in retaliation to his well... original namesake, but the hate's not really directed at him, but at the Sixes.
The way he's added into the story really does look like it was added on at the last minute with the purpose of reviving and technically rebooting a problem character who was never meant to come back. Was he actually Damien, renamed and revamped, when he returned, adding to the Seventh's crew "who?" confusion moment? I'm still waying on the side of he wasn't renamed until after Dimension Jump chucked a match into the petrol station. However after reading this there's an ickle bit of doubt in my mind.
Summing up, Boss could've easily come back in F9 Control Failure instead and there'd be no change to the so called story. Even a little foreshadowing from James Dave Lister Liger the Third of the James Collective would've been enough. By then he'd already be renamed Damien and changed, so yeah. Considering the behind the scenes drama it is actually a relief to be honest that he wasn't the focus of the hate campaign. I guess it makes some sense since the inspiration for Dimension Jump's ruination meant it "had to be" a mirrored hate piece, and so the story was always going to be the Ligers Versus Sixes first, and everything else second. Which brings me unfortunately to the troublesome part next...
Ligers Versus Sixes - Round 2
The story that opened this review was written to maybe amuse, inform but not with much detail, in a way that basically tells you that no matter wtf happened back in September 2001, I have accepted a lot of the blame for it. However, the most damaging part of Dimension Jump is actually this and I feel the opening tale doesn't go into that part very much. I have a very good reason for being super avoidy, and yes even this review I feel is saying too much, and that reason is it hasn't worked out well for me before. 16 years later I'm still paranoid.
I'll have to explain a bit more so this makes more sense. I'd hope that since this is 16 years later nothing will happen because 1) ignorance, I doubt this is being read to cause any trouble. 2) 16 year old kids being triggered and squabbling like well, 16 year olds make sense. 32 year olds, not so much. 3) Nothing I will say here is particularly offensive, it'll be a basic retelling of events that were a very long time ago. Ok? Ok.
1) The Boss, again if you read above was named after someone, turns from a comic relief harmless ripoff into the Big Bad who MUST DIE for some reason I don't remember, which wasn't shown unless The Boss did something heinous in World Domination other than be a part of it. Bad. He's killed off twice, never to return again.
a) Also being dragged into FV with him is his fleet. They barely make an appearance in Mirror Universes, not sure if they appear again until this one. Their original name, like Damien, has been changed into the Sixes quite recently to prepare for the reboot. Unlike Damien/Boss, I have no alternate name I'm okay with using so I'll refer to them as that. Just as long as you know they weren't always called that.
2) Games Resistance makes a really poorly written reference to him, which made it look like it was saying he deserved to die because of a character trait he didn't have, but the other guy James was talking about did. This was seen before episode release and I'm not sure when the line was fixed as it was grossly OOC for James and extremely bigoted, and I did mention poorly written.
3) This is the important part. A revenge piece is written, focusing not on Fifth Voyager (at least I don't remember anything, that was later) but Kidz Trek, primarily the Original Series gang. For those who have lucked out on avoiding my blabbing about them, that's the original Lilly, James 2 Lister Liger, and others who haven't appeared yet. I don't remember much about it, probably intentionally. I imagine the tangerines joke was in it. The only key detail I recall is Lilly's rivalry with the lead character Jacqueline, which I think was only because they were both the Captains and lead characters. Just want to stress that this Jacqueline had nothing to do with the Erona's Jacqueline (or her Kidz Trek persona), only the accusation that she was stolen did propel her to lead character instead of background fodder. I was a spiteful little brat, and unfortunately I still was in 2001. I'm only mentioning that as I think it was related to all this, but anyway.
4) Unfortunately when I decided to retaliate similarly, Dimension Jump was next. I did say it might have been whatever episode was next when this happened, but if you think about it Dimension Jump was "perfect" as the revenge piece. It was already about Seventh Voyager, who was ran by The Boss, declaring war against the Ligers. Plus he already had a ripped off fleet of ships already introduced a season ago. It would be the first episode with Alex as the lead villain, so a vessel for The Boss' comeback was already handy.
Memories was scheduled to follow this, Saturday Night replaced it. Memories was planned to be because of Alex and Seventh, hence why Damien took the helm in the B4FV version, but they didn't have a big part. The episode was only about Chakotay's loss of memories. Meanwhile Saturday Night had nothing to do with any of them, other than a Memories tribute at the beginning.
So really, would this whole Sixes Versus Ligers hate revenge battle have happened if the incident happened a week later? Probably not. Two weeks later might've ruined F9 Control Failure, but apart from that, no I don't think so. The timing was coincidental, "perfect" for what happened. You could call it fate, I call it stupidity.
Later Edit: I don't remember this and I was known for my "white" lies back then. But while looking at my old news pages, I found a comment on the 9th September entry that mentioned Memories had been delayed.................... for Dimension Jump. Memories was then cancelled afterwards in favour of Saturday Night. Well that changes everything, if true. I remember struggling with Memories, so maybe it was an excuse to push it back. I dunno. If we take this at face value, then if this happened on a different week, I'd have reshuffled the episodes around so any Liger episode would've been used. Wow. Okay, moving on.
Anyway now it's explained, what about the battle itself. Well, this is the thing. What can I say? It's definitely the most controversial part of the episode, no question. The scenes themselves were few, and not very long, but there's a LOT there. A lot of bitterness that looks like had been building up for some time, it seems like this episode was freeing for me when I wrote it. It's very, very violent and despite the bitterness comment, I don't understand it. Like in the Boss segment above, I was surprised at what actually got my wrath in this episode. It wasn't the Boss, it was the Sixes. The Boss would make sense. I was mad at him. TRUE the assasination of the "Sixes" crew was a retaliation for what happened to the Kidz Trek lot, and since I wasn't writing Kidz Trek anymore, Fifth Voyager had to do. But the hatred for these characters is what's confusing me. I don't remember ever hating them. Where did the bitterness come from?
What I find most annoying about these scenes are two things. One, obviously the FV lot had to be there, it's their show but why did they have to be roped into the killing spree? Morgan particularly. Yeah she "dropped" the chainsaw on Seven back in Season One, but reading her kill someone so coldly, someone she didn't know and who's only crimes were being a crewmember with a dire need of a mirror while she was doing her make up, shocked me quite a bit. I read it not long after I wrote the scenes in Games Matrix 5 where Damien tells Morgan that she's the "good one", comparing her to murderer James basically, while he meanwhile spares his clearly more evil opponent. More coincidences? Seems so. If I were to rate murder scenes, I'd rate Morgan's murder of the lipstick girl as far more wicked than James' murder of the man who murdered Jessie and almost their unborn son. Once again poor James gets the MONSTER treatment more than other more deserving characters (though I constantly have Jessie point out that she's killed more than him in one episode than he has total, it amuses me to no end as it's always ignored)
Read it again. She impaled someone through the forehead, and I must point out I censored a kill exactly like that in Closing of the Eyes in Season Four, because I thought it was too much and the one who had that done to, was a monster who murdered an innocent somebody in their sleep(omgspoilerz what a shock it's James again, seriously stop giving James the grief, Morgan's the bad one! sheesh). AND AGAIN, IF ANYONE WAS TO MEET MAKEUP FACE, IT SHOULD'VE BEEN JESSIE MY MAKE UP REX. That line was so Jessie. Why Morgan? Jessie could've gone to the birth after this. Not that I'm eager for her to be in on this killfest, but it'd make more sense than flipping Morgan.
Though I find it ironic that the FV crew had a recently made killer in their cast, and he was conveniently out of the picture (and not in a closeby off screen sense, otherwise he would've killed them all) for the majority of the episode.
And two, why after 16 years have I not gone into the episode NOT TO READ IT yuck, but skim through and take out the references to the Sixes crew. Boss had long since been renamed. Recently the Sixes were rechristened. I know I skimmed through Season One to make sure there was nothing really out of line left, only missing a line in Mirror Universes about the fleet. So why was the stumpy guy, makeup face not altered? Maybe stumpy guy cos I have no memory of the context, but makeup face is clearly making fun of something. Why was Jacqueline, Enzo and ANOTHER SODDING James still named? I'd go in now and go edit crazy but writing this, I'm no more than a year tops away from rebooting this crapfest, and its been like this all this time. I dunno if it deserves anymore attention than I've given it.
Tom and the baby drama
That first scene, oh my god that first scene. I remembered something along those lines happened, but good lord, it was so much more worse than I thought. Tom has spent the last season and a bit mainly teasing James and Jessie for their names and relationship. Jessie's slapped him around a few times and yet he's kept going. James has threatned and has seemingly hit him, of course off screen cos THAT'S HOW HE ROLLS, but again Tom's behaviour does not change. In fact he escalates. He goes from mockery to forcing them into Holodeck programs that tells Jessie that she's only angry because she wants James *winkwink*, tells people about their drunken make out session, spikes their drinks so they do it again and FILMS IT, threatens to show it at any opportunity, tries to get them drunk again and when Jessie says no threatens to show the video again.
I went from calling Jessie (and James) out for constantly picking on Tom for the slightest thing, to cheering them both on because his behaviour was disgusting, he deserved it. In the later half of Season One I started to think "gee Tom, maybe this is why they don't tell you about the baby in Season Two."
But then I get to Interactions. While true both of them say "great Tom's gonna have a ball when he finds out," before the stabbing when they're simply having a baby, and during when James has to decide what to do since Jessie's dead and the baby will join her soon, despite never deciding if they were keeping him. His decision never happens, B'Elanna jumps in and selflessly offers to carry him and bam, it's done. She tells him "don't worry, he won't find out from me," without him even asking her to. There's two lines like this and neither James or later Jessie reply. It's odd. They don't object but they don't say they're okay with it either. They say nothing. Anytime it comes up they panic, probably wondering wtf do we say here.
They don't continue the lie, and come on, I've said multiple times now that this isn't the sort of lie where you can suddenly fess up. It's such a ridiculous situation, which wouldn't be if the truth was out from the beginning. Tom would simply find it hilarious, he wouldn't believe them. Even if he did, he's not going to be "oh ok," or simply angry. This is a horrid thing to do to him. Tell him now and his newborn son's taken from him. Tell him during pregnancy and he's excited for nothing. Tell him immediately after the initial lie, I guess he'd be like wtf, why would you lie about that? And again must stress, I haven't seen anything that makes it seem like this lie happened because James or Jessie wanted it. They were worried he'd do something because again he flipping spiked their drinks and probably still has blackmail footage in his underwear drawer, and that'll probably be why they haven't really objected.
In summary, it looks to me like the lie's been forced on them. Since it's such an odd lie to be trapped in; it's got to come out someday, and the longer you leave it the worse it'll be and it'll NEVER be the right time unless it was 5 seconds after B'Elanna told him about the pregnancy - they haven't a clue how to handle it. Who would? It's nice they're not really joining in the lie, not yet anyway. By not objecting, or saying nothing at all they're still apart of it though.
Back to the Tom anger though. It feels not only ridiculously OOC and people would argue my Tom is already, but premature. This is how angry Tom should be when he finds out. Maybe that's why he is, so the pair think he knows. That goes out the window as it's immediately squashed. It comes out of nowhere. Tom has no reason to hate them, that he knows of anyway. He does have a secret thing for Jessie, I can't say had as it's clearly still there. I've mentioned elsewhere that his feelings for James can go either way. I made it so he's desperate for his approval, to be his friend, as he sees himself in him. "This could be me if..." and you can paint that in a good/bad way. Good, oh he could be me but he's a violent mess, maybe if I be nice to him he'll be nice like me. Bad, oh he's like me but stronger and Jessie likes him, how can I compete with that? So yeah, the extreme hatred and slutshaming is definitely out of nowhere, and unfortunately suits an after reveal scene not here.
Now that the kid's born, we're in for quite an awkward ride. Funny, the big one will be the sequel to this review. Good old Why oh Why, the unintentional s$$$ stirrer, unlikely sequel to the intentional s$$$ stirrer Dimension Jump. Good thing that's another 12 or so reviews away.
Too much going on
What it says on the tin. I may have forgotten Dimension Jump's original storyline pre-Games Resistance, but I do know it had a simple premise. Voyager meets the Ligers. Lilly's character and backstory is explored. Seventh Voyager now lead by Alex is causing trouble for the Ligers, so they team up. Meanwhile James/Jessie's baby is born. Done.
What does the released version have, lets see:
+ Introduction to a new Boss called Bobby who gets mixed up with the easiest of things and tells people to shut up a lot. We never see him again. At least not in this episode.
+ New Boss randomly kidnaps Clive (who may I remind you is a fourth wall character ala Marill, Raichu, Boss etc...), who had only been introduced the scene before as a fanboy/stalker of Claire, and no the prequels don't count as they weren't out then. He brainwashes him for evil, flips his name around and makes him his second in command. Because? Who cares, he's not seen again.
+ Bobby talks about a base for Seventh Voyager to guard (which tidbit I had to reskim the episode for). Guess what? Never seen.
+ Tom and James bicker a lot, after a double off screen punch out anyway. It gets them on the shuttle so they can be kidnapped. After that happens guess what, never happens again.
+ The Boss' return, which while never planned, never amounts to anything. Seventh James and Jessie could have freed Fifth James without him there.
+ Seventh James and Jessie's defection. Apart from a few groans in Prepare For Trouble, where has this come from? Nowhere, like most of the episode's plot threads have gone.
Then you add all of those onto the original plot, botched with hate as it may be, and what do you get? A busy trainwreck, that's what. A lot of the new stuff falls off the tracks and while I'm not complaining that they do, I am complaining they were there at all. If I must have a Boss successor, have someone mention him. The Boss comes back from the dead, great, either use him for something other than Victreebell food, or again have someone warn about him. I could go on but my fingers ache and this review is far too long.
In a nutshell
This episode is not only a hateful piece of crap, it also fails at everything it tries to do, even the hating. It's a real shame because it introduces one of my favourite regular characters, and it destroyed a perfectly ok Kidz Trek crossover event that could've made a half decent story arc, instead we got this. For shame.
~~~~~~~~~~~~~~
Counter Results:
Muttered Count: 85 (479)

Sexist Crap Count: 1 (10)

Jessie's Sin Points: 0 (7)

Morgan the Sue Count: 1 (16) Forgot to mark the knife bit. Still for a newbie she telekinetic throws and catches knives far too easily.

Annika Dies Count: 0 (8)

James Dies Count: 0 (3)

James Kill Count: 0 (2)

Marill's Playing With Her Dolls Again: 0 (16)

OMG ME TOO! James' Out Of Character Bulls***: 0 (15)

Just A Little Bit More: 0 (7)

James Badasses Off Screen For Our Sins: 2 (12)
~~~~~~~~~~~~~
Score:
Negatives:
1) Numero uno has to be the whole behind the scenes drama influencing (destroying) the plot excessively. (2)
2) Useless and unfunny Aqua pairing rubbish and Katie Stuart stuff. Also where has Clive come from? Don't say the prequels, come at me, I have hiding in the shadows James and I'm not afraid to use him.
3) Tom's ridiculously out of character and ANGRY scene. Yes this is one of the few parts of the episode that were in the initial plot before RAGE, not like this though. It's uncomfortable as hell. I haven't forgotten it, I wasn't shocked to read it, wish I could forget it. As stated in my analysis, it feels like a reaction to him finding out the baby truth. It's too early. And it's only done, probably, to get Tom and James together in a shuttle.
4) First true sign the "plot" loses the erm plot is when completely new so called villains are introduced; Bobby, another person, and then Evil C is recruited. It's obvious to me because it was supposed to be Seventh Voyager, no more, no less. It's obvious to you because "who the f£££ are they?"
5) Tom spoils the gender of the baby. Why? Yeahyeah parents do want to know before the birth, this one has massive issues with it. B'Elanna must've consented to this, and she knows full well James and Jessie are the parents. They seem a bit shocked but then again Tom's behaviour was shocking enough. Reading it again they calm down after the line with "son" in, so maybe they knew after all *shrug*. Though they calm down because they think Tom knows the truth and he says something else, so... bluergh, still counting it.
6) Tom actually asks Janeway why is he getting punished for physical abuse? Um. Threatens James with death (lol still cracks me and probably James up), James makes a jokey comment and Tom's first reaction is MUMMY! SEE, HE PICKS ON ME, WAH! How did you think Janeway was going to react? She wasn't going to say "oh you're totally right, run along you little scamp. James, to the gallows with you."
7) I wasn't going to mark it as a negative. I thought Seventh Jessie being tying to the bed obsessed was funny, made sense considering she's the opposite Jessie, wasn't really included because she was evil as she later defected to Fifth and helped James escape, and was going to write the S&M=evil off because of that, BUT then I read further. She's picked to interrogate Fifth James before this, the Doctor air quotes it after her tying to the bed comments, and despite the fact she was going to help him escape, still does it. We don't see him conscious for quite a while, between the shuttle and the return to Voyager, he's out. Others talk about her "interrogation" style on the bridge, all of them continue the S&M innuendo. I think you see where I'm going with this.
May I point out again, James is never conscious on Seventh Voyager. How the hell do you interrogate someone when they're not aware?
It looks real iffy. REALLY. I really doubt, or like to hope that I wasn't insuating Seventh Jessie raped him while he was out, cos good lord no. Even for Dimension Jump that's far too low. I just hope that it's a combination of the Seventh crew being too stupid to interrogate somebody when they're asleep, and my past angry self being unable to write a coherent story after adding so much crap to it. Still marking this down for putting this thought in my head.
8) Damien's return using Be Prepared could've been this epic, ohmygod moment (in his mind anyway), which would be ruined by his crew not knowing who he or Alex were and of course ruining it. If it wasn't Dimension Jump, I'd be marking it as a positive as this is such a modern Damien thing to happen. However I really doubt that was my intent since Damien wasn't Damien, his character was there for me to hate and make fun of and that's probably why it happened the way it did. Also the Be Prepared scene is lazy, like My Lullaby, and the "OMG I'M ALEX/BOSS" falls flat. It drags and it's annoying how long it takes for him to say who he really is, and its the same scene too so I dunno why he bothered to say he was Alex at all. Either reveal his true identity immediately or play along as Alex for ages, then bam "I'M DAMIEN" moment later.
9) James Lister Johnstone Liger's deception with the OOPSIE YOU'RE IN THE WRONG DIMENSION just so Voyager helps them out in the Sixes battle is the most pointless and make senseless forced plot device I've read in a while. Maybe ever read, but I might have to refresh my Season One memory. I dunno why it's there. No one really worries about getting back until the scene where he goes LOL JUST KIDDING. It doesn't make sense to lie to them, I don't think they fight the Sixes so they can get home. If they did they wouldn't have auto destructed the ship. Or am I remembering this wrong...nah probably not.
Reading it again it's so much worse. He lies, says he has the technology to send them back, doesn't use it and basically says Voyager has to use it themselves but they can't cos TEMPORAL PRIME... er Liger law forbids technology trade unless its between allies. It's a trick to force Voyager into an alliance. It's scummy and even though it makes a bit more sense now, it's still a negative cos this guy's a deceiving asshole and Lilly should've fired him out of the torpedo tubes as soon as she took command again.
10) Lilly is revealed to be his sister because she happens to walk on the Bridge and he waves "hi sis" like a child as if he hasn't seen her in a week. It's been seven years... or four centuries if you want to be accurate, but perspective sense it's seven. Jesus. Kidz Trek indeed.
11) Lilly and James the Third love to lie for no reason at all. Lilly calls him out on his alliance/dimension lie but doesn't reveal it until near the end, and she's lying about her World Domination amnesia but can't say I blame her there. They're both sketchy, having a chat about her falling out with someone called Scot but TOO BAD you have no context for another two episodes HARHAR
12) Speaking of James. THERE ARE FOUR JAMES' IN THIS EPISODE. FOUR. The original, his evil/dumbass counterpart, Lilly's brother (he can't hide his true Red Dwarf ripoff heritage), and a Sixes crewmember. It's not like it was accidental, there's a fourth wall "joke" about it too. GAH. Lilly's brother is referred to by his surname so what's the point?
13) Unbalanced stereo. Turn Back Time dancing. Seventh James "fighting" Kiara over headphones. What's this, a button. Jesus, if Seventh James was playing dumb to fool them, he sure did it annoyingly well. God.
14) Oops forgot to put this in the analysis above. Alex. His is but a sorry tale. Apparently kidnapped by Damien, chucked at the Borg... and can I ask how he did this when he was dead, or did he do this before his death? I'M SO CONFUSED. Once he's out of the maturation chamber Damien takes over him, which automatically cuts him off from the collective? Again CONFUSED. NOT EXPLAINED. All of this and not one person including Phoebe who wanted him to be King, Chakotay who could've been his dad it's never said, he's related to Kiara so we assume, not only doesn't care he's gone, they barely blink when he comes back. They don't recognise him. And... ok fine, I'm rambling, you get the idea. It stings a lot more knowing that there was plans for him, but they were chucked away for this. I mean I like Damien, now, and his possession/dead arc, but the way it's handled is a goddamn mess. I didn't try, I was clearly winging the whole thing.
15) I'm still not sure what Damien's plan was here. He came in singing about usurping his successors, then went to Sickbay to set fire to Victreebell.
16) Seventh Jessie and James turn on Damien and help James and Tom escape because?
17) Jessie is chucked into Sickbay to support B'Elanna for the birth of her own kid, which is fine I guess, only fair, but why then and how? S$$$'s blatant. I guess she escapes the revenge bloodbath, so bully for her.
18) Writers and they're killing Sixes, like pros. Of course! Even Marill, with a chainsaw. Poor stumpy guy. Are we sure that's not what he's called after Marill struggles to lift the chainsaw, fails, drops it and well.. yeah.
Harry: OH YEAH GORRY BODIES
19) LIPSTICK FACE
20) LIPSTICK FACE VERSUS, well of course she must face off against Jessie. Haha don't be daft, she's too busy watching someone else do labour for her. Morgan's the next best thing. She'll even say a similar line so we don't notice anything, sshhhhh!
21) Morgan kills a Sixes crewmember because? Knife in the forehead, woot. Remember this when James does this off screen in Season Four because it's TOO GORRY BODIES. Harry: AAAW! WHAT DO YOU EXPECT HARRY, JAMES STILL LOVES HIS OFF SCREEN VIOLENCE. And yes I don't care if this is still the same scene. Lipstick/Makeup Face has three problems with it, deal with it! Alright fine, who she squares up against and Morgan killing her is really the same complaint. FINE
THE REAL 21) It all came down to this, Lilly versus Jacqueline. All we get is Lilly whining about why they fell out, the tangerine joke, orange hair with stripes...er I mean highlights, and RIVALRY OVER. GOD DAMN THAT WAS EPIC, SO GOOD. I really gotta stop wearing out my sarcasm machines.
22) Ooops sorry, Jacqueline
23) Enzo
24) Yes I already complained about the fourth James earlier, but he's another character that should've been renamed so. DING. May as well chuck stumpy guy in here too, he's a little too generic/unmemorable for his own point. Seriously, dunno what was up with that.
25) Another "real name" drop instead of a Pokémon nickname, this time Charizard. Of course he's named after Kidz Trek Scot Shepard who was mentioned earlier in the episode, you know who embarrassed Lilly so much she ended up in World Domination and the less said about that the better.
26) Why are you so desperate to ally with us? Because......drumroll....... DAMIEN LIVES. *crickets chirp* SO? GTFO OUT OF MY CONFERENCE ROOM YOU LYING DICK
No seriously, why the big dramatics for him? Damien was never ever meant to be a serious villain, yes even when he was nameless and boring. Even now when he's done some nasty crap, people still don't really take him seriously. Look at Games Matrix Reboot. That's the closest you'll get (and well yeah, that was his biggest most effective badguy thing), and even then his name being said dramatically inspires a fourth wall camera zoom in headbutt.
27) I suppose Lilly announcing "I was the original/first Captain of the Lillyia Fleet" wouldnt quite have the same effect, but her reveal of being the Dellia Fleet's Captain is still pretty blah and of course no one would be surprised. Wasn't it mentioned earlier during her chat with her brother? Dunno, don't care.
Also have I "sinned" Dellia yet? Dunno if it's fair to, that name was mentioned in Season One. Heh. Lillyia's definitely a silly name but Dellia's not much better. I can see the brother faking the name when they talk to Voyager because announcing he's captain of a ship called Lillyia might injure his fragile maleness, but slips up and says Dellia as Lillyia's on his tongue. Everyone laughs, he sulks, then when Lilly takes back over the name is reset back to factory settings.
Also I guess still related to the Captain reveal. Sure it was "cute" when I was 12 to make a kid the Captain of her own self titled ship, make a series of it with Kidz in the title and have the running gag being her going through ships every week so they decide to use numbers instead of only letters for the registry. It's even reaching in this. God, I dunno what I'm going to do when I get to this part in the reboot, it's even more farfetched than it was here, back in 2001.
28) Why did they bring Seventh James and Jessie back to Fifth? Yeah they're dumbasses, but it could be a trick. I honestly don't remember what happens with them. I'm dreading to find out.
29) Look James and Jessie both have the same issues revolving around this baby, that's fine, it doesn't mean they have to do the exact same thing. This is just more THEY'RE TWINS SO CUTE crap, and I'm absolutely done with that. STOP IT
30) No one thought to make the Klingon ridges excuse earlier? It didn't occur to anyone at all to tell him months ago? Just now you think of it, when he asks? YOU'RE ALL IDIOTS, STOP LYING, JAMES AND JESSIE DIDN'T ASK YOU TO, GAWD. I'm starting to feel like this is a kidnapping storyline. If she tells Tom the kid's hers, vowing to never tell him the truth and even has the Doctor in on it, who takes advantage too with organ bribery (THOUGHT I FORGOT, DIDN'T YA?), what the hell can James/Jessie do? B'Elanna has them both by the short hairs, and they know it. I'm now seeing this story in a fresh new disturbing light. Come on James, you know what you have to do. Just side step away out of sight, wait for your moment. Should be fine.
Sub-total: 31
Positives:
1) Love James poking the Tom bearcub in the Ready Room. Easy to do with this Tom but hey.
2) Getskilledalot should be a series regular. I hope his Fifth alter ego isn't dead. Oh wait. :(
3) For once the evil/opposite counterpart works, and that's Seventh Jessie and her S&M obsession. Jessie would never tell anyone about her sex life in detail, and personally I doubt it would ever involve tying James to a bed (would there be any point anyway? He'd snap them instantly. WHY AM I ASKING THESE QUESTIONS, HALP, BRAIN SOAP PLEASE), or vice versa. This is the opposite of "good" Jessie, she's kinky and doesn't care what people think.
I honestly didn't know how to mark this one, negative or positive, both? Now I actually found it funny and found it worthy enough of a good mark. It's cool the episode dared to go there and put the two together (though James does later say he'll think about dating Tani, but hey he's evil. To quote Seventh Harry; cheating is bad, she'll understand). BUT even though it's presented as funny and quirky of her, you can't help but get the feeling I only added this to her because she's evil. The chainsaw bit screams that infact, yikes. But then she defects to the good side, so. I'M SO CONFUSED. In the end I did give it a negative, it was a tough one though.
4) Thankfully the battle with the Sixes doesn't last very long. It does fool me into thinking the episode's over, so not overall very positive. Half a point?
5) Yey Duncan's been born. Party time!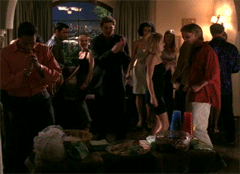 Sub-total: 5
Marill's Rating: 14%
Rankings So Far:
#1 Resistance: 53%
#2 Disconnected: 40%
#3 Interactions: 37%
#4 Games Resistance: 29%
#5 Thrown Key Part 2: 23%
#6 Dimension Jump: 14%
#7 The Love Spell: 10% CHUMP
HOLY S$$$ IT STILL BEAT THE LOVE SPELL
HOW DOES THAT STING, HUH!?!?!