Marill Re-Reads "Precise Timings"
Oh gods, please don't disappoint me too much.
Precise Timings is a special one, an experimental episode for the series. I can't read through this without going down the rabbit hole, so I'll leave this advanced warning: This re-read will include heavy spoilers, ones that revolve around the concept of the series itself. It's difficult to determine the bare minimum you need to be in the series if you don't want to be spoilt, as there's a lot of related other spoilery things that will be brought up.
My recommendations are to have reached Here & Now (Season Three Episode 3) and Marooned (B4FV Season Two Episode 10), so the smaller spoilers won't be ruined here.
I don't think it's fair to tell you to turn away if you haven't read the right thing. I think what I'll do for this one is reserve my spoilery thoughts to before the score section. If you're wanting to avoid, you'll be able to skip ahead. Spoilers within the re-read meanwhile will have warnings, but I'll no longer be marking spoilers in darker colours as it's awkward to read if you're interested in them.
Now for the first spoiler of the day: As already mentioned earlier, Precise Timings had a special, super secret at the time agenda. It would appear as the typical time travel episode; confuse and likely not entertain, reset button and move on. Only the time travel events would be used to explore the theme of the series, take it out of my head and put it to "paper", see if anything worked. Air out the kinks, hidden in plain time travel episode sight. Did it work? I'll let you decide.
~~~~~~~~~~~~~
It was Craig's birthday party so nearly everybody was drunk.
Come on Tom drunk scenes.
"Which parable?" Chakotay asked.
"The one you told me on New Earth," Kathryn replied. Morgan looked confused.
Oh look, here's forced exposition in its natural habitat. Let's watch closely, and quietly, we don't want to scare it away.
Kathryn replied and she put her arm around Morgan's shoulders.
"Okeydokey! Once upon a time there was an angry warrior..." Chakotay said. Morgan groaned, and she walked away.
Yeah um, I'd do the same thing.
She walked over to Jessie and James, they were dancing to Chain Reaction by Steps.
Gee, I wonder if this song/cover was new when this was written. Hmmmmmmmmmmmmmmmmmmmmmmmmmmmmmmmmmmmmmmmmmmmmmmmmmmmmmmmmmmm, it's hard to say really.
I can't wait until the episodes written after 26th December, mwahahahaha (if it's Why oh Why I'll be taking that back with a nonchalant attempt at a whistle)
"Hi," Jessie said, she nearly fell over when she did the wrong dance move. She went into a fit of giggles.
Aaaw, I wonder what she tried to do. We'll never know.
"Er, I don't remember you taking any shuttles out for a ride," Morgan muttered.
"Well of course not, you weren't there," Jessie said
Shhhh, don't approach. Sir no, please no flash photography, we don't wanna startle them.
Jessie and James then headed out the room, still singing to the song. James walked into the wall; he started giggling for no reason. Jessie joined him.
Now see, I like drunk James almost as much as drunk Tom........... with one exception of course *cough* okay maybe two, Drinking Game was rough.
"This stupid door won't open," James said as he stepped away from the wall. He had left a huge dent in it. Neelix rushed over.
How bloody fast was he walking? Either that or James badly needs to go on a diet. Both?
Also I don't care how strong you are, if you're able to dent the wall by drunk walking into it, that s$$$'s gonna hurt more than your hangover. RIP James' nose.
"My beloved wall! You'll pay for that out of your rations," Neelix pouted. James looked at him funny.
Beloved? Um
"When did we get a pet rat?" James asked. He and Jessie burst out laughing, they eventually found the door and they walked out.
"What is a rat? It sounds tasty," Neelix muttered and he walked over to the replicator.
UM
Dunno why I'm reacting to this, I remember this far too well.
The drunk ones threw up, and the sober ones got as far away from Neelix as possible.
"Ooh, it is tasty, yum! Hey, who made this mess on my carpet?" Neelix asked. The ones who threw up tried to look innocent as they snuck out of the room. Neelix took another bite and he collapsed. Nobody really noticed.
All the drunk ones threw up, and lol sober ones, as if. I've got a nasty image of the Mess Hall right now.
Morgan walked over to Tom and Craig. Craig had put on a girl's voice so he could sing to the second verse. Tom started giggling.
"Craig, you put on a girl's voice to H, he's a guy," Tom laughed. Craig burst out laughing too.
"He sounds like a girl though," Craig laughed.
"Yeah, just like his character James," Tom laughed.
Sexist Crap Count: 1
Yes I'm not keen on guys singing in a higher pitch, still hate lazy and unfunny stuff like this though.
And I'm still waiting for drunk Tom. This is dull.
"Yeah I know, but I had to insult him, I hate that guy so much," Tom said.
I thought it was Jessie you hated cos she's a slut and a bitch for turning you down, er I mean existing as a female, er I mean... god damn it. Another episode of Tom hating James and Jessie too far in advance. Save that crap for later
"It happened six years ago, you wouldn't understand cos you weren't there," Tom replied. Morgan fixed a deathglare on him. She then punched him in the mouth and he fell onto the ground. Chain Reaction finished and Stop Me From Loving You started.
Firstly, overreaction but I'm gonna allow this
Secondly, yes Marill we get it, you got the Chain Reaction single. Congrats but no one cares. This does make me wonder what Bittersweet, if it existed at all, was called at this moment. Ah song title and lyric titles, gotta lovehate em.
"Oh by the way, Morgan, will you go out with me?" Craig asked.
"As long as you don't say, you wouldn't understand cos you weren't there," Morgan replied.
That's the smallest loophole I've ever seen. Craig would probably commit genocide right now to earn a date, so maybe up your standards a bit Morgan.
One shuttle raised from the ground, it flew past another shuttle and it flew straight threw the shuttle bay doors.
"Oops, I did it again," Jessie giggled as she pressed a few more controls.
NO
wait Jessie is driving? oh god, I assume the rest of the series co-stars James and Jessie's ghosts.
"Ohno you don't, I hate Britney Spears," Marill said. Firera handed them a CD.
NO
Jessie looked at the CD oddly. "What the hell is this?" Jessie asked.
IT'S A COASTER
"Another shuttle has crashed on a planet," Harry said. Morgan thought for a few seconds and then she collapsed. "Erm, okay," Harry muttered.
My thoughts exactly Harry
"Crewman, please clean up the mess," Harry said.
"Yes sir," the crewman said.
"Woah, I didn't want a conversation, just do it!" Harry snapped.
Harry: get her off the Bridge, she isn't gorry enough. Look at me, I'm soooo edgy
Sheesh, I have a feeling this exchange isn't original
The crewman walked over to Morgan. He took a hold of her arm, she chose that moment to wake up again.
"Hey! What do you think you're doing, pervert!" Morgan squealed. She punched the crewman in the face. She pulled herself to her feet.
lawl, good for you girl
What was the crewmember's plan anyway, drag her along the floor?
Now get Harry
"A date, with who?" Harry asked.
"Craig," Morgan replied. Harry looked worried.
"You're definitely drunk, get to your quarters," Harry said.
I DEMAND DRUNK TOM
She walked over to the Ready Room, the door wouldn't open. She then broke the door and walked in.
I hope she didn't use her nose like James did. These two are gonna have a hell of a bill in the morning.
"Hey, I have a name you know. Anyway, Janeway's coffee is in there, she might drink it," Claire said.
"Hmm, Morgan drunk, or hyper off coffee," Harry muttered to himself.
"I think Morgan would be worse drunk, than hyper," Claire said.
"Fine, we'll leave her in there. But I'm not taking the blame when Janeway complains about her missing coffee," Harry said.
Snore.
"Let's see. Tuvok is talking to James and Jessie about last night's incident. Tom has a hangover and he slept in so he'll be late. Harry isn't on duty because he was on the night shift last night. Everybody else has hangovers too, oh and Danny has gone into labour," Chakotay said.
No one noticed the broken door and nose shaped dent in the wall then? Or the sick flood in the Mess Hall?
"Tell Tuvok to get Jessie and James to report to my Ready Room, I'm sure we only have two shuttles left, and the shuttle replicator is broken," Kathryn said.
Oh, so much for Tom's dream of a fleet of Delta Flyers
Tom, B'Elanna and Bryan walked in. The room was still a mess from last night. Also the room was deserted. Tom noticed something lying on the floor so he walked up to it. It was Neelix. He noticed what was left of the rat in his hands.
eeew
I'm gonna spare myself some tedium here. The Mess Hall is closed for decontamination, not because of the sick everywhere, but because the replicator may have made a plague infested rat. No I'm not exagerating for my version of comic relief. This happens. The Paris clan leave and that's it, except that I notice there's no mention of Duncan and while I'm worried they've forgotten about him, I'm relieved he's not exposed to the plague.
The James/Jessie shuttle plot has some sort of weird point to it; they've done this exact thing before, so lets waste time showing it again *shrug* but I don't get the point of this, or the Morgan being drunk/hyper on coffee exchange.
As if on cue
"Just answer my question, you haven't stolen a shuttle in years," Kathryn said.
"What are you talking about?" James asked. Kathryn groaned again.
Don't James, you'll lure out the forced exposition out of the bushes again. The zoo visitors are already bored and wanna see the spoilers.
Anyway more pointlessness as Janeway can't tell them off cos they don't remember, and
Kathryn looked under her desk to get one of her four flasks of coffee. It was empty. She looked at the other flasks, they were empty too.
The Bridge:
Everyone heard a scream coming from the Ready Room.
so that settles whether Morgan's drunk or hyper for this very important time travel episode.
"Ohno, that must have been the flask with the alcohol in," Kathryn muttered.
"Morgan's hyper and drunk, at the same time. Ohno, we're done for," Chakotay said.
oh, why not both?
Sickbay:
"Oh crap, what am I doing here?" Morgan asked in a frantic tone. The Doctor came over and he started to scan her.
"Oh dear. You're intoxicated, and hyperactive, I'll see to that," he said. He quickly injected her with a hypospray. "That should help," he said. He walked back into his office.
OH FFS
So neither then? It was just a ruse to get her to Sickbay? Fine, fine. Why does Neelix have to be there then, huh??????????????/
"I don't know, I don't recognise the bio-signature," Lilly replied. She opened a commlink to Voyager.
"Do you detect that ship?" Lilly asked Chakotay.
In: "Yes, we have. We're on Red Alert just in case, it's Species 8472," Chakotay replied.
If you're curious as to my feelings for this episode so far, I'll give you a little hint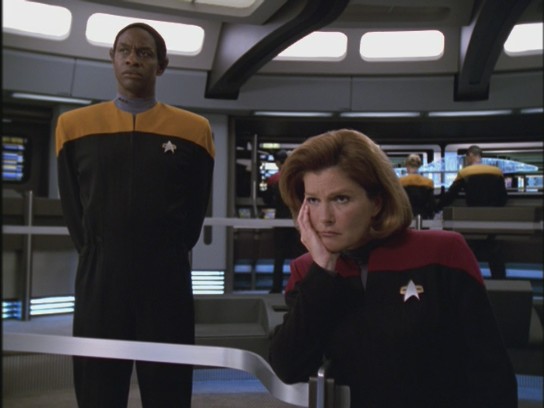 So, we cut to the Dellia when a very dangerous enemy shows up that they've never met but Voyager has, because???????????????????? It's not like it was some clever way to re-introduce them as it has been a season... or never because Aggressions I don't think even mentioned them, by explaining them to a newbie. Then again Lilly is Firera so should know them anyway, has that little error been fixed now (woohoo some good news!?!)
oh f$$$ it, moving on
Anyways we waste time learning about the Ligers systems. They use blue alert instead of red, cos Marill thinks red meaning bad is colour racist or something. And their weapons are missiles instead of torpedoes (oh sorry torpedo's), like there's a difference and anyone gives a s$$$
Also they won't hurt 8472 regardless, so erm, yeah
The only important bits to this scene are;
"I think it's some sort of temporal weapon," Lilly muttered.
and
"Erm, I hate to interrupt but they've fired a strange weapon into space. A weird anomaly thing has appeared," Faye said.
yes that's the right order, I triple checked
"We're being pulled into the anomaly thing," Faye said.
"Reverse course," Lilly ordered.
"Er, how do you do that?" Faye asked. Lilly groaned and she started headbutting the console.
They all saw the F9 being pulled into the anomaly. It disappeared a few seconds later.
Welp, the F9 still lasted longer than the warp core shield
*snicker*
"God, these 8472's aren't as tough as they were in Scorpion," Chakotay muttered. Another blast hit the ship, it shook violently.
"Hull breach, Deck Five," Tuvok said.
no kidding
In: "All hands on Deck Five, evacuate, hull breach."
"Morgan, you go and get Kiara, Bryan & Duncan out of the nursery, I'll get my mobile emitter," the Doctor said.
"We don't have a nursery," Morgan said.
"It's just next door. It's another one of those silly rooms that the writers just make up," the Doctor said.
Just A Little Bit More: 2
"Ok, what about Danny and co?" Morgan asked.
"Don't worry about them. I conveniently sent them to their quarters before all of this," the Doctor replied. Morgan ran out of Sickbay as the Doctor went over to a console to pick up his mobile emitter.
Again I ask. What was the point in the Neelix and the plague bit? Fine, Neelix eating something disgusting after someone insults him, that I can allow. The rest, nah. As usual it's a joke dragging out till it's no longer funny, or is even less funny.
And what, you sent a woman in labour back to her quarters? I hope she's not too far along.
Morgan rushed through the door. Kiara and Bryan were playing at a console, and Duncan was sitting next to the wall and he was punching it. Morgan went to pick up Duncan first. He had somehow put a dent in the wall, he just giggled.
Just A Little Bit More: 3
SEE, THE JAMES WALKING INTO THE WALL THING WAS POINTFUL. EVERYTHING HAS A POINT, SEEEEEEEEEEEEEEEEEEE. SUCK IT, ME
PS Duncan's three months old here. Three month olds can sit upright and punch walls. The more you know.
I couldn't save the Duncan could be like his father foreshadowing until, oh I dunno, somewhere around Why oh Why? You know, it could be used to make Tom suspicious or develop James' arc, or both? Nah, let's just put it here cos I probably that second thought of it AND I NEED IT NOW
"Ohno, that's all we need," Morgan muttered.
I KNOW RIGHT, MORGAN. PRECISE TIMINGS HAS ENOUGH NOT IMPORTANT TO THE STORY THINGS GOING ON
The ship shook again and the console that Kiara and Bryan were at exploded, sending the two children flying backwards onto the floor. Morgan rushed over to them. They weren't too badly hurt but they were also glowing a strange blue colour.
Haha yes, wait for it. Dis gonna be good.
A white light engulfed the entire ship as they entered the anomaly.
The turbolift:
The light faded away, Morgan noticed that Duncan had disappeared from her arms.
Okay, I'm trying not to copy/quote so much but skipping stuff has made this look weirder. It's still weird even with context. Yep Morgan had to leave Sickbay, but why is she taking Duncan with her?
Morgan started walking down the corridor, people who passed her gave her the same strange look. She turned a corner and she bumped head on into Tani.
Oh yeah, Tani's in this one. sigh, of course she is.
"I don't know, wait Duncan did you say," Tani said.
"Yeah, I had to get him, Kiara and Bryan out of the nursery. Kiara and Bryan got hurt so the Doc had to look after them. One second I had Duncan, the next I didn't. He couldn't of got anywhere, we were in the turbolift," Morgan said.
You did? I must've missed that bit. My bad. *scrolls up*
Oh yeah Doc mentioned to get the kids out of the nursery, hull breach. Still gonna question why she picked Duncan though, when her sister and Bryan were injured. Sure she called the doc for help, still doesn't change the fact they're supposed to be evacuating. meh. It's for convenience, stop trying to question it me.
"Well I speak for everyone here, I'm glad the little brat's gone," Tani muttered.
I'm not shocked, just disappointed. No that's not right. Disgusted.
Yeah Tani, I'm sure if you say that to James later on he'll fall in love with you and ask to marry you on the spot. The hurdle between the greatest love story ever is James' innocent wall punching 3 month old son, THE FIEND
Morgan slapped her hard in the face. "Don't talk like that, cow," Morgan said angrily.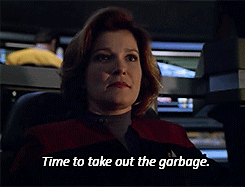 THAT'S MY GIRL
"Oh come on, Morgan. That little brat was nothing but trouble, plus he got in the way," Tani said as she placed her hand on her face.
SMACK HER AGAIN
WTF TANI, I WAS JUST JOKING
It's okay, Morgan basically says what I'm thinking:
"Look, Tani, stop being selfish. Duncan disappearing won't change anything. James still won't like a little slut like you," Morgan said.
Minus the slut of course. But only cos I can think of many more appropriate and funner words to call her for that comment. And that's in general, but she said it about Duncan so.... STFU YOU MISERABLE SACK OF ENTITLED "NICE GIRLTM" MOULDY POTATOES THAT I BADLY NEED TO THROW OUT COS THEY'RE STINKING UP MY KITCHEN. YOU HAVE AS MUCH CHANCE OF JAMES MAKING OUT WITH YOU AS ME PUBLISHING FIFTH VOYAGER AND IT BECOMING THE NEXT MILLION SELLING NOVEL SERIES TURNED MOVIE/TVSHOW, AND I DON'T GET SUED EITHER. YEAH I SAID IT. BURN, PRICK. NO ONE DISSES MY DUNCAN.
phew. glad I got that off my chest.
back to the story, Morgan tries to contact her mum.
In: "There's no member of my crew with the name Morgan, state your identity."
"Stop playing around, it's Morgan, for god's sake!" Morgan snapped. Tani backed off.
In: "I think we should return to Voyager, Captain."
the gravy thickens
god damn it, I was already hungry
A security team was standing a few feet behind her. Craig was there too, all of the team were pointing phasers at the two girls.
bwahahahahahaha
so much wrong here which can all be summed up with one simple question; why the hell is Craig on the security team?
Two security people got a hold of Tani. A few tried to get a hold of Morgan, she just pushed them away.
"Take that girl away," Craig said as he pointed at Tani.
"Typical, you leave her alone," Tani groaned as the two security officers dragged her away. The others stopped attempting to keep a hold of Morgan.
gee, maybe you should ask for backup. my suggestion, someone who is on Security, ahem
"God what is this? Forget Morgan day, first my own mother doesn't recognise me, now you," Morgan muttered.
"Look, I don't know who you are, so you can stop playing around," Craig said.
I hope by this time we have a general idea what's going on so far. Duncan disappeared, J/C haven't a clue who Morgan is, neither does Craig and temporal weapons. This is a doozy.
"I'm sixteen, so what," Craig replied.
So why are you in Security?
In: "Security team two to team three."
Craig tapped his commbadge. "What's up," he said.
In: "We've discovered two more teenagers on Deck Four."
hahahaha, can't get used to this. Craig didn't have a job when he was 16, he still doesn't, so this is bloody weird. Weirder still that another team is contacting him as if A) he's the leader and B) they knew already that Craig found other teenagers without him contacting anyone.
also he's very ooc. Why hasn't he drooled himself to death, he's 16 and just spotted Morgan. What, is she less appealing to him when there's little to no age gap? WTF MARILL
Tani sighed and she looked around. There were two unfamiliar teenagers in with her. The girl looked about fifteen years old, and the lad looked about seventeen.
hmmmmmmmmmmmmmm?
"I told you she wouldn't recognise us," the girl whispered. The lad nodded his head.
OH AND WHY WOULDN'T TANI RECOGNISE YOU "THE GIRL", HUH..... HUH1?!?!!?
the foreshadowing is yummy *licks fingers* mmmm beefy Monster Munch
"All right, I want to know who you people are, and I also want to know how you got onto my ship," Kathryn said.
"Mum, you don't recognise me either, this is ridiculous!" the girl groaned.
"Mum?" Tani muttered.
GASP
Craig, Morgan and the two security guys walked in. Morgan stared at the girl funny.
"It can't be," Morgan muttered.
I KNOW, I CAN'T BELIEVE CRAIG'S IN SECURITY TOO
"That girl looks like Kiara," Morgan said. The girl jumped up from where she was sitting.
"Finally, somebody recognises me," she said.
WHAT A TWIST. IT MAKES NO SENSE, BUT IT'S TWISTY NONETHELESS
"We're from five years in the future," Morgan said.
"What? When did that happen?" Tani asked. Morgan glared at her.
when Duncan disappeared and you magically had a shot with James in your screwy, stupid airbrained head.
"But, if you're only from five years in the future, why did that fifteen year old girl call me mum?" Kathryn asked.
oh Janeway, do you really wanna open that door?
Someone's forgotten about the temporal prime directive
"Can't tell you that," Morgan replied.
"Why not?" Kathryn asked.
"Temporal prime directive," Morgan replied.
I LIKE THAT ONE
"2372," Kathryn replied.
"Original season two, that can't be good," Tani muttered.
BUT I THOUGHT THIS WAS ORIGINAL SEASON TWO
"Janeway to Rex & Taylor, report to the Brig," Kathryn said.
In: "Uhoh, we didn't do anything this time."
lawl
I'm assuming this is before their drinks are spiked.
"They haven't changed a bit, have they?" Morgan muttered, she groaned when she looked at Tani. She was sorting her hair out, while looking at a mirror. "What are you doing?"
"James is coming, he'll be younger. How do I look?" Tani asked.
DESPERATE
"Like a slut," Morgan replied.
Sexist Crap Count: 2
"Unfortunately, she's head over heels for James," Morgan replied.
"I've never met him, fortunately," Craig said. Tani got out her lipstick and she started putting it on.
If you haven't met him how do you know it's fortunate? He shouldn't be infamous, at least not yet
"Tani, you won't believe how big the urge is to punch you in the face right now," Morgan said.
DO IT
"Hi, I'm Tani. Do you want to go out with me?" Tani said in a flirty voice, James looked terrified.
"No he doesn't," Jessie said.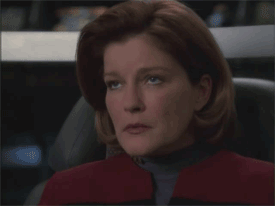 "How do you know. Geez, you look more slutty than you do in my time," Tani said.
Sexist Crap Count: 3
F$$$ OFF TANI
"Er, which person are we taking to Stellar Cartography?" James asked.
"Ooh, me!" Tani jumped up and down.
"I think it's me, since I'm the smartest here," Morgan said.
"You just want to take him from me, he's mine!" Tani screamed.
Everyone else: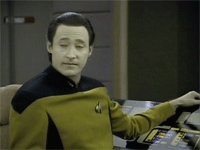 "No he's not, slut! And why would I want him, he's too old for me!" Morgan yelled.
Sexist Crap Count: 4
Even in the prequel days James is too old for Morgan lol. Surely she has more reasons than this? Her screaming that he's an old fogey and his "no I'm not" is getting a bit old.... unlike James at his still a baby 22.
"Ten months, he must be Bryan," Morgan said.
"Yup, it's about time you figured it out," the lad said.
Yep, Kiara and Bryan are teenagers now thanks to a console spewing blue at them (damn you Lilly and your blue alerts!).
"Oh come on, who is coming with us! We're going to the Mess Hall for some drinks at 1100 hours," Jessie said.
"You mean alcohol, at 11 o'clock in the morning?" Morgan asked.
Oh Morgan, no, you're still not used to the Fifth Voyager clocks? 1100 hours is 11pm, O1100 is 11am. How dumb are you!
"No break, don't you start complaining too," Jessie replied.
No break what? I don't get it
Anyways they try to decide who to take, Morgan, to Astrometrics/Stellar Cartography, Morgan, despite the choice being obvious. Morgan. Craig settles it by saying whoever has the most screentime should stay behind, so naturally poor James is gonna get his ass grabbed for the rest of the episode.
Jessie meanwhile throws another slut Tani's way. THERE ARE MORE WORDS, SO LAZY
Sexist Crap Count: 5
I imagine Craig only does this knowing, somehow, that Morgan would be the screen hogger and so he can be left alone with her.
"A word of advice. If she leaps on ya, just punch her in the face. You can do a lot of damage," Morgan whispered.
LOL MORGAN, JAMES IS STILL LEARNING TO PUNCH PEOPLE ON SCREEN IN SEASON TWO PART TWO, LET ALONE SEASON MINUS TWO. I'M SO CONFUSED
"I don't punch girls," James said.
This is a tough one. It's sexist, kinda, but I know James' reasons for it. Then again one of them is still sexist but not in the way you think. That's the one where he prefers being around women and can't stand men, and so men are more deserving of a punch, while women usually don't. So yes fine, sexist but I wanted to clear that up.
Sexist Crap Count: 6
Yeahyeah that's no better Marill. I think it is, only slightly, than him not hurting women cos they're so much weaker and delicate etc...barf, cos that's dumb on its own. But with James it's extremely dumb since in theory he's the strongest male so he shouldn't hit men too with that logic. Good thing that wasn't why he has this stance, ey??
The other reason is more a subconscious side effect of being raised by a sexist, child abusing s$$$head but hey, that should be obvious. maybe.
"She's a demon, not a girl," Morgan said.
"Oh, ok," James said.
TIME TO TAKE OUT THE GARBAGE THEN
Then Morgan and Craig are kinda left alone, with the two now no longer kids.... and it's awkward.
"How do you mean?" Morgan asked.
"Are we best friends are what?" Craig asked.
"Well, close to it, Tani used to be my best friend," Morgan replied.
Go home Craig, you're very drunk. While you're at it, hop in the shower, turn it to freezing and don't come out till you know why I sent you there.
"are we best friends, or what!?" asked the snotty Craig.
"Not anymore, no. Piss off," Morgan replied.
"Who's your best friend now?" Craig asked.
"I don't know. James is a new friend of mine, of course you are too," Morgan replied.
So James then.
HAHAHA
"Hi," Tani said and she waved at him.
"Do you think I'll get wrong if I punched her in the face?" Jessie asked.
No, go nuts
"Ooh, a troublemaker, I like that," Tani said.
"What do I have to do to get you to leave me alone?" James asked.
"Go out with me," Tani replied.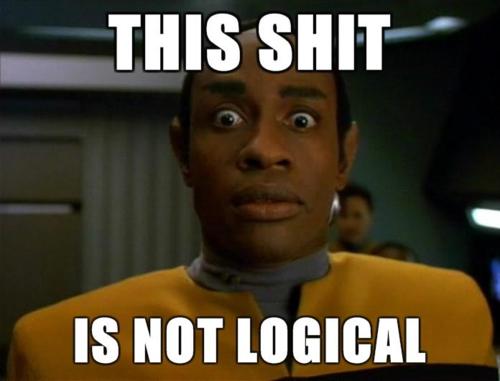 "Sorry, can't," James said,
"Why not?" Tani asked.
LET HIM FINISH, THERE'S A COMMA RIGHT THERE
"I'm seeing somebody else," James replied.
"Yeah, yeah, I've heard it all before," Tani said.
"I am, I'm going out with Jessie. Surely if you're from the future, you should know that," James said.
OH, THAT'S GOTTA BE A ONE HIT KO RIGHT THERE FOLKS
In all seriousness, this isn't news. Jessie admitted it in Interactions. Resistance, it was brought up a few times.
I do like how James is like "you should know, cos it's five years later and I'm sure we'll be able to admit that to people by then" with little doubt in his mind that this would be true, why wouldn't it? And ouch, my shippy wounds.
"Believe it bimbo, so shut up," Jessie said.
THAT'S A WEIRD WAY TO SPELL SLUT
"Would it put you off if I told you that you both have a son in the future?" Tani asked.
Tani's taking a page out of Jessie's "How To Resolve Sexual Harrassment Disguised As Love Triangles for Extra Dummies" book.
"Oh get a life," Jessie said.
HIGH FIVE
"Danny can you look after our guest in the Stellar Cartography. If she goes out of line just punch her," Jessie said.
In: "No prob, Scott out."
Jessie and James left the room arm in arm. Tani just sulked.
F$$$$$ BURN TANI, HAHAHAHAHA
"Ok, here goes. The Doctor scanned the console since we were growing up real fast. He noticed that the console exploded because it had temporal energy inside it," Kiara said.
Ok, first line in a new scene. Getting right to it huh, and it's bull.
"Great, does this mean you're a main character now?" Morgan asked.
"I don't know, I think so, I'm in the cast page," Bryan replied.
And there it is ladies and gents. The reason why Bryan was aged. FV doesn't have enough MC's. It's only fair, Kiara and Naomi already were MC's and Naomi got more attention, fatal attention, when her actress was fired for a Buffy one. Buffy actors for every kid!
Duncan: please don't give me David Boreanaz, I don't want my English accent to be s$$$$y
In: "Scott to Anderson."
In: "Do you have any idea what Jessie and James were doing with this scanner?"
"I'll be right there, I think you should come with me. I have no idea what they were doing either," Craig said to Morgan.
I... I... just... killme
"Nothing too complicated, the scanners are looking for the temporal anomaly the ship passed through," Morgan said as she looked at the console.
So James set this up, only Morgan can figure out what he did. You know what this means, don't you?
SUE FACE OFF, WOOOHOO
"I feel dizzy, I'll be ok in a minute," Morgan replied. She stepped away from the console. Suddenly she collapsed, luckily Craig managed to catch her.
Of course he did
Sorry guys, the Sue smackdown of the century will have to be delayed for the moment. It's time for.........................
Some strange misty place:
Surely this should be capitalised by now, it's obviously the name of the place.
"Because the writers are too lazy to think up a way to describe a flash forward," Kes replied.
"A what?" Morgan asked.
"A flash forward into what is now the future, enjoy!" Kes replied.
whut?
Present day:
Morgan appears on the Bridge, nobody sees her, Kes also appears.
Guys, I'm going a bit mad (again) with these re-reads so double check for me. That says Present Tense right? Cos look at this crap, get your tenses right AND consistent.
"The ship is under attack by the Sixes," Kes replied.
"Report?" Kathryn ordered.
"Shields are gone, again," Tuvok replied.
snicker, yes I buy this, snicker
B'Elanna rushed onto the Bridge, she is pregnant again.
DAMN IT JESSIE, STOP GETTING STABBED
AND SERIOUSLY, STOP CHANGING TENSES
"Captain, Engineering has been sealed off, those jerks have unleashed the poisonous gas again," she said.
Oh those Sixes, what rascals.
"Use the Engineering station," Kathryn ordered. James walked away from it and he headed over to the science station. Jessie was still pressing some buttons at the engineering station.
"Ooh, this bit is a good bit," Kes said.
This is Fury Kes, isn't it? Such edge
B'Elanna walked over to the Engineering station. "Jessie, you're relived," she said.
"Yeah, let me just finish this," Jessie said. The ship shook violently as another weapons blast hit the hull. The engineering console exploded sending Jessie and B'Elanna backwards. Tom and James rushed over to them. Morgan and Kes walked closer to them. Tom was checking both B'Elanna and Jessie's pulses.
"They're dead," Tom stuttered. Morgan looked at Kes angrily.
Lol, awkward relived misspelling, the irony.
And doesn't this look familiar
"It's not, this is the present," Kes said. Morgan watched as Tom and James broke into tears before her eyes.
:(
"This is enough, I don't want to see anymore!" Morgan cried.
That didn't take long. I bet Kes is like "um... I'm nowhere near finished yet."
"That isn't it," Kes said.
"What do you mean?" Morgan asked as she turned away from the view.
"B'Elanna was pregnant with her and Tom's second child. Jessie and James were due their first anniversary next week," Kes said.
NOO NOT THE ANNIVERSARY, WHAT'S HE GOING TO DO WITH THE CARD, IT'S GONNA GO IN A BIN, WHAT A TRAGEDY. B'Elanna's baby is dead, okay.
"Yes, and he didn't know that she was six weeks pregnant," Kes said.
MAYBE YOU SHOULD HAVE OPENED WITH THAT THEN I WOULDN'T HAVE ANY TAKE THE PISS AMMO
"That's it, I've seen enough," Morgan said, she nearly broke down into tears herself.
"I'm sorry Morgan, I've got more to show you," Kes said. They both disappeared from the Bridge. They re-appeared in the Mess Hall. The entire room was in shambles just like the Bridge. People were lying critically injured and/or dying on beds.
You're not sorry Emo Fury Kes, you've still got the dying puppies vision. I bet you're saving the no Cherry Coke supplies one till last, you evil cow
"This is what's left of the crew," Kes said.
"What, there's only thirty people here," Morgan said.
Damn, so what you're saying is if no one figures out that James was running a temporal scan in the prequels, then the Sixes will decide to be competent and slay most of the Voyager crew? That s$$$'s dark. Though I bet Dimension Fury is readable, it can't get worse....bwahahaha of course
"Emma and Lilly are still living in the third dimension. Kiara was never born because her parents hate each other. Triah was killed in the shuttle she was using to get into the Delta Quadrant," Kes replied.
1) NO, BAD KES
2) Lol, no context there Kes. Nice. Here I thought that part was super important, but barely a mention inside a paragraph. whut?
3) Why, how? Did James accidentally flick one of Jessie's bobbles into space, the force of it tearing a hull breach in Triah's ship?
James' Kill Count: 1
"How come everything is different from the present I remember?" Morgan asked.
"Do you know what planet Voyager was orbiting when Voyager went through the anomaly?" Kes asked.
Um, some greeny blue one? Why is that relevant?
Sigh, that should be more clear. She's asking which planet the past Voyager was orbiting. good lord
"New Earth," Kes said.
"That planet that mum mentioned, what's so special about it?" Morgan asked.
Strap in folks